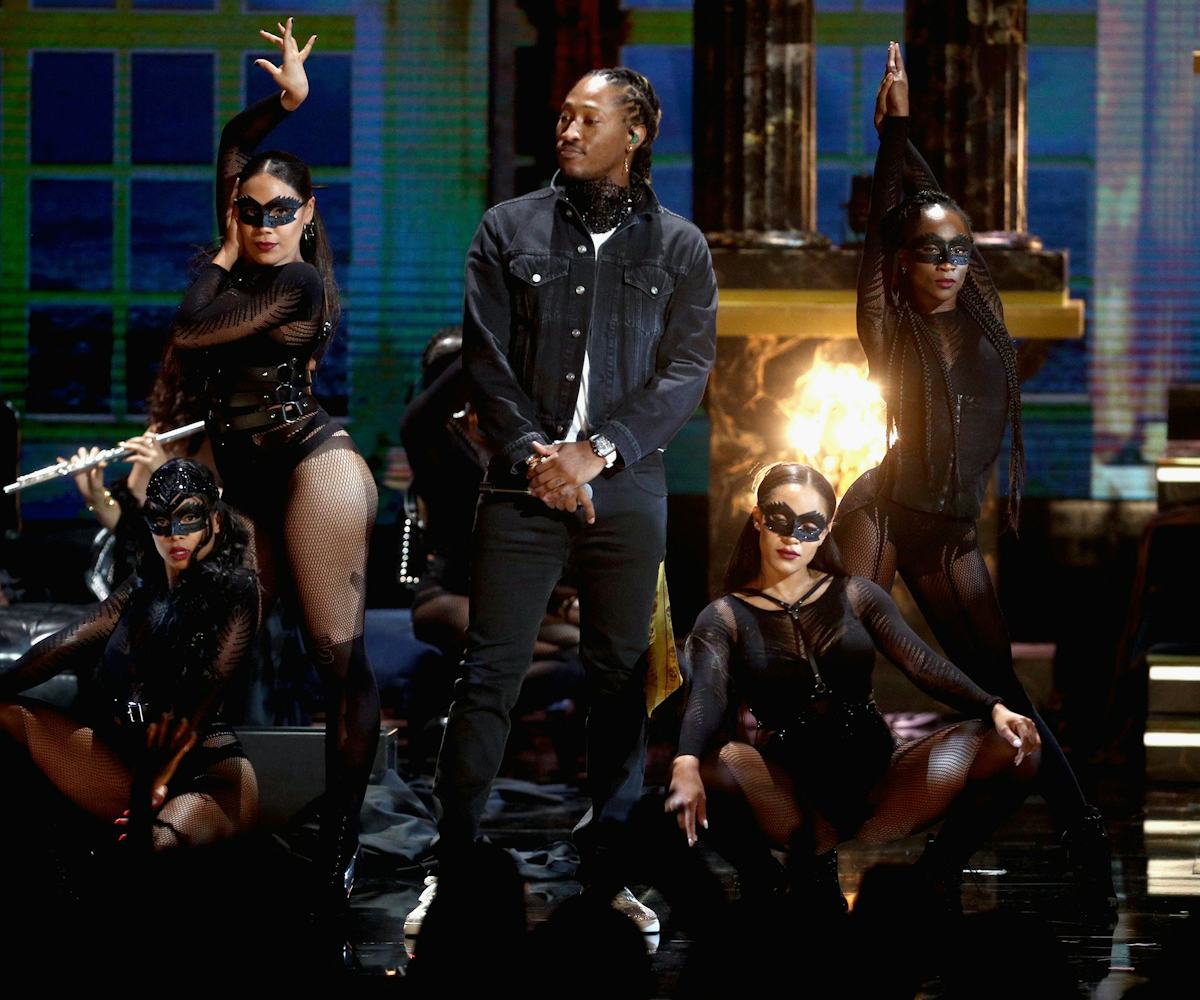 Photo by Frederick M. Brown / Stringer / Getty.
Future Might Be The Saltiest Ex Of Them All
He still doesn't have nice words for his ex and her
When we look back on the most notorious exes in hip-hop and pop we can count among them: Ray-J, for his ongoing obsession with Kim Kardashian; Kanye West, for his sense of entitlement over Amber Rose; and of course Ariana Grande, because you don't make a song like "Thank U, Next" and tease the music video for weeks unless you are definitely not over you ex. (Don't @ me.) And then there's Future.
Nearly four years after he and singer Ciara ended their engagement, Future still seems to be obsessing over his ex's new life, which includes her husband Russell Wilson, their one-year-old daughter, and the four-year-old son she shares with Future. In a Beats 1 Radio interview meant to promote his new album Future Hndrxx Presents: The WIZRD the rapper was asked his opinion on Ciara and Russell's relationship. And Future's response? Is the reason I am so reluctant to date men.
"He do exactly what she tell him to do," Future said. (Please hold while I try to figure out why that's a problem… Couldn't find an answer.) Future continued, "He's not being a man in that situation. He not tellin' her, 'Chill out with that on the internet. Don't even talk to him, I'm your husband! You better not even bring Future's name up!'" Translation: Future thinks that Wilson is less of a man for allowing his wife to acknowledge the father of her child… a child that Wilson is helping them raise. The fragility of masculinity truly knows no limits.
Future went on to explain, "If that was me, she couldn't even bring his name up. She know that. She couldn't even bring her ex's names up." He also complained about the fact that Ciara introduced their son to Wilson, before Future had a chance to meet him. Now seems like a good time to mention that Future and Ciara allegedly broke up because of his infidelity. Since then, they have been engaged in a custody battle of their son, despite Future going on the record to say that his kids have to sacrifice because their father is a "superstar." My head hurts for Ciara and the other four women with whom Future has procreated. Which is why, currently, he sits atop my unofficial list of saltiest celebrity exes.