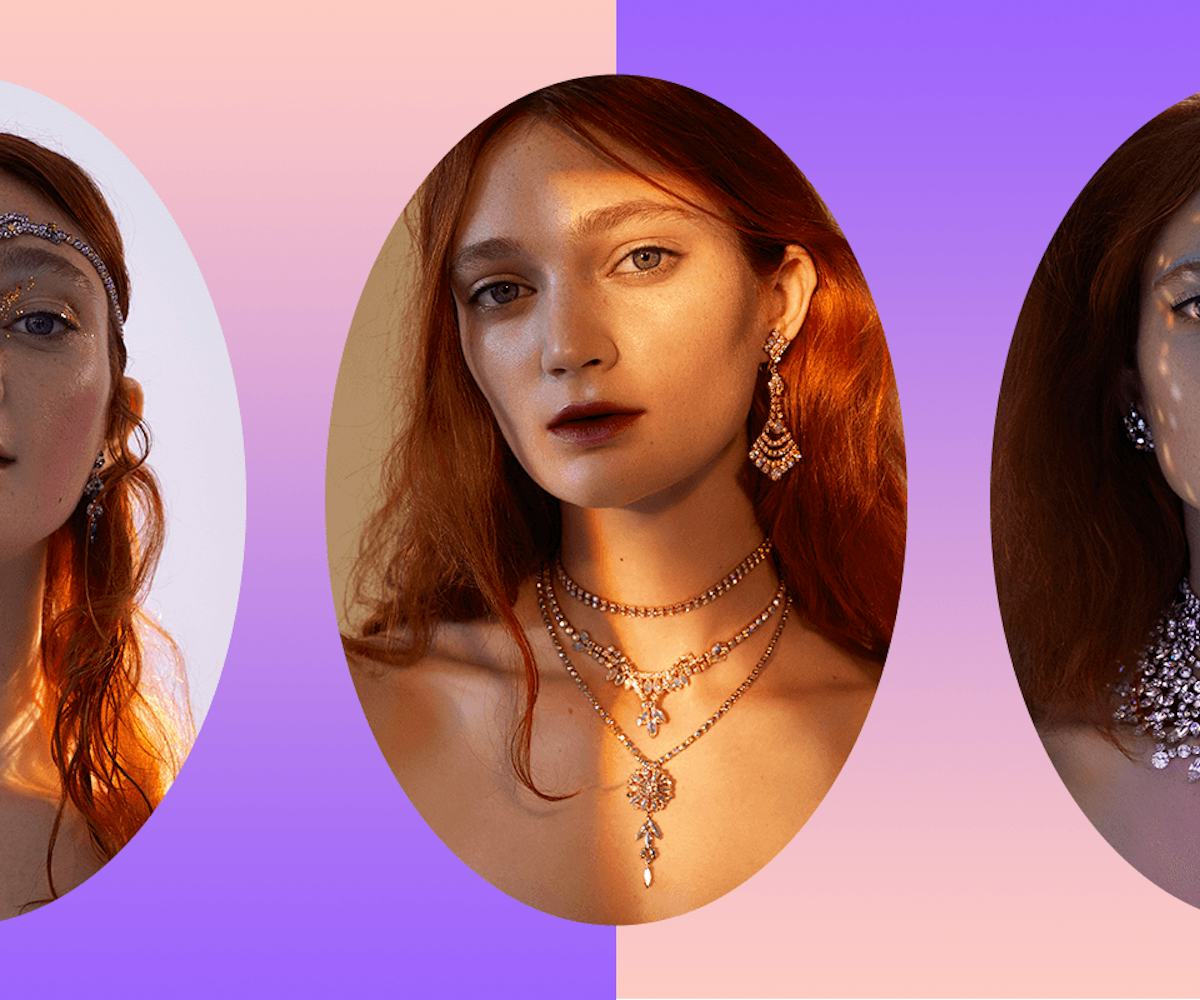 Meet The Jewelry Designer Resurrecting Her Grandfather's Line
With G. Sherman Jewels, Genna Sherman is reinterpreting old-school elegance
Genna Sherman wants to change the way you look at vintage jewelry, one Swarovski rhinestone at a time. And she's doing so by resurrecting—and rebranding—her grandfather's vintage label of jewels.
After nearly 10 years working in the fashion industry, on the publishing and e-comm sides, the Montreal-based jewelry aficionado decided to look for inspiration from her own family's history, taking the extensive archive of jewelry her grandfather began designing over 60 years ago and reinterpreting it in a way that speaks to today's woman. From there, G.Sherman Jewels was born.
Back in 1949, Sherman's grandfather Gus Sherman founded his Montreal-based jewelry brand, Sherman Jewels of Elegance, quickly becoming one of the largest and best-known costume jewelry manufacturers in North America. While the business closed shortly after his death in 1980, Sherman and her family have spent the last two decades collecting the pieces he designed throughout the '50s, '60s, and '70s, whether from passed down family heirlooms or pieces collected from antique shows. "For as long as I can remember, I've been fascinated by my grandfather, his jewels, and his legacy of elegance," says Sherman. "As a child and into my early teens, I would frequent the local antique shows in search for my favorite treasures, and as I got older, I started collecting more avidly."
Fast-forward to 2019, and Sherman is putting her own spin on these pieces, not by repurposing them but rather curating and presenting them in a way that exudes what she calls "new elegance." She says, "I knew I wanted to preserve and build on the ethos of his original brand, but that I had to make it feel contemporary so that it would align with the modern customer's values." For Sherman, "'Elegance' felt like a stiff, '50s housewife term that didn't say enough about the modern woman, who we know is so much more than just elegance. I realized that, at the bottom of all my grandfather's messaging, was the desire to honor women. I asked myself, What does honoring women really mean to a woman in 2019? What, and who, is the new elegance?"
For Sherman, it means honoring all stages of a woman's life—and with a mystical twist. For her initial launch, Sherman is presenting G.Sherman Jewels through small, expertly curated capsule collections, each meant to represent the "elegant energies" a woman moves through in each phase of her life. "I'd learned about the three stages of a woman's life when I read [Ruby Warrington's book] Material Girl, Mystical World, and about different Pluto placements while listening to Cosmic Cousins, Jeff Hinshaw's podcast," she explains. "With elegance as the base, the brand evolved from those two concepts—I felt they honored women and their journey, not only today but would throughout time, forever to come."
And so, G.Sherman Jewels is split into three categories: Playful Elegance (Maiden), representing the adventures of childhood; Sensual Elegance (Mother), representing the fertility of middle life; and Regal Elegance (Crone), representing this wisdom of a woman's elder years. "I want to share the message, that despite the age we are, we are always a little bit of all of these energies—and that, like the jewels, we are complex, yet beautiful and sparkling," says Sherman.
Sherman aims to change the way people think of and wear vintage jewelry. "All too often, I find vintage costume jewelry is seen and portrayed through one lens, one which favors its antiquity and its heritage over its modern relevance. What I believe is that there is a place for this jewelry in today's market as seen from today's perspective. Yes, they were made between 1949 and 1980, but the styles are still 100 percent relevant and furthermore, often replicated."
With that said, she doesn't want G.Sherman Jewels to be seen simply as a vintage collection, but rather, as a collection of unique pieces that call for the wearer to put their own unique spin on them. "I love the idea of showing women how to wear these vintage pieces in what I call 'the way of today'—to put a brooch on their jean jacket or a fanny pack, to wear a necklace with a T-shirt and jeans, and earrings with their favorite cocktail dress. I want to see them worn in a way that can be dressed up but also casual, paired with contemporary fashions and designers."
Being that most pieces are unique and one of a kind, they truly allow for the wearer to get creative. "While we do have similar styles in different colorways, it's uncommon to find multiples of the same piece," she explains. "This means you are getting something very special that only you will have—our jewels are unique, just like you!"
Sherman has big plans for the future of the line. While her grandfather's original pieces will always remain at the core of the brand, she plans to soon create her own line of high-end costume jewelry that's an ode to his: "It will be heavily plated using Swarovski crystals with great attention to detail, the best materials, always signed, and definitely preserving his iconic designs and colorway combinations," she says. "Our mission is to honor the archives and resurrect the legacy, so, in recreating pieces, we will preserve the ethos of the brand and pay homage to the original design and craftsmanship that lives on in our archives."
You can shop the full offering online, though Sherman states that the pieces available on site are just a small portion of the archives—meaning we can expect many more capsules to come.
Take a closer look at some of our favorites, below.
G.Sherman Jewels, Athena Earrings, $235, available at G.Sherman Jewels.
G.Sherman Jewels, Winter Solstice Necklace, $350, available at G.Sherman Jewels.
G.Sherman Jewels, Selene Brooch, $380, available at G.Sherman Jewels.
G.Sherman Jewels, Jupiter in Gemini Earrings, $245, available at G.Sherman Jewels.
G.Sherman Jewels, Nike Bracelet, $325, available at G.Sherman Jewels.
G.Sherman Jewels, Princess of York Earrings, $315, available at G.Sherman Jewels.
G.Sherman Jewels, Hecate Brooch, $325, available at G.Sherman Jewels.
G.Sherman Jewels, Flora Earrings, $550, available at G.Sherman Jewels.
G.Sherman Jewels, Hebe Necklace, $300, available at G.Sherman Jewels.