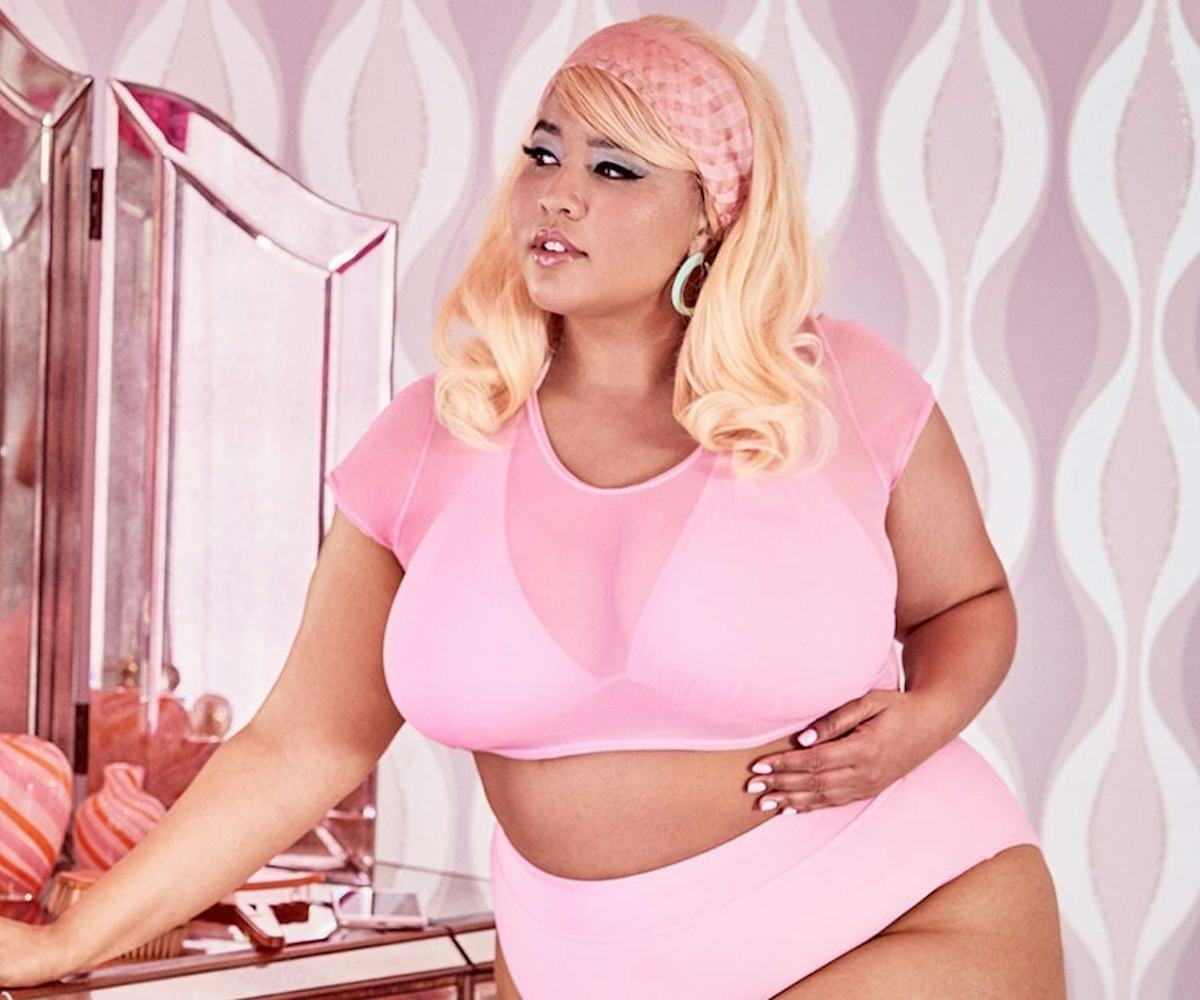 Photo courtesy of Swimsuits for All
GabiFresh Explains How Dolls Inspired Her New Plus-Size Swimsuit Collection
"I do think having blonde dolls with one body type definitely impacted many girls self-esteem"
Just a week after she called out multiple brands for ripping off her swimsuit designs, Gabi Gregg (aka GabiFresh) has dropped another line with Swimsuits For All. This drop turns its wearers into what GabiFresh describes as being realistically sized dolls and focuses on making the "ideal" body type more inclusive.
The summer collection, which launched today, includes a line of 10 suits ranging from sizes 10 to 26 and with cup sizes ranging from D/DD to G/H cups. The suits look fresh out of the 1950s, but without the sexism and unrealistic body standards that were placed on women then (and, um, now). In fact, the campaign imagery shows a man following the models around, doing anything and everything they want. This is utopia.
In an interview with NYLON, Gregg notes that she was particularly drawn to disrupting the stereotypical depiction of dolls due to the symbolism they hold to so many young girls. "I think dolls are some of the earliest images or objects that inform how children see what they are 'supposed' to look like," she says, "and while they definitely are not the only source, I do think having blonde dolls with one body type definitely impacted many girls' self-esteem."
Bright colors, whimsical styles, and funky patterns are all seen in the collection, which was a choice Gregg made to show plus size women that they can "embrace their bodies and have fun with color and style of their swimwear." As a plus size woman herself, she knows that it's easier said than done, because we don't often see women over a certain weight feeling confident in their bodies. She says, "I think representation is more important than almost anything else when it comes to all of us a feeling a little less alone. It feels so lonely to grow up in a world not seeing yourself reflected in mainstream media, and totally contributes to feeling like your body isn't good enough." Her collection and the campaign imagery that goes along with it breaks from that.
Gregg is interested in designing swimsuits in particular because wearing them can be a vulnerable situation for people whose bodies are not adequately represented. "Body image issues exist in most of us, and swimwear can really bring that out because, obviously, we are showing so much skin often in public spaces," she points out. "But that's all the more reason that we deserve access to beautiful and stylish swimsuit options that can help make us feel good in our bodies." Wearing something that you'll feel confident in will make the situation feel less scary.
But she knows that for some, this is a big step. "You don't have to wear a bikini if you're not comfortable in one," she tells those who may not yet feel comfortable enough to do so. "There are some amazing one-pieces and coverups that will still have you feeling stylish. At the end of the day, your confidence and comfort level is what's most important." In fact, this collection includes a pretty dope coverup that would have anyone feeling good.
All of the suits retail for under $120, so it won't cost an arm and a leg to feel confident at the beach or the pool this summer. Available now, you can get your new favorite suit at Swimsuits For All. Below, check out the campaign imagery, which screams "confidence."