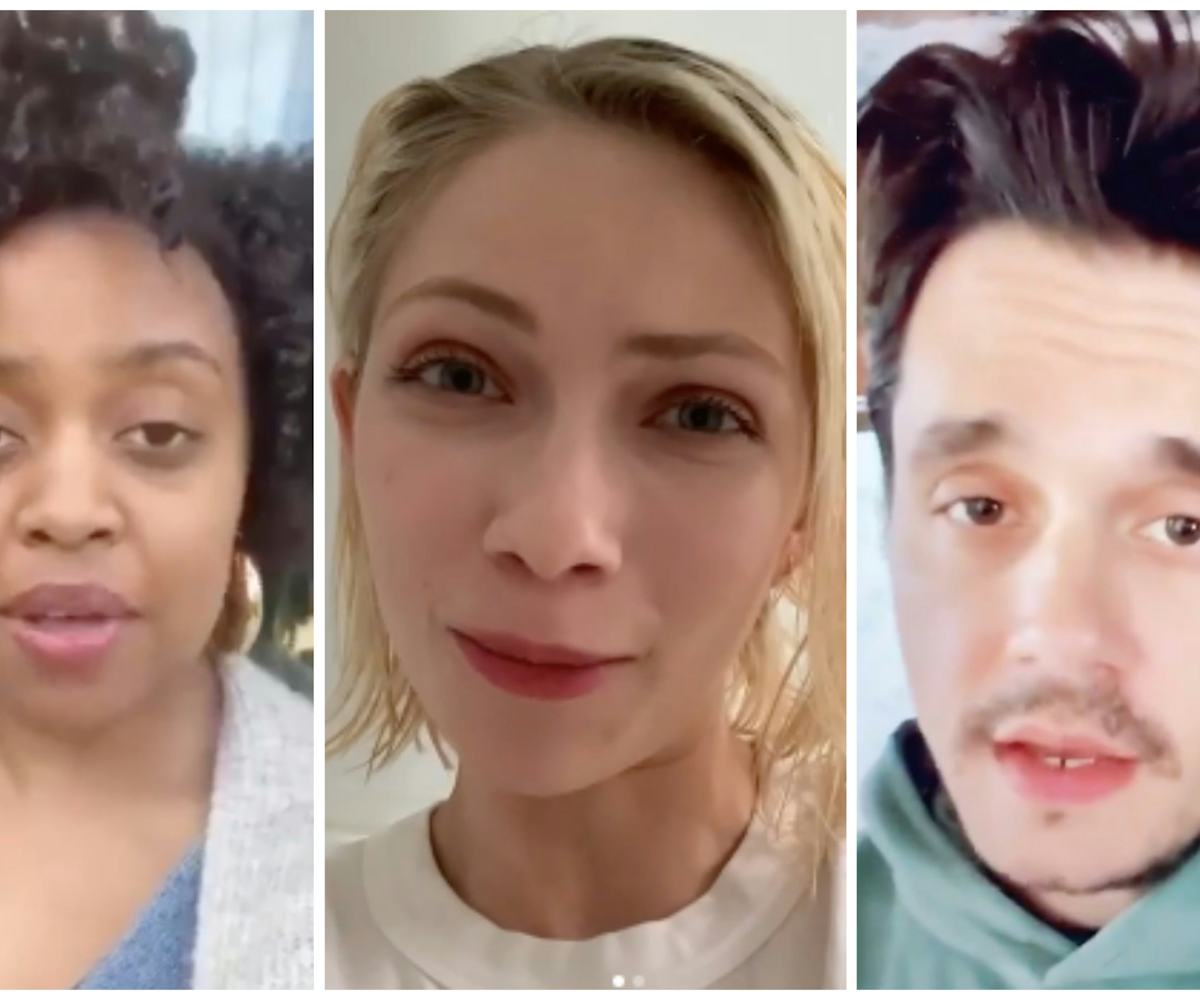 Images courtesy of Instagram; Twitter
Celebrities Are Releasing Expert-Level Parodies Of Gal Gadot's "Imagine" Video
John Mayer, Tavi Gevinson, Quinta Brunson, and more got in on the fun
It's been a single day since Gal Gadot released a celebrity-filled singalong to "Imagine" and the parodies are already rolling in. On March 19, the Wonder Woman star virtually gathered some of her celebrity friends for an "Imagine" singalong, and almost instantly, much of social media turned against the idea. Following continued criticism — including some calls for the celebs to take action and consider donations instead of singing — other stars have responded, trolling the original video with their own versions of a group singalong.
The original video featured Gadot and celebs like Sarah Silverman and Kristen Wiig singing against the backdrop of their homes. Created amidst continued guidance to practice social distancing in response to the coronavirus pandemic, many had felt that the celebrities would be better served in providing monetary donations or another physical means of support. Although criticism of the clip has continued, other celebs are responding in jest, with Charli XCX, Zack Fox, and Trixie Mattel all sharing some much needed comic relief with parody videos.
Below, watch some of the funniest responses to the original video.
John Mayer
Charli XCX
Charli XCX wondered about the status of her singing invitation, posting a clip of an exaggerated moment of song. "Sorry i'm late guys!! (jk)," she wrote of the video.
Tavi Gevinson
Future Gossip Girl star Tavi Gevinson felt that another song was better suited for the efforts. She captured a video of herself singing "All Star" by Smash Mouth, writing, "You may have seen the viral video of celebrities singing the song Imagine. Well I thought it'd be fun to ask all SEVEN of my friends to join me in singing another world peace pop anthem that I love. Please SWIPE for a captioned version! And ENJOY!!!!!" As for her seven friends, that's something you need to see for yourself.
Nicola Coughlan
Derry Girls actor Nicola Coughlan pointed out what was missing from the clip, filming herself singing as she pretends to cough out money. "This one goes out to my main gal, Gal," she captioned the clip.
George Civeris
George Civeris found that another song could bring people together. For the video, he was joined by a batch of celeb friends, and all gave a perfect rendition of Selena Gomez's "Love You Like a Love Song."
Zack Fox
Zack Fox teamed up with other comedians, including Eric Andre and Quinta Brunson, for a hilarious reminder that "we're all in this together."
Trixie Mattel
Trixie Mattel played dress up in this parody of the video, writing, "BREAKING: Celebrities in isolation sing "Imagine."