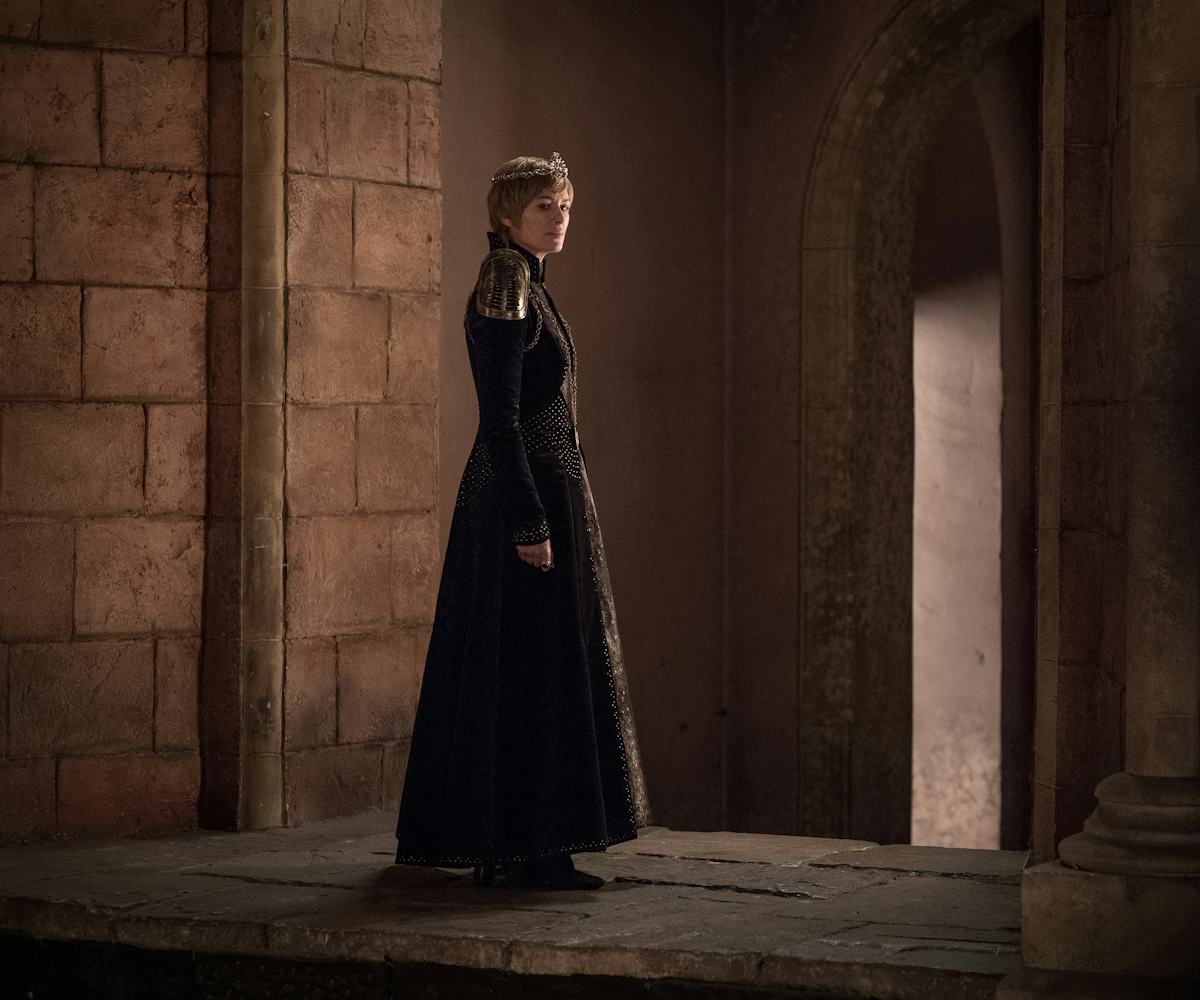 Photo courtesy of HBO.
Cersei Lannister's Aesthetic Transformation On 'Game Of Thrones' Is Queer And Powerful
She's serving big strap energy
Nestled on my list of things I think about a lot is Game of Thrones' Cersei Lannister, brilliantly played by Lena Headey. She might be one of the show's most hated characters, yet she's also one of the few with the tenacity and cunning to secure the Iron Throne. But, to be honest, I'm not as enamored with her fate as a Westerosi monarch as I am with the major queer vibes she emits aesthetically, something that has evolved in intensity throughout the course of the show.
Let's start with the most obvious change to her look: her hair. Cut short against her will as part of her walk of atonement in Season 5, Cersei's hair has remained cropped, even as it's grown out a bit. This feels like an act of defiance, an embrace of her punishment and a refusal to conform to the established norms of being a Westerosi woman. It also closely resembles the hairstyle worn by her twin brother, whose abilities to move through the world as he pleased, simply because he was a man, were always envied by Cersei. But, whatever the reasoning, when I catch her from certain angles, I think she'd be a perfect addition to the Lesbians Who Look Like Justin Bieber Tumblr account.
Cersei's wardrobe has changed too, going from an assortment of softly colored, flowing dresses to gowns with a militaristic flair, in darker and darker hues. Her new wardrobe's reliance on dark colors is due to her extended period of mourning: The deaths, in short order, of her eldest son, father, daughter, and youngest son mean she's always got a reason to wear black. (Notably, she did not start wearing black after the death of her husband, King Robert Baratheon.) But the militaristic details in the form of chains, medallions, epaulets, and form-fitting armor-like bodices on her dresses feel very Rhythm Nation-era Janet Jackson.
In George R. R. Martin's novels, Cersei has sexual relations with at least one woman. Though that relationship is missing in the HBO series, her queer energy is still present in her aesthetic, and in her refusal to adapt to the norms of what is a very patriarchal, homophobic society. She drinks her wine and throws her shade, and she emits her big strap energy while doing it. Which is why, even though I don't know if Cersei will end up on top at the end of the final season of Game of Thrones, I'm willing to bet she'd make a magnificent top for whoever is lucky enough to catch her on one of her less murderous days.