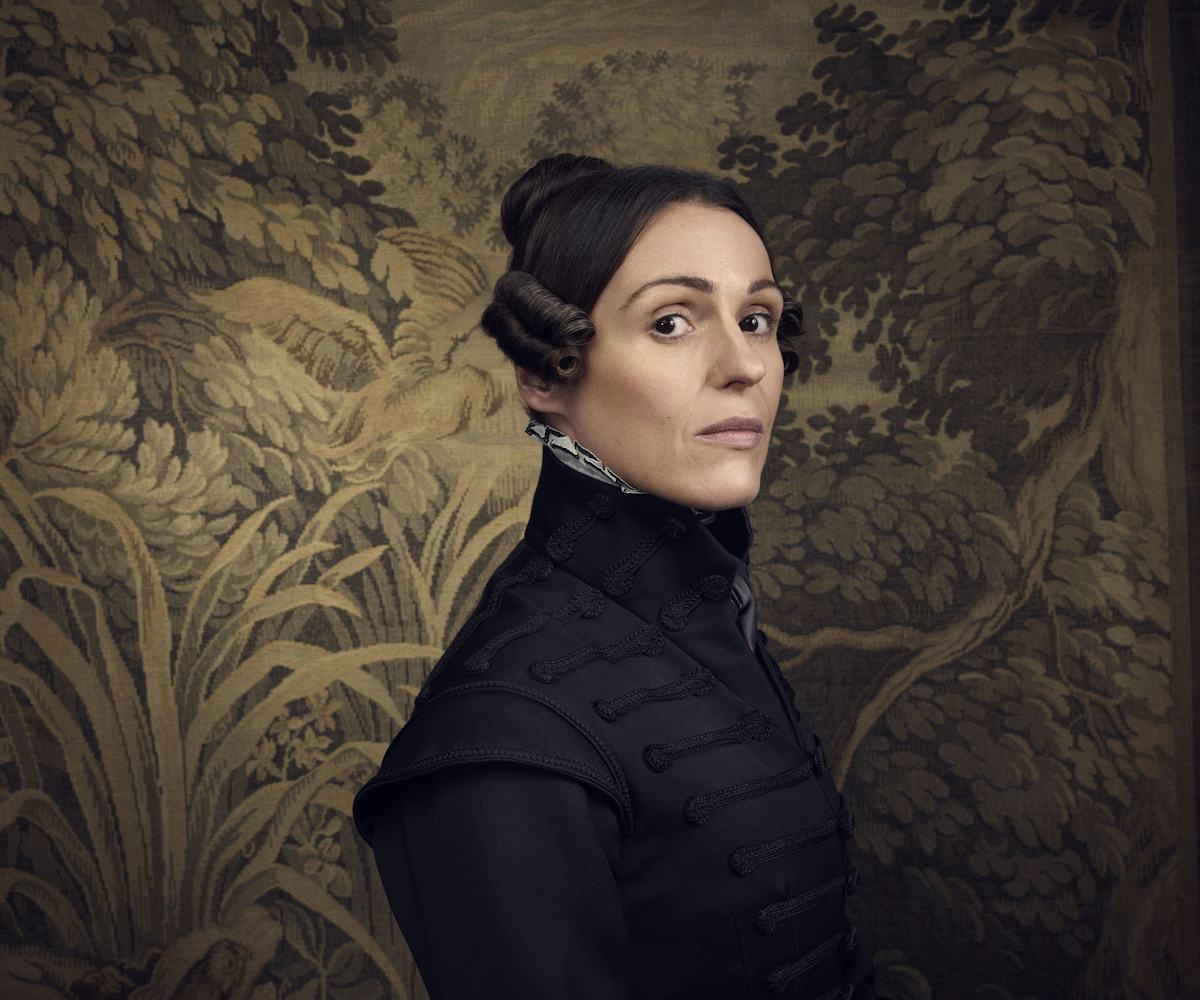 Photo by Jay Brooks/HBO
'Gentleman Jack' Is The Horny Lesbian Period Drama We Deserve
Up until very, very recently, queerness was more of a suggestion than a concrete plot point in beloved period dramas, like Downton Abbey and The Tudors. We are, of course, blessed to be alive in the time of movies like The Favourite, and shows like Godless, which feature women who love each other wearing old time-y costumes. Nothing, though, could have prepared me for the absolute, unbridled lesbian joy of BBC/HBO's new show Gentleman Jack, a historically accurate series about the magnificent Anne Lister, closely based on the 5 million words she meticulously wrote across 27 diaries, mostly in a secret code.
Because Lister was writing back in the 1830s, the word "lesbian" is not actually used. Nor was there sufficient language to describe her gender presentation—Lister is gender-bending but she is not, as we're led to understand in the first episode, at least, gender queer; it is not her womanhood that she questions, but rather her ability to do the things she wants to do as a woman. That being said, she certainly wears a great deal of men's clothes and exudes a masculine charm. Anne Lister in the context of HBO's interpretation is an LHB (long-haired butch), and gloriously so. HBO's only other LHB that I can think of is Game of Thrones' Yara Greyjoy, played by Gemma Whelan, who also appears on Gentleman Jack as Anne's younger sister (a casting decision that feels like the best kind of knowing wink).
Let me get this out of the way: Anne Lister, as realized by Suranne Jones, is hot. And she's not hot in the way HBO viewers might be used to seeing a protagonist. She's not a pretty-yet-powerful mother of dragons, commanding armies with a flawless braid crown. Instead, from Gentleman Jack's opening credits, which show Lister lacing up a corset and then tucking away a sleek pocket watch, to her confidently raised eyebrows and assured, fast walk, Anne Lister's balance of masculine and feminine makes her hot in a way that is distinctly developed for a queer female gaze. She wears mostly black and even makes a totally weird hairstyle look fucking cool—and if that's not fair and honest lesbian representation, I don't know what is.
Perhaps the most delightful surprise of the show is that Lister's attraction to women is not a pain point for her. We do not see her either struggling to come out or to keep it a secret. In the series premiere, we see a woman leave Lister for a man, another use her for sex while married to man, and yet another—this one, much younger than she—fall for Lister upon first sight. The problem, really, is the time period, and the other women who struggle to reconcile their desire for her with what is appropriate. Anne Lister does not have this problem. She wants a wife, and she doesn't care who knows. She understands her sexual power, narrating what she observes about women being attracted to her, breaking the fourth wall to raise an eyebrow at the viewer. It is all very steamy, with a fast-paced percussion-heavy soundtrack that keeps it from feeling cheesy.
The backdrop of the show's love story is a business story. Anne Lister has returned to her home in Halifax and begins to take over the family business, starting by collecting rents and making decisions about coal mining. I am much less interested in this plot line but it is important for our understanding of her character: Lister was, in fact, brilliant, assertive, and not afraid to do a man's job—not shocking for an Aries, but uncommon, again, for a woman in that time. This makes her character reminiscent of Rachel Weisz's portrayal of Lady Sarah in The Favourite, and not just in terms of the corset-with-trousers vibes. And, importantly, her ability to transcend her gender in order to run a business speaks to her white privilege, too—a woman of color with similar ambitions would not have been able to have a parallel journey. Anne Lister's whiteness, and her wealth, meant that she had more access to male spaces than women from different racial and socioeconomic backgrounds.
That is not to say that Anne Lister's life is without pain. Her anguish and her loneliness are palpable, and it is quickly conveyed that her propensity for bouncing from country to country is as much to do with being an outsider as it is her insatiable mind and distaste for anything she deems mediocre. But what makes her an attractive character is that she is also deeply funny; her frustration with people of lesser intelligence and the way she is always one step ahead of everyone around her creates a bond between her and the viewer—watching her bounce around, hearing her thoughts, and being on the receiving end of the occasional, charming eyebrow wiggle, the audience becomes her diary, her lover, and maybe even the equal that the character doesn't yet have. Gentleman Jack is ultimately a funny, touching, horny lesbian period drama filled with lingering gazes and subtextual sighs—and it's the one we deserve.
Gentleman Jack premieres April 22 on HBO.