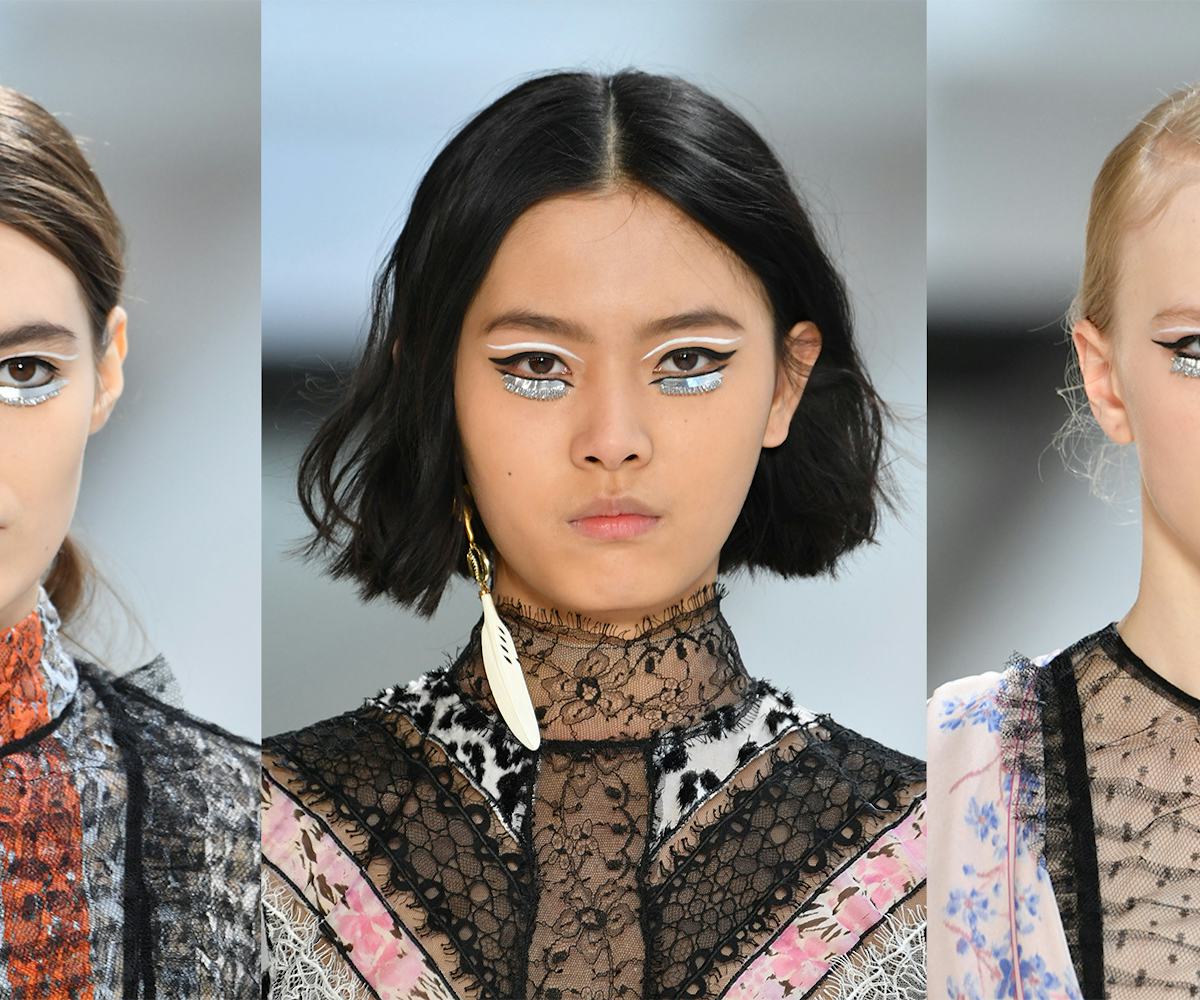 Photos by Pascal Le Segretain/Getty Images
Are Foiled Lashes The Next Big Beauty Trend?
A futuristic alien take on the Twiggy signature debuted on the Giambattista Valli runway, and we're obsessed
Since Paris Fashion Week kicked off last week, we've been blessed with a bevy of exciting beauty happenings, from light-up makeup at Marine Serre to the semi-demonic red contacts at Balenciaga. But, honestly, the only thing we can think about is the glorious eye look that debuted on a handful of models at this morning's Giambattista Valli runway show. Amongst a sea of fresh-faced, natural beauties emerged the foil lash.
Sure, we've been seeing foiled lids for the past couple of seasons now, even just two weeks ago at London Fashion Week. But foiled lashes? Giambattista Valli is on to something.
The look, created by makeup artist Val Garland for M.A.C, goes as such: The eyes are rimmed with black liner, slightly winged for some, and a swipe of white liner runs above the crease and under the brow bone for a modern take on '60s mod makeup. The true magic happens underneath the eye, where a strip of metallic foil, complete with a strip of fluttery "lashes," is glued underneath the lower lash line. It's the latest—and possibly our favorite—version of the undereye makeup trend we've seen to date.
The rest of the look was kept fairly simple—clean skin, a nude lip, a filled-in brow. Hair was either casually pulled back or left down, slightly tousled, in its natural state. Basically, the eyes did all the talking.
Foiled lashes are basically the futuristic alien version of a classic Twiggy look and, come next fall (or, like, as soon as we can get our hands on some tinfoil), you can consider this our new go-to party look. I mean, it is a slightly more achievable—and definitely just as cool—as LED makeup.