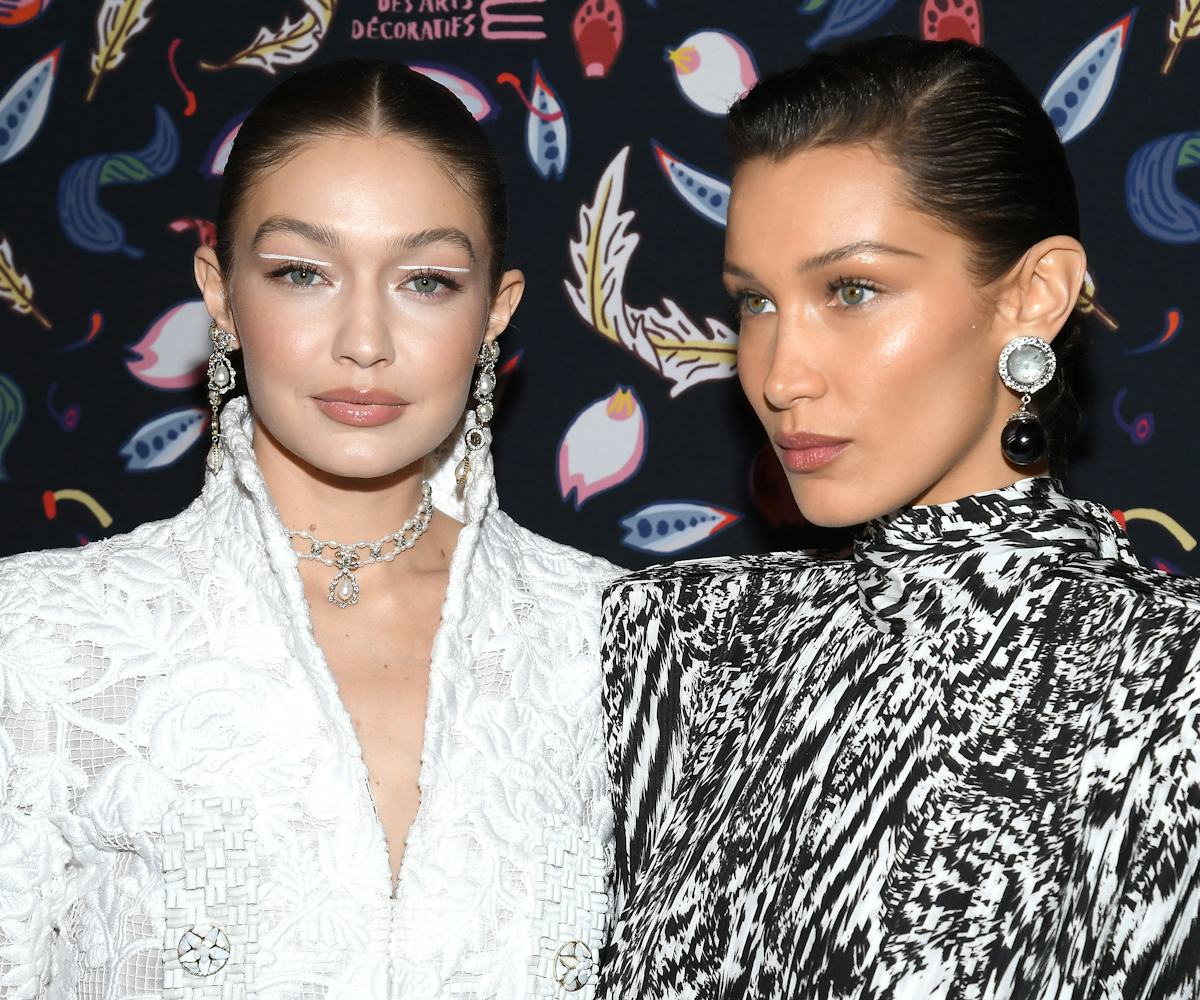 Photo by Pascal Le Segretain/Getty Images
Gigi Hadid Just Nailed The White Eyeliner Trend — And The Look Is Super Easy To Copy
A runway-ready look that anyone can acheive
The use of negative space is a popular and easy look to achieve in the world of beauty, having appeared on countless Instagram Explore page manicures, on runways, and on famous faces like Kendall Jenner all embracing the angular look. The makeup look seems to also have a fan in Gigi Hadid, who interpreted the trend during Paris Fashion Week with a minimal, icy twist.
Accompanied by her sister Bella, Hadid stopped for a few photographs outside of an event held by Harper's Bazaar on Feb. 26 evening, showing off her white, negative space makeup. Sharing a post to her Instagram Story, Hadid revealed that Patrick Ta was responsible for the chic look.
Ta, who worked with hairstylist Laura Polko and assistant Nora Kourkis on the model's "First night in Paris" routine, shared a close-up gram of the model's makeup. As part of the night's beauty regimen, Hadid's hair was pulled back, which allowed her makeup to be the focal point. To complete the eye makeup, Ta appeared to carefully align two white lines just above the top of Hadid's eyelids. He kept the rest of the look very simple, adding just the slightest eye wing and some gloss to her lips.
The choice of white liner proved to be the perfect accompaniment to Hadid's all-white Chanel coat dress. Styled by Mimi Cuttrell, the model also wore diamond-drop earrings and a diamond necklace.
In order to DIY the look, you'll need to have a careful hand when aligning the lines across each eye, but there are plenty of white liner options that can help make the whole process a lot easier.
Below, shop a few of our favorite liners that will help you complete a look worthy of Paris Fashion Week.
Hard Candy Liquid Liner
Hard Candy, Liquid Liner, $6, available at Hard Candy.
This fine-tipped liner would make for a seamless application of a single line.
M.A.C Chromaline
M.A.C Cosmetics, Chromaline, $22, available at M.A.C Cosmetics.
The pure white shade of the liner is also waterproof, meaning nothing — not even rain or tears — will stand in the way of your Hadid-inspired look.
Wet n Wild Color Icon Kohl Liner Pencil
wet n wild, Color Icon Kohl Liner in You're Always White!, $6.45, available at Wal-Mart.
Breaking the bank isn't required to achieve negative space eye makeup. Pick up this wet n wild pencil at your fave local drugstore.
NYX Faux Whites
NYX Professional Makeup, Faux Whites in Vanilla, $5.60, available at Ulta.
Put a colorful spin on this look with NYX's Faux White liner that includes a touch of color.
Maybelline Lasting Drama Eyeliner Pencil
Maybelline, Lasting Drama Light Eyeliner Pencil, $5.99, available at Maybelline.
Another affordable drugstore option, Maybelline's Lasting Drama pencil features a waterproof formula and a fine precision tip.