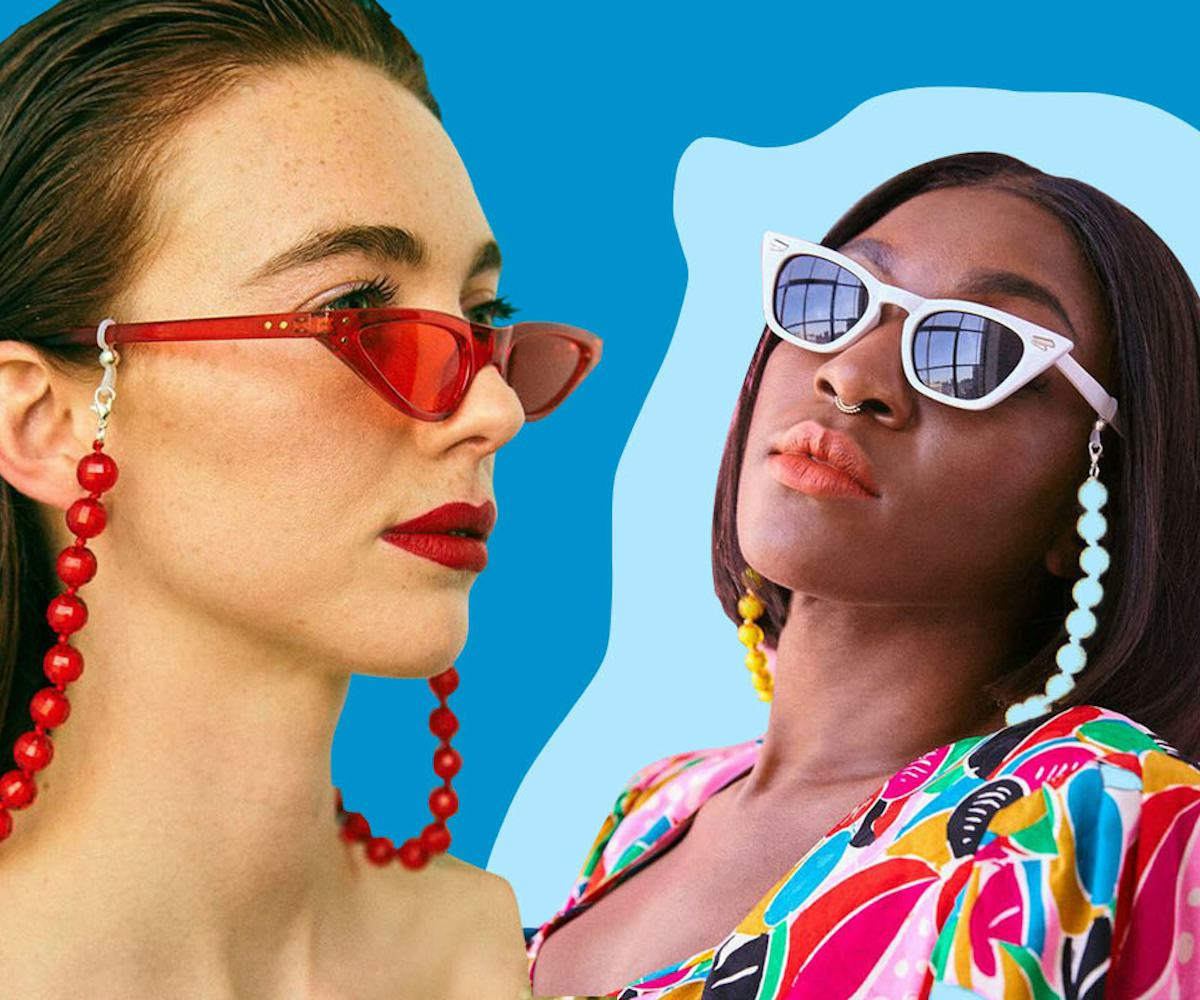 Channel Your Inner Librarian With These Geek-Chic Glasses Chains
Oh, and never lose your sunnies again
One of Summer 2019's biggest accessory trends also happens to be one of the most unexpected: the glasses chain.
Once seen solely attached to the reading glasses of librarians and your grandmother, these convenient accessories are now being spotted everywhere, attached to the readers—and the sunnies—of street style darlings and beach-goers alike.
What sparked this renaissance? We're not entirely sure, but we're not mad at it, either. It doesn't hurt that the glasses chain revival is more colorful, quirky, and in-your-face than ever. From neon beads and chains to fruits, pearls, and stars, these whimsical accessories fit in nicely with today's hair clips and beaded handbags. And, of course, if you're someone that's constantly losing your glasses (like me), this new trend is an obvious must-try.
Check out the geekiest-chicest glasses chains of the summer, below.
DiscoChains, SunChain, $36, available at DiscoChains.
BaubleBar, Tessara Sunglasses Chain, $32, available at BaubleBar.
Tuleste, Fruit Eyewear Chain, $75, available at Tuleste.
Luiny, Lola Glasses Chain, $90, available at Urban Outfitters.
Staud, Sunglass Chain Tortoise Resin, $75, available at Staud.
Venessa Arizaga, Rainbow Smiles Sunnies Leash, $150, available at Venessa Arizaga.
Free People, Beaded Sunnies Chain, $24, available at Free People.
Urban Outfitters, Hanna Heart Sunglasses Chain, $16, available at Urban Outfitters.
Roxanne Assoulin, Patchwork Brite Sunglass Chain, $75, available at Roxanne Assoulin.
Le Specs, Neck Chain Star in Gold, $15, available at Le Specs.
Linda Farrow Luxe, Sunglass Chain, $248, available at Shopbop.
Rosantica, Deserto Beaded Gold Tone Sunglasses Chain, $140, available at Net-A-Porter.
DiscoChains, CherryChain, $36, available at DiscoChains.
Corinne McCormack, Faux Pearl Glasses Chain, $22, available at Bloomingdales.
NYLON uses affiliate links and may earn a commission if you purchase something through those links, but every product chosen is selected independently.