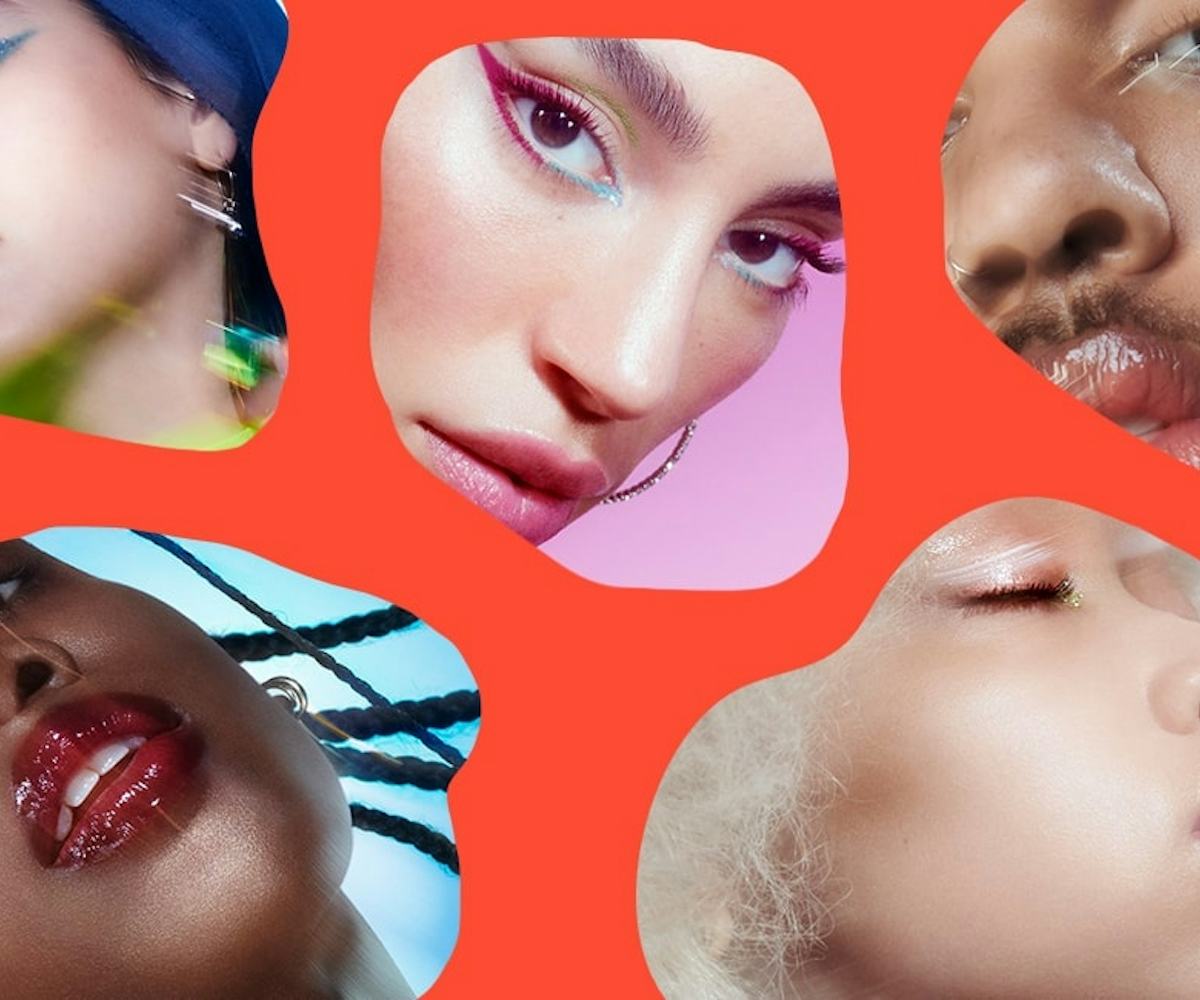 Photos courtesy of Glossier
Your First Look At Glossier Play Is Finally Here
Take a look at the new products
The most highly anticipated brand launch of the year would have to be Glossier Play, the mysterious (er, up until now) new venture from Glossier. And guess what? It's. Finally. Here.
Early last week, Glossier announced that something new was coming our way, offering no hints whatsoever of what it could possibly be, save some cryptic Instagram posts on the new brand's account. We had some theories of what it could be, from sex toys to a music venture to cosmetics for people who actually want to look like they're wearing makeup (Glossier has a line of makeup products but it steers on the side of minimal). We were right about the latter.
Glossier Play has officially launched this morning, with four products: lipgloss, eye pencil, highlighter concentrate, and glitter gel. And, they're just as colorful, sparkly, and dreamy as we wishfully anticipated they would be. Additionally, the line will be launching two tools: Blade, a high-tech sharpener for your eye pencil-sharpening needs, and The Detailer, a precise applicator designed to help you apply the glitter gel.
For those of us dying to try the full collection (all of us, obviously), you can snag the full Playground, one of each of the new launches in your shade of choice, plus Blade and The Detailer, for $60.
Consider our Monday blues cured. Take a closer look at some of the new products, below, and start shopping at Glossier.com/play.
Glossier, 'Vinylic 'Lip High Shine Lacquer, $16, available at Glossier.
That cryptic, color-changing vinyl-esque G we saw on Instagram? Yep, it's lipgloss. Six shades of mega-shiny, mega-pigmented gloss, to be exact. From dark taupe to neon orange, get ready to have the juiciest, shiniest lips of your dreams at the click of a pen. (Yes, this product comes in a mess-free, click-pen form.)
Glossier, Colorslide Technogel Eye Pencil, $15, available at Glossier.
Create the wildest eye looks with the Colorslide Technogel Eye Pencil, a long-lasting, highly-pigmented eyeliner pencil that comes in 14 colorful shades, a mix of matte and metallic. The smooth, gel formula lasts for 12 hours, with matte shades holding up for up to eight hours in the waterline.
Glossier, 'Niteshine Highlighter Concentrate, $20, available at Glossier.
Get ready to glow like you've never glowed before. Niteshine Highlighter Concentrate is a buildable liquid strobe available in four pearlescent shades that'll bring light to your favorite features.
Glossier, Glitter Gelée Multigrade Paillettes, $14, available at Glossier.
The glitziest glitter, minus the mess. The transparent gel base, available in four stunning shades, keeps the ultra-reflective and multidimensional paillettes in place, so they mirror your every move without budging (for up to 12 hours, which might be a new record for glitter).
NYLON uses affiliate links and may earn a commission if you purchase something through those links, but every product chosen is selected independently.