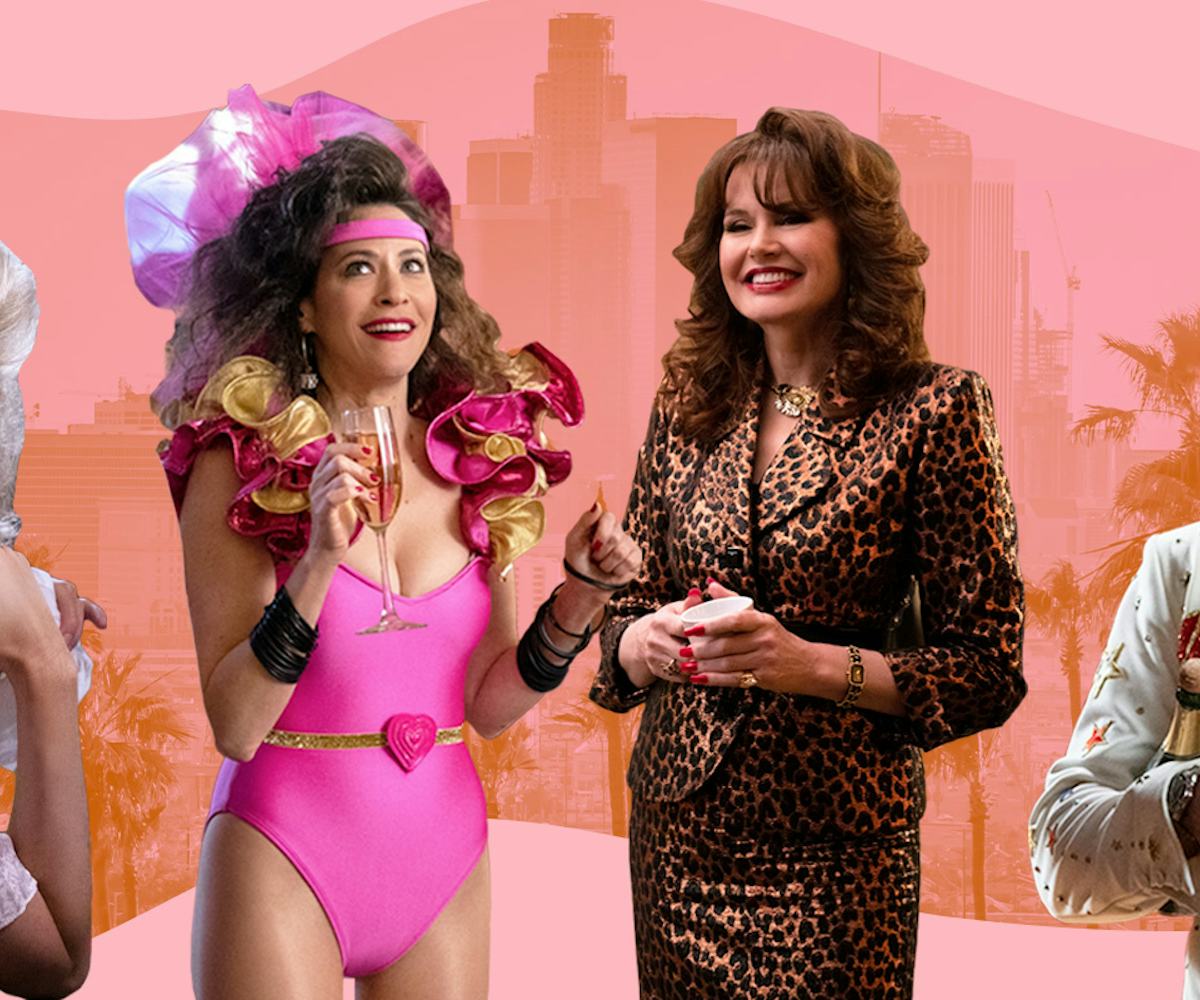 Photos courtesy of Netflix
The 'GLOW' Costume Designer Reveals The Best Vintage Spots In L.A.
She spills exactly where she scores all of that '80s gold
Season 3 of GLOWis finally here, and we honestly couldn't be more excited. We've been following the beloved Gorgeous Ladies of Wrestling since the show first premiered back in 2017, and are not only entranced by the story line, but also by the show's epic vintage wardrobe.
The show's costume designer Beth Morgan had quite a bit of research to do in order to nail the ladies' mid-'80s looks, followed up by a lot of vintage hunting. Morgan tells us that the show's wardrobe consists of about 50 percent sourced vintage, and 50 percent custom-made pieces. While all the girl's fantastical wrestling costumes are designed and made in-house by Morgan, their street clothes are sourced from vintage shops, warehouses, and the internet.
As we follow the ladies to Vegas this season, there are going to be plenty of over-the-top '80s showgirl pieces to come. And, well, we wanted to know where we can capture some of that magic ourselves.
Morgan credits Etsy and massive vintage warehouses for a good portion of the show's costumes, but also several local (and open to the public) L.A. vintage and secondhand shops. Lucky for us, she blessed us with her go-to list, both for the show's needs and her personal favorites. Consider this the only guide you'll need to shop vintage the next time you find yourself in the City of Angels.
Recess
Not only is La Brea vintage and consignment shop Recess one of Morgan's go-to for GLOW, but she considers it to be her number one stop for vintage in the entire world. Carrying vintage dating back to the '20s and secondhand contemporary finds of today, you'll find that Recess is full of unique and (thankfully) reasonably priced pieces you'll hold onto forever.
The Way We Wore
Morgan considers this other La Brea shop, The Way We Wore, another one of her GLOW musts. Not only do they offer a solid collection of designer and premium vintage goods spanning decades, but they also recently launched a YouTube channel that documents everyday life in the store and educates its followers on fashions from different decades and cultures.
Golyester
Yet another La Brea vintage shop (sounds like La Brea is the neighborhood for vintage), Golyester is another go-to for Morgan when costuming the ladies of GLOW. While this shop specializes in '20s-to-'60s vintage, there are still a number of GLOW-worthy, '80s picks available, as well as some truly unique, out-of-this-world pieces (I mean, check out its Etsy page for proof).
Regeneration
Hollywood's Regeneration is another GLOW pick for Morgan; the two-story store carries pieces from the Edwardian era up to the 2000s, with quite a few designer gems sprinkled in. With new inventory put out on the floor each week, this is definitely a shop you won't want to miss.
The Kit Vintage
While this may not be her go-to for GLOW, Morgan counts Fairfax's The Kit Vintage as a personal favorite for finer vintage clothing. She considers it a must for investment pieces, especially for special occasions such as formal events and bridal.
Cannonball & Tilly
Morgan opts for Little Ethiopia's Cannonball & Tilly for its selection of "amazing jumpsuits and insane jewelry." This shop carries goods from the 1890s up to the 1990s.
The Rose Bowl Flea Market
The Rose Bowl Flea Market is a Los Angeles staple which Morgan recommends for all of the amazing finds, from its many vintage stands to all of the other odds and ends on sale.
Long Beach Antique Market
Another massive market on Morgan's list? The Long Beach Antique Market, where you'll find vintage, antiques, and more from over a whopping 700 vendors.
A Current Affair
Massive market A Current Affair is a moving one, popping up with over 70 different vintage vendors at a time in Los Angeles, as well as San Francisco and New York. "They call it the best vintage under one roof, and they're not lying," says Morgan. "If you're really desiring a certain piece, you can tell people [from A Current Affair], and they'll look out for you. It's definitely worth checking out." Check the website for upcoming show dates and ticket information.
What Goes Around Comes Around
Here's one for those of us on the East Coast! Morgan loves What Goes Around Comes Around, specifically mentioning its New York locations, for its selection of luxury vintage, and considers this another one of her favorites when it comes to hunting for investment pieces (think: Chanel logo bags and accessories and vintage Dior tees). However, do note that in addition to WGACA's multiple NYC locations, it also has storefronts in East Hampton, Miami, and, fittingly for this guide, Los Angeles.