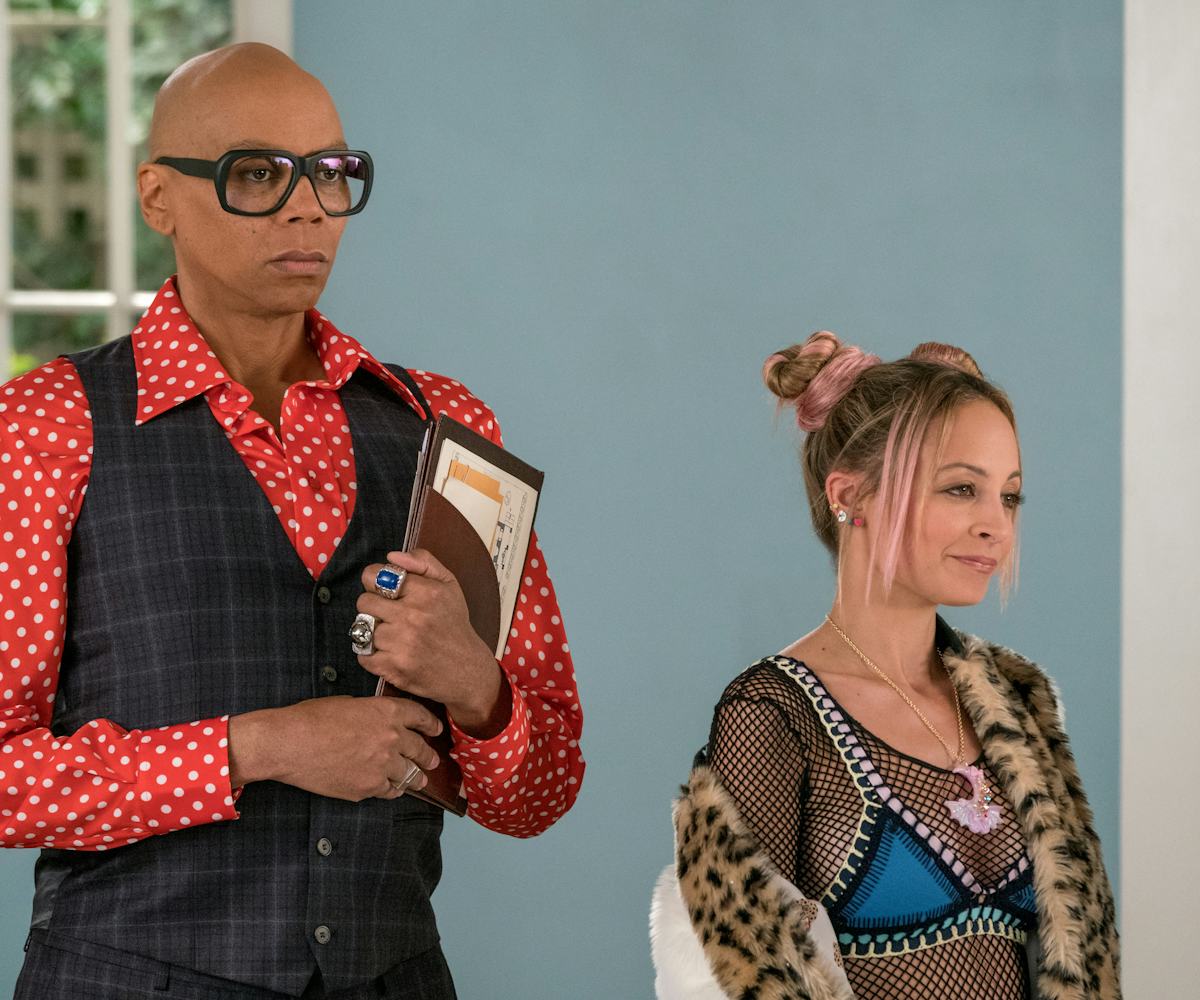 Photo by Ali Goldstein/Netflix.
Why Millennials Love 'Grace & Frankie'
Social justice, self-depreciation, and A-listers are at the heart of it
A show about two septuagenarians who are forced to rebuild their lives after their husbands leave them isn't a television show description that screams "millennial engagement." Still, hoards of us hunker down every year to binge on Grace & Frankie, the Netflix original series that just released its fifth season and is already renewed for a sixth. The show has become a smash hit across generational lines, and even though I know why I love the show, I wanted to hear from other millennials about what it is about Grace (Jane Fonda) and Frankie (Lily Tomlin) that keep us young folks glued to our screens.
In case you haven't seen it, Grace and Frankie have very little to do with one another before their husbands, Sol (Sam Waterston) and Robert (Martin Sheen), gather them to dinner for an announcement: The men are gay, they've been having an affair for nearly 20 years, and, now that same-sex marriage is legal, they want to take advantage of it and wed each other. But first, they'll need divorces from Grace and Frankie. It's a weird place to be in for people of any age, but it sends the two women into full-on identity crises while making them fast friends. Grace & Frankie gets additional flavor from its adult children. Grace and Robert are parents to Mallory (Brooklyn Decker), a now-separated housewife and Brianna (June Diane Raphael) who has taken over her mother's cosmetics company. Hippies Sol and Frankie have two children, both adopted, of their own: Coyote (Ethan Embry), a recovering drug addict, and Bud (Baron Vaughn), their well-to-do black son.
Together this ensemble cast has won fans over as one of the most eclectic blended families on television, one that speaks to millennials' own experience with ad hoc families full of real characters. "I love Brianna," Loryn C. Wilson, 34, says. "I love how both her wit and her cynicism are direct byproducts of Grace's parenting... or lack thereof. Also, her [outifts] are FIRE." Brianna rejects normalized codes of femininity in favor of a sex-positive, sometimes crass, but thoroughly independent take on modern womanhood. She is a feminist but admittedly struggles to balance her autonomy with healthy relationships.
For millennials, this is all very familiar territory, as is the way the show leans into its progressive values. Dominique Hazzard, 28, told me, "I love seeing old-ass gay people being happy, even though they are white men." April Miller, 30, echoed similar sentiments, also noting that the friendship between these two women is queer in its own right as well. "Outside of their ex-husbands being in a committed relationship—they are two older women who were brought together by fate but have ultimately chosen to live their lives as [platonic] partners," she explained. "The men in their lives are side pieces. Of course, their partnership continues to be tested, but it's a non-traditional and fresh story line."
For others, the show is a how-to guide on healthy relationships. "I actually really love that they've moved into exploring the benefits and challenges of such a close, though unexpected, friendship-bordering-on-codependency," Jishava Patel, 25, said. "These two needed each other and brought out the best in one another, but also have brought out the worst, too. And their ability to realize it—eventually—and humbly—sometimes—apologize is so real and refreshing. [It's] about the healthiest depiction [of friendship] I've seen in a series, so far."
Grace & Frankie has also found a sweet spot for A-list cameos. RuPaul was a guest star on this season. The Drag Race host plays Benjamin Le Day, an overworked, no-nonsense assistant to the wealthy, anonymous buyer that purchased Grace and Frankie's house after their children put them in an assisted living facility. His scathing insults toward the two women are ruthless and hilarious, and his presence allows us to see yet another side of our main characters as they try to relate to a black gay man. Nicole Richie popped up, too, appearing as Kareena G, a social media-obsessed pop star and Benjamin's boss.
Because Grace & Frankie is constantly pushing the envelope on both age-appropriateness and family friendliness, it makes sense that the celebrities millennials love would be down to join the cast. They get the chance to work with entertainment industry legends, play characters that are well-written and often different from their previous roles, and probably have a great time in the process. At the heart of it, Grace & Frankie "transcends race, age, and class," a fact that 29-year-old Tajmar James pointed out. "They are old and rich white women, and I identify with them and want to be their friends." Unlike its main characters, if it keeps the same spontaneous energy, Grace & Frankie will never get old.