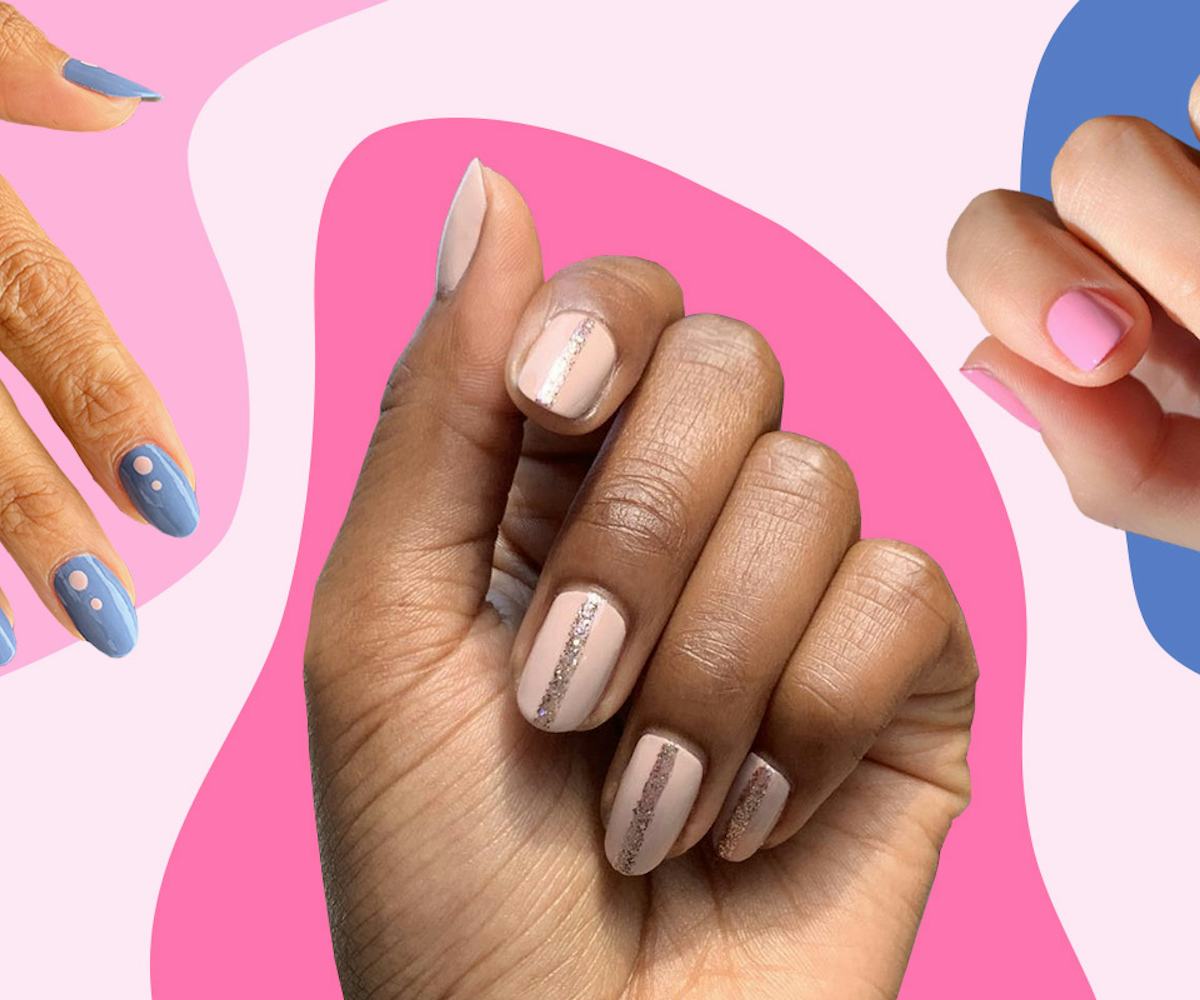 Images courtesy of Paintbox; Betina Goldstein
9 Nail Color Combos For Your Next Multi-Shade Manicure
For when you just can't choose
There's almost always a lot going on in the world of nail art. Just give your Instagram Explore page a single scroll, and you're guaranteed to find at least one bedazzled fingertip, animal-print covered nail, or bizarrely masterful manicure. But arguably, one of the most popular things to do with your nails over the last year is also one of the most simple — the multicolored manicure trend.
"Over the last year, clients have been asking more and more for multicolored nails," celebrity nail artist and CND education ambassador, Vanessa McCullough — whose clients include the likes of Billy Porter, Lupita, and Natasha Lyonne — tells NYLON. "Whether it's multiple colors on each nail, polishing each nail a different tone of the same color to get an ombre effect, or even polishing completely contrasting colors on each finger, multicolored nails are a huge trend."
The look, whichever its iteration, has been all over Instagram for the last year, and it's not hard to understand why. Outside of adding a low-stakes dose of fun and playfulness into an otherwise boring solid-color manicure, McCullough also notes the relief of not having to make the decision on just one color.
But if the idea of having to choose more than one color causes you even more stress, we've rounded up a handful of expert-approved color combinations below, for the next time you're feeling indecisive.
Violet + Deep Navy
Givenchy
, Vivid Orange High Shine Lacquer, $24, available at
;
Essie
, Aruba Blue Nail Polish, $8, available at
.
"Deep blues or purples are very popular colors but not necessarily two colors that people would immediately be drawn to put together," says McCullough. While the deep shades seem primed for the winter months, McCullough notes they pack a punch year-round.
Mango + Toasted Almond
Orosa, Star Nail Paint, $12, available at Orosa; J. Hannah, Marzipan Polish, $19, available at J.Hannah.
Yellows can be intimidating, but if you're looking to experiment with the hue, try a mellow mustard shade paired with a muted neutral.
Denim Blue + Muted Pink
Paintbox, Power Couple Like Rain + Like Blush, $40, available at Paintbox.
"Denim and a milky pinky-peach is a classic color theory combination that looks stunning year-round," says Eleanor Langston, chief creative officer of Paintbox. "We love alternating nails, wearing as a mani/pedi duo, or even one hand and one hand. This cool pairing was inspired by a slate-blue sunset and a chalky-blush sunrise. The twosome tells an edgy but still elegant story."
Sand + Glitter 
Paintbox, Power Couple Like Mystery + Like Magic, $40, available at Paintbox.
"When chatting about color combinations, don't forget to consider glitters," says Langston, calling them nail art in a bottle. "You could simply paint a stripe of the holo glitter atop the sand shade, do the glitter as a double accent nail, or alternate the shades."
Pale Blue + Milky Ivory 
Essie, Marshmallow Nail Polish, $7, available at Amazon; Deborah Lippmann, Creme Nail Polish, $18, available at Bloomingdale's.
"I would definitely include a blue this season, so I would go with a creamy nude color with light blue," says Violetta, the Barcelona-based nail artist better known on Instagram as @yeswhatnails. "It's a balanced combination, easy to find and to wear."
Creamy Brown + Khaki Green 
Deborah Lippman, Been Around The World, $20, available at Net-a-Porter; Orosa Succulent Nail Paint, $12, available at Orosa.
For the neutral, earthy crowd, the mossy green color makes the unexpectedly cool brown pop.
Tonal Shades: Pink
Essie, Need A Vacation Polish, $9, available at Kohl's; Smith & Cult, Suburban Warrior Polish, $18, available at Net-a-Porter.
Going for tonal shades — be it two or a different shade for every finger — is an easy solution for when you actually do know what color you want, but you can't pick just one shade. Pink is especially fun color to play around with for this look, with the contrasting electric shades and soft pastels.
Orange-y Red + Violet Blue
Givenchy, Vivid Orange High Shine Lacquer, $24, available at Saks Fifth Avenue; Essie, Aruba Blue Nail Polish, $8, available at Amazon.
"This combination is bright and bold and just says 'I am here'; that is the reason I like it so much," says Violetta.
Cinnamon + Pale Lemonade 
Paintbox, Like Spice Nail Lacquer, $22, available at Paintbox; OPI, Meet A Boy As Cute As Can Be, $8, available at Walmart.
"Our clients are obsessed with this '70s-inspired cinnamon and pale lemonade combination," says Langston. "It packs a retro punch that looks especially modern now. Alternate nails or draw a simple moon."
NYLON uses affiliate links and may earn a commission if you purchase something through those links, but every product chosen is selected independently.