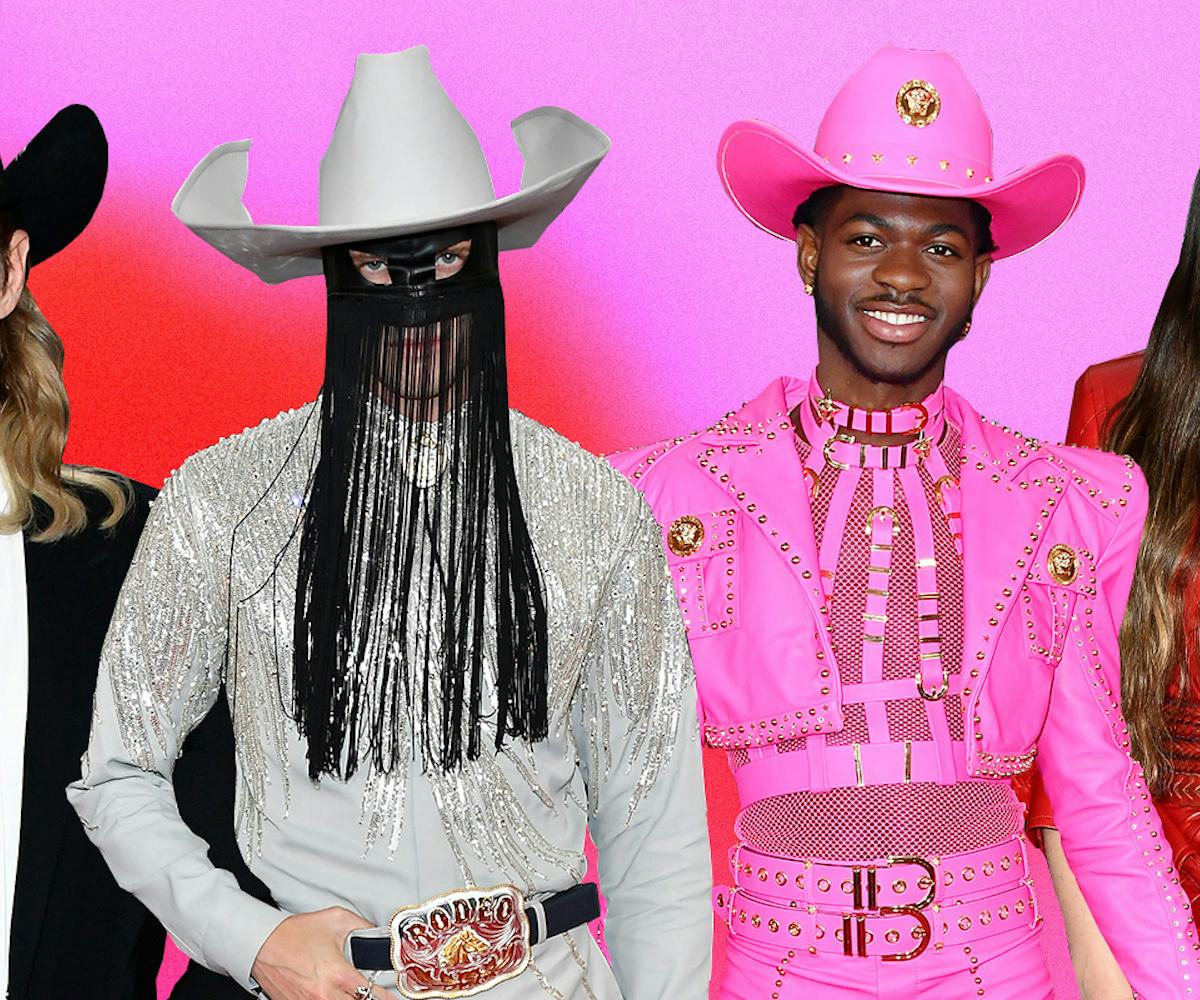 All The Yeehaw Fashion At The 2020 Grammys, Ranked
It's a showdown on the red carpet
The "Era of the Yeehaw" is not yet over, as seen on the 2020 Grammys red carpet. Many artists arrived in their best cowboy/cowgirl/cowperson getups, including Rosalía in a custom red fringe dress by Alexander Wang or the yeehaw prince himself, Lil Nas X, who wore a hot pink Versace western-inspired suit, along with his signature cowboy hat. Walmart yodeling kid-turned-Instagram icon Mason Ramsey took a more subtle approach to the Americana aesthetic in a patterned jacket and jeans, but that didn't stop him from showing his roots with a big ol' belt buckle. (Please don't be getting too Hollywood on me, Mason.)
But the popular fashion choice didn't stop there: We saw Orville Peck in all his country-clothing glory, as well as Billy Ray Cyrus staying true to his "Achy Breaky Heart" roots. Big Freedia's western ensemble was made up of leather and studs, while Diplo's look was fairly simple, save for some eye-catching turquoise details. While the western look was having a moment on Sunday night, who among them rocked it so well to take home the top yeehaw prize? We put in the work to rank them and break it all down, below.
Billy Ray Cyrus comes in last. Yes, he looks like a man who sold his tech company and decided to retire to Wyoming to ranch life, but this also seems like something he would wear in everyday life. It's the Grammys, Billy, you need to bring it a bit harder.
Mason Ramsey is the ultimate yeehaw boy. He sang (yodeled!) in a Walmart while wearing a bolo tie. Sadly, this look is just not very country. The belt and boots are fresh, though.
Diplo has been riding the cowboy style train for some time now, so much so that this is a fairly subtle red carpet choice for him. But it still delivered, and the world collectively thanks him.
Tanya Tucker brought you a ruffled, leather cowgirl look, and that's why she's one of the greats.
Big Freedia paired a sheer shirt with a studded, chainmail, leather jacket, and where do we get it?
Rosalía took the dancing red dress emoji and turned it into a full-on hoedown.
Country singer Orville Peck gave us leather fringe, crystal fringe, and a belt buckle that says "rodeo." I want all of it.
Lil Nas X rose to the top with his country style, which made him the most vulnerable for disappointment on the Grammys red carpet. What else could he bring that we haven't seen before? He'll tell you: hot pink Versace. It's a win for our favorite "Old Town Road" star.