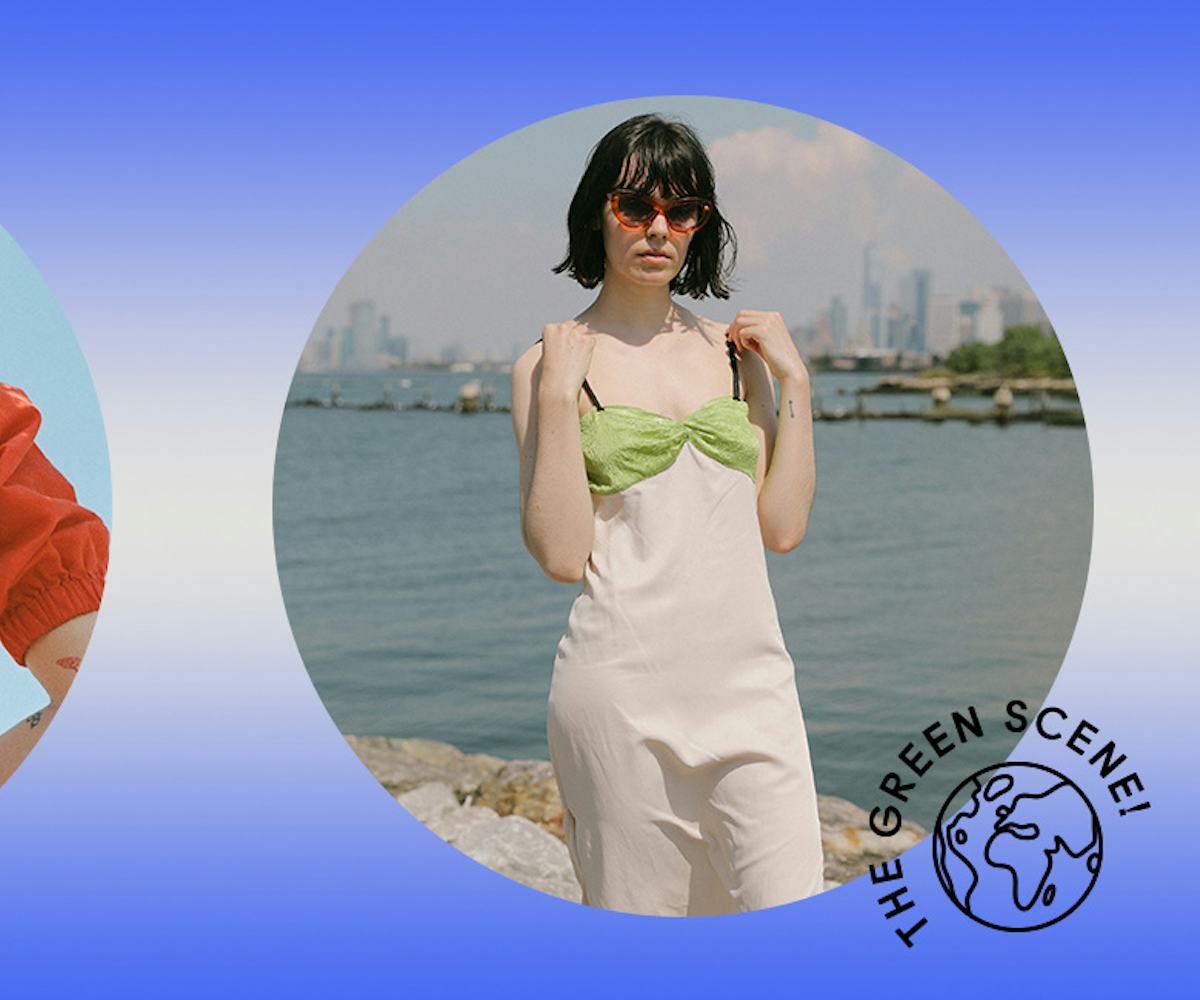 Photos courtesy of Ajaie Alaie
This Brand Is Debunking The Myth That Sustainable Clothing Has To Be Unaffordable
How Ajaie Alaie is working to make eco-friendly fashion more accessible
Welcome to The Green Scene. Every week, we're highlighting the designers and brands working to make the world of fashion and beauty a greener, more sustainable place. The brands to support are the ones making a difference; check back every Tuesday to meet your new favorites.
As someone who has become quite passionate about sustainability and is constantly seeking new eco-friendly brands to gush over, I tend to bring up the subject a lot to my own friends—many whom aren't working in fashion, and aren't familiar with the vast majority of brands I'm in contact with on a daily basis.
Their general consensus on the topic is quite different from mine, though: Sustainable fashion is too expensive. While it's true that a lot of sustainable fashion is really pricey, there are a number of brands working to change this. Brooklyn-based label Ajaie Alaie is one of them.
Founded in 2015 by Daniella Samper, Ajaie Alaie offers feminine and playful pieces that are timeless, but with a twist. Think: knit basics with contrast lettuce hems; sheer shift dresses with colorful, brushstroke prints; and open-knit bodysuits featuring crocheted tulips or pineapples. The name Ajaie Alaie is derived from the Sanskrit phrase ajai alai, a mantra for being in one's power—invincible and indestructible. Wanting to create pieces that help its wearer feel more connected and grounded, each garment is designed with the body's chakra points in mind, containing a small, concealed amulet to serve as a reminder. But, most importantly (to us, the consumer), prices are 30 to 50 percent lower than your typical sustainable fashion label.
The Spring 2019 collection is inspired by the Japanese philosophy of wabi-sabi, finding beauty in the imperfect and old and appreciating what others may consider not good enough. "With that concept in mind, I wanted us to think of our wardrobes like this—to give our wardrobe a second look and chance when we think we need something new—if the button fell of, put it back on, if the zipper broke, have it replaced," says Samper. "This kind of thinking can get us out of thinking about clothes as being disposable, and invest in pieces that have more value to you and to your lifestyle."
Within this collection, you'll find dreamy, breezy dresses, linen suiting, puff-sleeved blouses, and lightweight knits made of deadstock fabrics, beads, buttons, leftover cuttings turned into patchwork, and hand-crocheted details. "We wanted to create pieces that would live in your closet forever because of how special, yet wearable, they were," says Samper.
While mindfully sourced fabrics and trims—from eco-friendly fabrics and vintage buttons and beads to deadstock yarn and fabric—have been a mainstay of Samper's collections since the beginning, the made-to-order aspect is a new way that she's working to minimize waste. The brand has also eliminated all its plastic consumption within the supply chain by introducing reusable mesh bags as garment bags and removing other wasteful products, such as hang tags, receipts, and other things that get thrown away.
Another main focus of Ajaie Alaie is making sure it functions as ethically as possible, with Samper choosing only to work with factories that pay employees a living wage, offer an opportunity for growth, and are forward-thinking in terms of environmental consciousness and waste reduction.
What sets Ajaie Alaie apart from many other sustainable brands out there is its desire to dispel the myth that sustainable fashion has to be expensive, as well as incorporate a wider range of sizes within the brand, both rarities within the sustainable fashion realm. "As we grow, we have seen the need for more size inclusion and the desire in people to shop sustainable fashion," says Samper. "Most sustainable brands are out of reach to many, understandably, because the cost to make things ethically and sustainably is always higher in addition to the retail margins, so it's been a puzzle for me to solve over the years."
The majority of Ajaie Alaie's pieces are under $250, which, yes, certainly doesn't compare to fast fashion pricing, but it's a much lower price point that many of the sustainable brands that exist today. With the addition of the new made-to-order collection, Samper has been able to expand her XS through L offering up to an XXL. As the brand is looking to constantly evolve and improve, we expect that size offerings will also continue to expand.
Samper explains that being a brand trifecta of inclusive, accessible, and sustainable is possible, but it's something you have to work for—continuously. "As a small brand, it can be trickier due to the minimums requested by factories because they also need to operate efficiently and be profitable," she says. "The only way for us to be able to offer more accessible price points was to go direct-to-consumer through a made-to-order model. It wasn't about only meeting one demand, but all of them." By running with a direct-to-consumer and partially made-to-order model, the brand is able to cut down on waste, offer a wider sizing range without leftover unsold inventory, and offer prices 30 to 50 percent lower than conventional retail prices due to not having the retail margins and other overheads that come with stocking inventory.
Naturally, this model has been working. "The response has been overwhelmingly [positive], and although it does require a lot of different planning, it definitely has been worth it," says Samper. "As a designer, I feel more fulfilled knowing that I have close control of my production and that I know what goes in and out and how much is being used and sold. Knowing these figures helps me stay conscious of my ultimate purpose: sustainability."
While a more expansive size offering is a new endeavor for the brand, Samper loves that she's been able to gather feedback from models petite to plus-size, as it has helped her grow as a designer. "It's been so enriching to learn what aspects in a design should change as size changes. It truly makes me feel like I am designing for women—for my sister, for my mom, for my friends, for any girl wanting to look and feel great," says Samper.
Now, if only more of the green fashion industry would follow suit, sustainability might just become more of the norm and lose its exclusive, sometimes elitist reputation.
You can shop Ajaie Alaie's latest collection at AjaieAlaie.com.