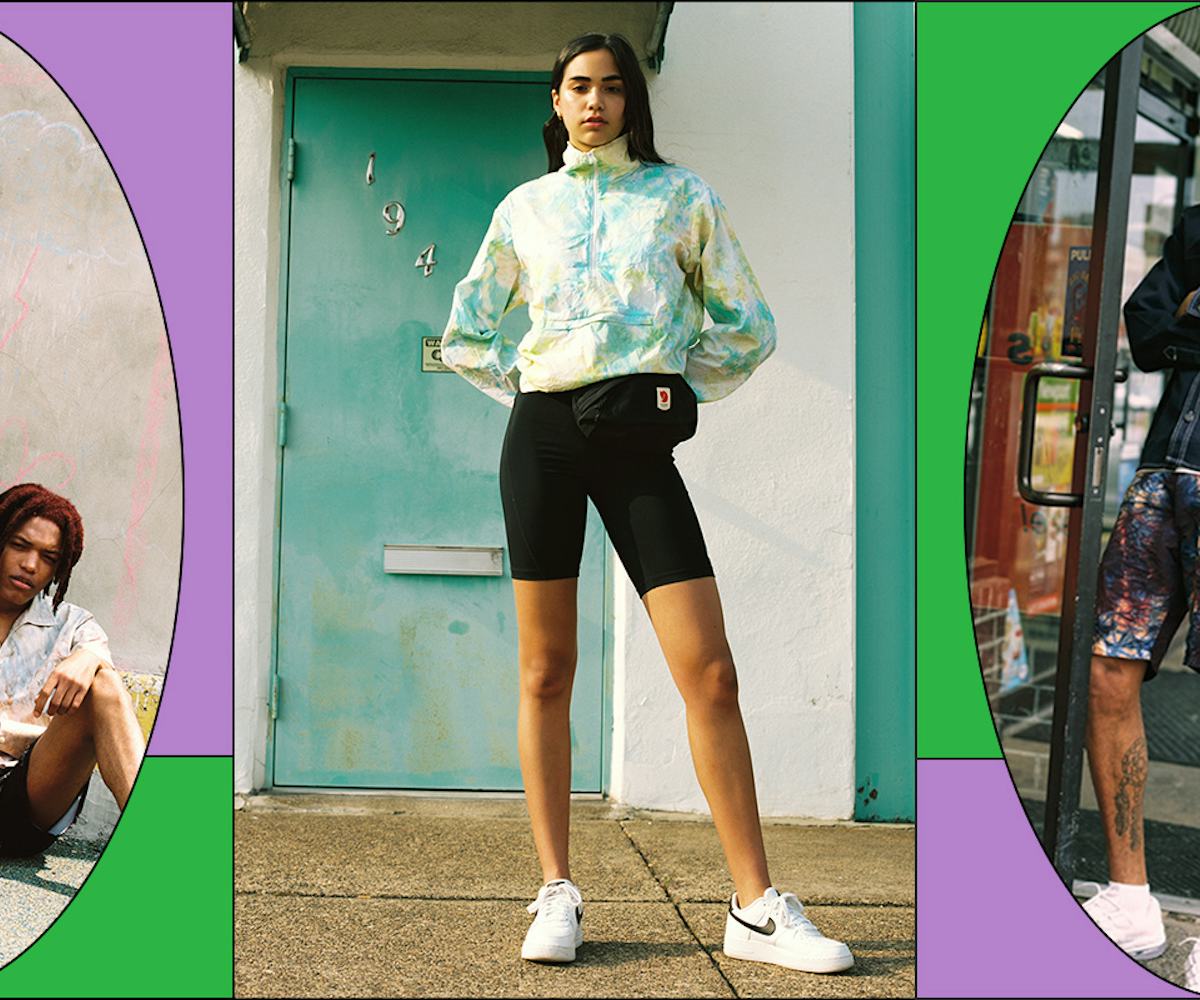 Photos by Louie Kovatch
Prepare To Be Obsessed With This Sustainable Tie-Dye Label
Riverside Tool & Dye is the perfect blend of streetwear and California cool
Welcome to The Green Scene. Every week, we're highlighting the designers and brands working to make the world of fashion and beauty a greener, more sustainable place. The brands to support are the ones making a difference; check back each Tuesday to meet your new favorites.
If there's one thing we know, it's that the tie-dye trend is alive and well, and, according to the runways, it will be for some time to come.
The colorful dyeing technique began to re-emerge on the Spring 2019 runways last September, and has been a prominent staple across the seasons, including the soon-to-drop Fall 2019 and even Resort 2020 collections, ever since. We're totally enamored with the nostalgic, California-cool, and even sometimes-political trend, and so, when we a discover a brand that's not only doing it well but also doing it sustainably (and accessibly-priced, too), we're all over it.
And that brand? Riverside Tool & Dye, the Philadelphia-based textile design studio boasting hand-painted and hand-dyed clothing and home goods.
Riverside Tool & Dye was founded by Kate Leeman back in 2012, long before we saw a renaissance of splotchy brights and pastels parading down the runways—and streets—of New York and Europe. Leeman's love for tie-dyeing techniques was sparked by a shibori dyed scarf gifted to her by a friend. From there, her label was born. "I began dyeing everything I could get my hands on," she says. "Vintage pieces were the most affordable and accessible and taught me about fabrics and garment structure. I filled my kitchen with tubs and pots and my yard with drying lines until the business grew to where it became necessary to expand into a studio."
The result? The perfect fusion of beach-y, California vibes and streetwear. All hand-dyed in gorgeous color combinations—ranging from soft, muted pastels to vibrant brights and moodier, deeper hues—you'll find everything from unisex utilitarian painter's pants and coveralls to tees, hoodies, and sweatpants to gorgeous silk slips, dresses, kimonos, scarves, and much more.
While tie-dye can have many meanings tied to it (no pun intended), whether cultural, nostalgic, or political, for Leeman, it's all about her love for pigments and water, and how the two mix. "I just love color, particularly the relationship between colors," she says. "I also love water and being by the ocean. The patterns in tie-dye remind me of the movement of water and the unpredictability of the ocean. Hand-dyeing is the perfect medium for me."
All sewn garments are done so locally, while Leeman and her team hand-paint or hand-dye in small-batch processes. She uses both eco-friendly and natural fibers for her pieces, whether they're innovative sustainable textiles, such as the recycled fishing line and ocean plastic fabric used for the collection of swimwear she launched this summer, or natural fibers such as cottons. She also sources an array of deadstock fabrics and vintage pieces, such as her line of painter's pants or the French terry used for her sweatshirts. Of course, her signature dyeing techniques use low-impact cold water dyes, incorporating some natural dyes when fitting.
Next, Leeman is focusing on finding a better packaging and tagging system to eliminate the use of plastic entirely. "Anything we can do to keep our oceans safe!" she says.
At a time where tie-dye fashion is at an all-time high, how could we resist shopping sustainable, hand-dyed pieces from an emerging label that deserves our business? And considering the vast majority of pieces are under the $200 mark, it's pretty much a no-brainer.
You can shop Riverside Tool & Dye's current offering at RiversideToolAndDye.com.
Photos: Louie KovatchStylist: Stephanie IselinHair and Makeup: Laura Gallindo