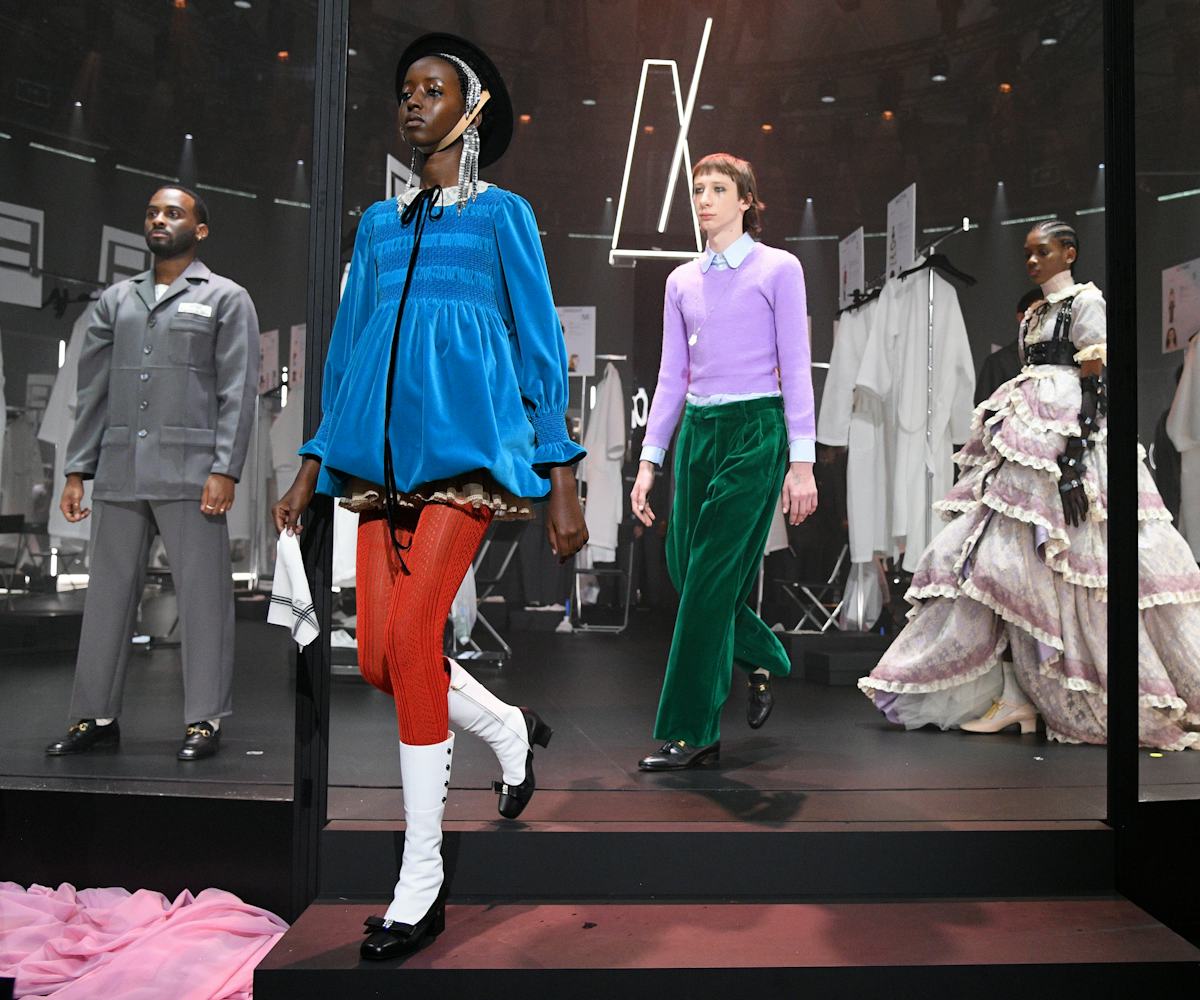 Photo by Daniele Venturelli/Getty Images for Gucci
Gucci Co-Signed Mascara Tears On The Fall 2020 Runway
The brand also teased a first — its very own mascara
It's no secret that Gucci remains a tentpole of Milan Fashion Week season after season, offering fans and fashion critics alike plenty to talk about, from the actual garments to the show's routine over-the-top sets. This season, however, Kering's shining star made a notable (and painfully relatable) statement on the beauty front, sending models down the Gucci Fall 2020 runway with running mascara tears.
The club-bathroom-at-3am look wasn't the only striking beauty style in the show — others included bleached eyebrows, powdery pastel eyeshadows, and stark, angular haircuts — but it was surely the one that felt most unexpected on the high-fashion runway. Achieved using Gucci's forthcoming Mascara L'Obscur, the brand's first foray into the category, each individual lash was defined using the wand tip, before the color was brought down the cheeks.
"We're kind of using mascara in a bit of an unexpected way for the show today," Thomas de Kluyver, global makeup artist for Gucci Beauty, shared on the Gucci Beauty Instagram Stories. "We're actually painting it on underneath the eyes as a grunge-y, punky eye and then we're actually mixing the mascara with water."
The running mascara looks were complemented by the brand's Rouge a Levres Voile Sheer Lipstick in Painted Veil, dabbed on the lips with fingers, and the newly launched Eclat De Beaute Effet Lumiere Gel Gloss on the eyelids to, as the brand says, "catch the light" on the runway.
See the full beauty look from Gucci's Fall 2020 show, below.