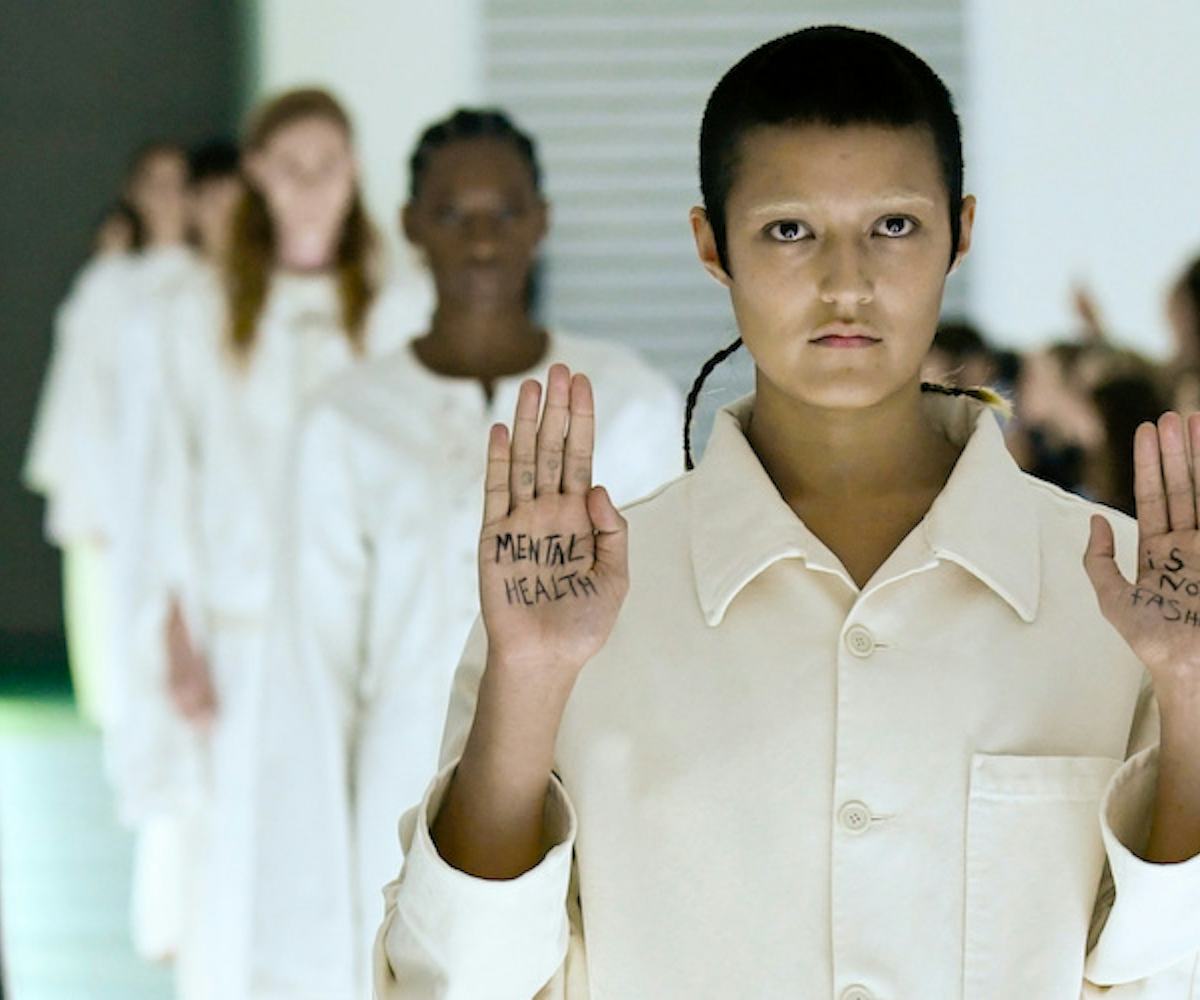 Photo courtesy of WWD/Shutterstock
A Model Protested Gucci's Straitjacket-Inspired Looks While Walking Its Runway
"Mental health is not fashion"
Over the weekend at Milan Fashion Week, model Ayesha Tan-Jones protested while walking the runway for Gucci's Spring Summer 2020 collection.
The 110-look show kicked off with a series of models, dressed in white, straightjacket-inspired looks, being rolled out onto the runway on a conveyer belt rather than walking. While making their way down the runway, Tan-Jones held their hands up with "Mental health is not fashion" written across their palms.
After the show, Tan-Jones took to Instagram to express why they chose to protest the show: "I believe, as many fellow models do, that the stigma around mental health must end."
Tan-Jones then went on to list the devastating statistics of LGBTQIA+ individuals and members of the Black and Brown, Indigenous, and Asian communities that suffer mental health issues, in comparison to white individuals, and further explain why it's so personal to them: "As an artist and model who has experienced my own struggles with mental health, as well as family members and loved ones who have been affected by depression, anxiety, bipolar, and schizophrenia, it is hurtful and insensitive for a major fashion house such as Gucci to use this imagery as a concept for a fleeting fashion moment."
Since Sunday's runway show, Gucci has released a statement explaining the opening of the show, referring to the straitjacket pieces as "the most extreme version of a uniform dictated by society and those who control it." According to the statement, current creative director Alessandro Michele "designed these blank-styled clothes to represent how, through fashion, power is exercised over life, to eliminate self-expression. This power prescribes social norms, classifying and curbing identity... He has designed a collection that conveys fashion as a way to allow people to walk through fields of possibilities, cultivate beauty, make diversity sacrosanct and celebrate the self in expression and identity."
In a statement to the New York Times, Michele reiterated that these clothes were meant to represent the most extreme form of restriction "imposed by society and those who control it." According to the article, with that in mind, the fashion house felt the model should be free to protest.
Gucci and Michele are no strangers to controversy. From selling a sweater that resembled blackface to its culturally appropriative turban accessory to being accused of knocking off Harlem designer Dapper Dan (which, later resulted in an actual collaboration), the luxury brand has previously come under fire for offerings deemed as insensitive. While it's clear that Gucci's intent was not to glamorize mental health struggles, we can only hope that, in the future, brands consider the negative effect that their references could have on some.