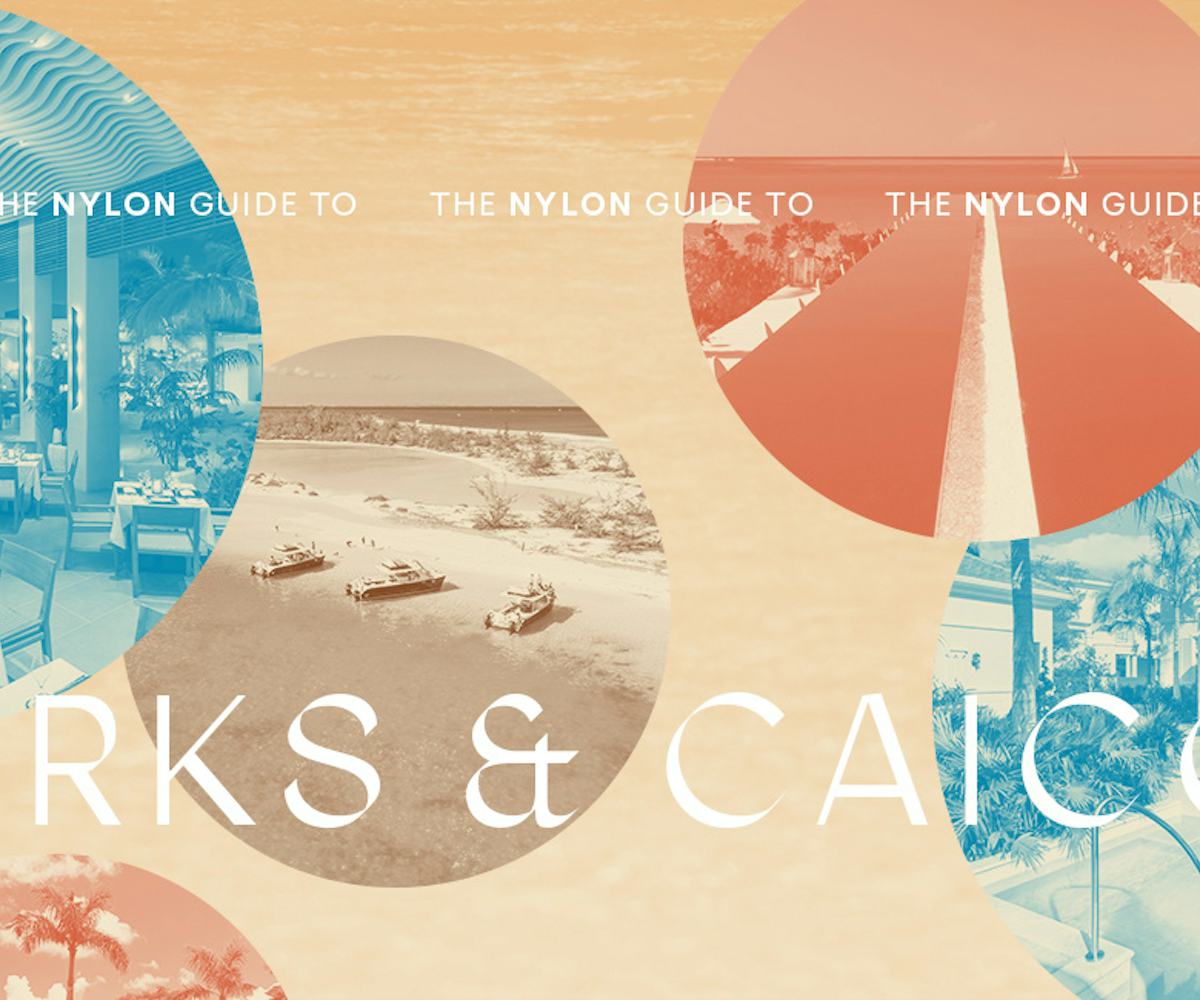 Photographs courtesy of Agile LeVin/Visit Turks and Caicos Island, Paradise Photography, and Dimitrios Kambouris/Getty Images
The NYLON Guide To Turks And Caicos
Where to stay, eat, drink
Coming from New York, one of the things that surprised me most about traveling to Turks and Caicos was how quick the flight was. Clocking in at around three and a half hours, the travel time was quicker than (or at least comparable to) some of the most popular warm-weather getaways within the U.S.
But even if you're aren't coming from the East Coast (or the U.S., for that matter), it's so worth traveling to these beautiful islands—the most popular for tourists being Providenciales—for their picture-perfect turquoise clear waters, pristine beaches (there is a reason these islands are known to hold some of the best beaches in the Caribbean), incredible scuba-diving and snorkeling, and some of the best island food I've had (conch, in all its forms, is a must-try here).
Ahead where to stay, eat, drink, and what to do in Turks and Caicos.
Where to Stay
The Shore Club: Most of the resorts on the island are located on Grace Bay Beach which is what makes this property so unique. Opened just two years ago, it's the first (and only!) resort on Long Bay Beach, meaning it's very private and sits on an untainted stretch of beach that's known to attract kiteboarders (more on that later). The property boasts three pools (with a quiet adults-only option), four dining venues, and a spa that you currently (the permanent spa is still being built) have to walk through a jungle of greenery to enter. If you want to have an even more private experience (or take a group vacation with friends or family), the property recently debuted stunning villas that have their own entrance, direct access to the beach, six bedrooms, a heated pool (see above), and a hotel attendant that can do anything from stocking the fridge prior to a guest's arrival to setting up a private dinner and making an itinerary of activities.
The Palms: If one would rather be close to the action on Grace Bay Beach, there's no shortage of properties that will satisfy any type of traveler. The Palms, located on 12 acres of flawless white beach leading to sparkling turquoise water (from which you can take a boat to various excursions), holds a massive infinity pool, five food and drink venues, and 72 suites. Make sure to stop by the spa—considered one of the best ones in the Caribbean!—for a tranquil experience that feels like it takes place on a private island (the spa is located in a separate area away from the main resort). Offering treatments inspired by modern and indigenous rituals, the services range from a Caribbean herbal steam cleansing, detoxification, and meditative ritual to HydraFacials and a conch shell and sea salt scrub.
Where to Eat
Da Conch Shack: This is one of the most popular food shacks in Turks and Caicos for those seeking a quintessential island experience. Sit at a table in the sand (shoes optional), watching the waters and inhaling local favorites like conch fritters and salad, jerk chicken, and curry. Don't forget to follow it all with a pitcher of the (dangerous) rum punch and come on Wednesday night for live music.
SUI-REN: If you've ever found yourself in the Caribbean, wondering about what a fusion of Japanese and Peruvian cuisine tastes like, you can find your answer at SUI-REN, a fine-dining restaurant that puts out dishes like mole-glazed duck breast with chili yuzu marmalade, tuna with sweet miso and mango ahi compote, and Peruvian tiradito with togarashi and Tiger's milk.
Coyaba: If you're in Turks and Caicos during its lobster season (it's illegal to buy lobster outside of the months of August to March), don't miss out on ordering it at this restaurant that serves the dish Thermidor-style. Request an outdoor table so that you can enjoy the lobster and other dishes, like Turk's Head beer (more on that below) battered grouper and fresh pasta, in a beautiful tropical garden setting.
Bugaloo's: Before there was Bugaloo's, there was Berlie "Bugaloo" Williams, who was responsible for the first conch shack on the island and the inspiration for many that came after. Though this shack is further away from the main areas in Providenciales, in Five Cays Beach, it's worth the drive for the many delicious conch dishes (buffalo or coconut cracked conch anyone?), idyllic seaside setting, and live entertainment that includes, yes, music but, also, fire dancing.
Coco Bistro: You'll hear a lot about Coco Bistro, and for good reason. Serving international takes on local cuisine—like conch two-ways, Caicos coffee-crusted beef tenderloin, and grilled lobster tail with chimichurri and garlic butter—and set amidst the largest palm grove on the island, it's a favorite among locals and tourists alike.
Where to Drink
Infiniti Bar: The first infinity-edge bar in the world, the Infiniti Bar & Restaurant's bar is also, at 90 feet, the longest bar in the Caribbean, stretching from the Grace Bay Club property to the beach. As such it offers some of the best views of the Grace Bay Beach and Turks and Caicos' spectacular sunsets as guests sip on a berry mojito or an apple martini.
Lemon2go: For some of the best coffee on the island, head to this coffee-tea-smoothie shop near the Saltmills Plaza (also a popular shopping area). While waiting on your foam art-topped cappuccino, check out the adjoining flower and gifts store.
Turk's Head Brewery: If you're more of a beer person, taste the island's only locally brewed beer, which is really good! While you'll find the cute chevron bottles in most restaurants and bars, you can also get a tour at the Turk's Head Brewery and try samples at the on-site bar.
Pink Bar: Last summer, Gansevoort Turks + Caicos debuted a pop-up rosé bar, in partnership with popular Summer Water, to offer a selection of pink-hued wines, Champagnes, and cocktails. It became so popular that Pink Bar is now a permanent fixture! For winter, it has revamped its drink selection with a new wine selection and darker spirit-based pink cocktails. More excitingly, the bar has also introduced a rosé wine sorbet with, wait for it, an optional prosecco floater.
What to Do
See iguanas at the Little Water Cay: No trip to Turks & Caicos would be complete without indulging in a myriad of activities that its beaches and waters offer. While anyone visiting should take the opportunity to snorkel, scuba dive, and paddleboard while here (the marine life is unreal), consider also leaving the main island of Providenciales and getting a boat or kayak to go to the smaller surrounding islands including the Little Water Cay known for its population of endangered (and really cute!) rock iguanas.
Walk rescue puppies on the beach: You'll have to wake up early if you want to volunteer at Potcake Place, a dog rescue charity, to socialize with and take dogs on walks on the beach as spots fill up very quickly. Be prepared: Many a lucky dog has been taken home by tourists following this walk thanks to the adorable pups and an adoption process that Potcake tries to make as easy as possible.
Attend a Fish Fry: You might want to consider planning your vacation to include Thursday just to experience this weekly party. Attracting local vendors selling everything from crafts to tees to conch fritters, jerk chicken, and rum punch, the event is soundtracked by the beats of Junkanoo, a lively parade that involves costumes, live music, and lots of dancing and see lots of locals and tourists attending.
Learn to kiteboard: Considered one of the best places to kiteboard because of its shallow waters and steady wind, Long Bay Beach is a magnet for kiteboarders from around the world. For these same reasons, it's also a great place to learn the sport at one of the schools here, so take advantage.