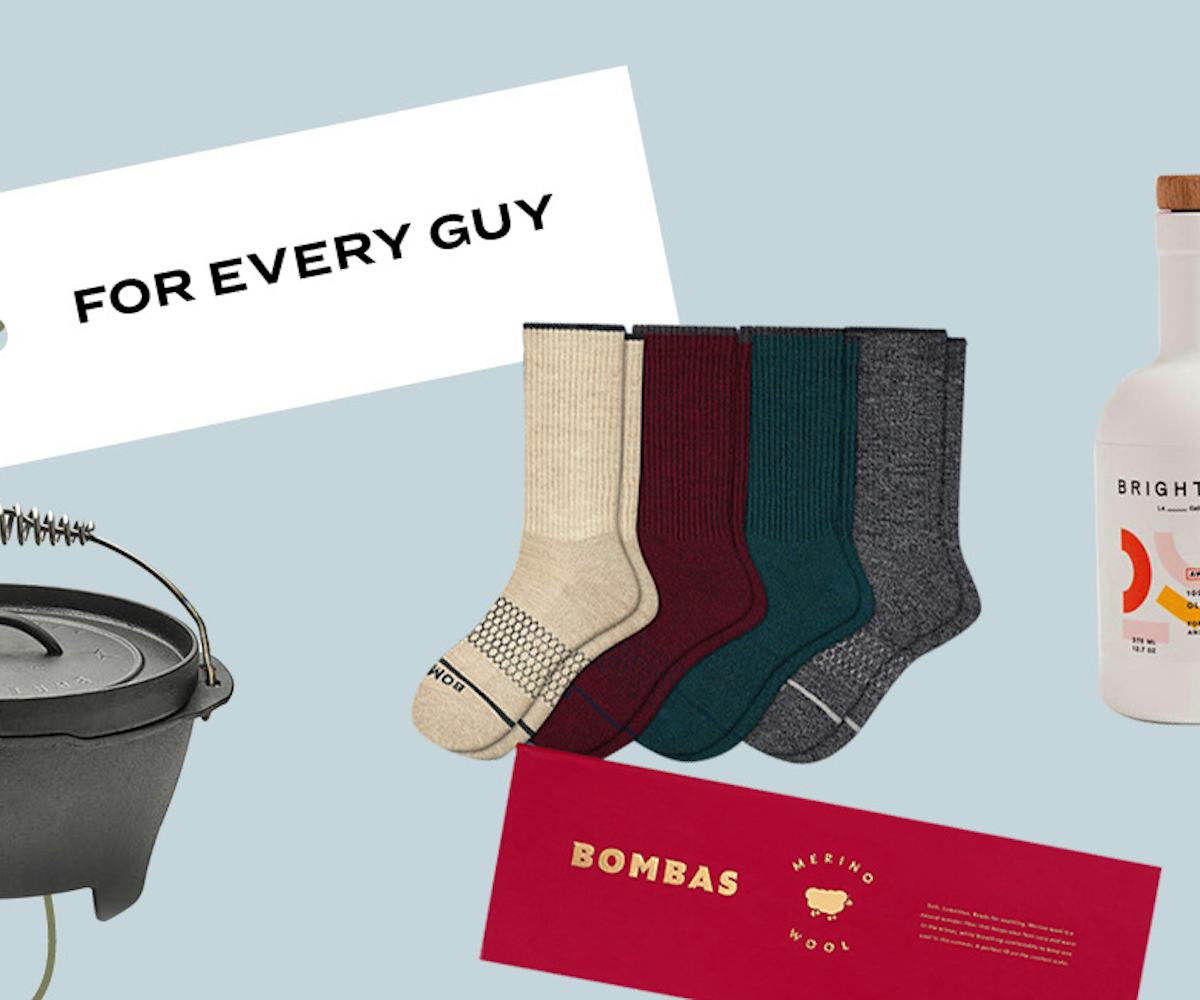 24 Gifts For Every Hard-To-Shop-For Guy On Your List
For the hard-to-please dad, new significant other, and brother
Tis officially the season for gift-giving. For us, that's a full month in which we'll be providing gift ideas for everyone on your list with our Unwrapped holiday gift guides. So make your holiday shopping a breeze this season, and let us help you find gifts for all the people in your life.
If the men in your life are typically the last people you shop for come the holidays, you're not alone. Whether it's because they are picky about what they want, or claim they never want anything, or are even borderline-undeserving of you braving the crowds in search of a perfect gift, there's always some reason they're the ones we're scrambling to find presents for in the dwindling days before Christmas.
With that in mind, this year, we started our search early, keeping in mind every hard-to-shop-for male, whether it's a foodie dad, a sci-fi-obsessed brother, or an outdoorsy new significant other.
Ahead, 24 picks that will allow you to get your shopping done in a single sitting, so you can get back to actually enjoyable gift-giving for the fuss-free ladies in your life.
Cocktail connoisseurs and newbies alike will love this coffee table book of recipes from the team behind the New York cocktail institution Death & Co.
Cocktail Codex: Fundamentals, Formulas, Evolutions by Alex Day, Nick Fauchald, and David Kaplan, $39.90, available at Amazon.
For the guy who loves to cook, give this oil is made in California from heirloom olives and harvested in a certified organic mill. Bonus: The packaging not only looks pretty but will also protect the product from the sun.
Brightland, The Duo, $62.98, available at the Huckberry.
A few months ago, Dollar Shave Club expanded into two lines of affordable premium fragrances that actually smell good. After sniffing all six colognes, we can't decide whether we like the Fresh or Warm line more. Good thing you can get both!
Blueprint Cologne, Full Collection, $50, available at Dollar Shave Club.
If it's been awhile since you looked at this brand, that has become known for its casual selection of shirts that don't need to be tucked in, you might be surprised to learn how it now carries everything from sweaters to outwear and pants. These double henleys are the perfect gift for men who prefer their clothing on the casual side (and have at least a few of the brand's signature shirts).
UNTUCKit, Grassi Double Face Henley, $78, available at UNTUCKit.
This incredibly comfortable wool sneaker brand has recently added an exciting new style: a high-top. Currently available in two core and two limited-edition colors, the Tree Toppers are perfect for the guy who refuses to part with classics even in wintertime.
Allbirds, Tree Toppers, $115, available at Allbirds.
If the man in your life is team Bar Soap, get him this set of goat milk bars made by the Beekman Boys, who made a name for themselves on The Fabulous Beekman Boys and The Amazing Race, and run a farm in upstate New York that produces everything from cheese and goat milk salted caramels to goat milk skin care and apparel.
Beekman 1802, Classic Bar Soap Gift Set, $54, available at Beekman 1802.
Ever since my brother "settled down," he has become a proud houseplant parent, with a new plant arriving to his house weekly. If you have one of those in your life too, take note of this online plant shop that delivers potted indoor plants, from parlor palm and fiddle leaf fig to pilea and bird of paradise, and supplies its customers with care cards with tips and tricks for expert-level care no matter how new to the houseplant game they are.
Bloomscape, Majesty Palm, $195, available at Bloomscape.
Book lovers in your life will love this make-your-own set of books that can be outfitted in stunning covers that will also double as home décor.
Juniper Books, Make Your Own American Authors Collection, $65 per book, available at Juniper Books.
- This slide is sponsored by Ray-Ban -
Even the most hard-to-please guy in your life would be partial to a pair of sunnies, we'd assume. And this style comes in a variety of colors, but we're keeping our eye on the red-and-tortoise shell frames. Grab a pair for him and for you, since this pair is genderless (matchy-matchy is cute sometimes!).
Ray-Ban, Wayfarer Pop, $203, available at Ray-Ban.
Everyone's favorite razor brand has expanded recently into body and face care categories. This body wash set may finally usurp his Old Spice routine for good.
Harry's, Body Wash Variety Pack, $19.50, available at Harry's.
Give this to the man in your life who often suggests stopping by a specialty coffee shop to get cold brew for you, partially so that he can get his own matcha fix. This starter kit, from the brand responsible for a whole line of natural energizing matcha products, includes a bowl, whisk, and tin of ceremonial-grade, sustainably and ethically sourced matcha made from shade-grown and stone-ground green tea from Japan.
Matcha LOVE, Matcha Starter Kit, $45, available at ITO EN.
The hot sauce aficionados will love this set of 10 bottles that range from mild to blow-the-roof-of-your-mouth-off hot.
Wondershop, Christmas Hot Sauce Gift Set, $14.99, available at Target.
This electric wine aerator, which doubles as an aerator and bottle-top wine tap, is made for the giftee who likes a glass of red with his dinner.
Aervana, Essential Electric Wine Aerator, $59.95, available at Aervana.
For the one who prefers water instead (and loves the environment), there is this reusable bottle that cleans itself and the water you put inside it, using UV-C LED light, at the touch of a button.
LARQ, Self-Cleaning Bottle, $95, available at Bloomingdale's.
If you know a Nespresso addict, buy them this portable coffee maker that uses the brand's pods that they can keep in the car or use when traveling.
Wacaco, Nanopresso, $64, available at La Colombe.
This L.A-based spirits company is known for its artisanal gin, vodka, and whiskey. This year though, we have our eye on this truffle box made in collaboration with one of L.A.'s top artisan confectioners Valerie Confections.
Mulholland Distilling, Mulholland Gin and Whiskey Truffle Box, $25, available at Valerie Confections.
If he says his favorite movie is Forrest Gump (but you know it's really Big), get him this collection of heartwarming short stories written by none other than Tom Hanks.
Uncommon Type: Some Stories by Tom Hanks, $9.99, available at Amazon.
For the aspiring brewmaster and craft beer lover, Brooklyn Brew Shop has compact and actually sleek at-home kits whose offerings range from IPAs, saisons, and sours to hard cider and even sparkling rosé.
Brooklyn Brew Shop, Everyday IPA Beer Making Kit, $40, available at Brooklyn Brew Shop.
The outdoorsy types will always appreciate socks made from Merino wool (serious life-saver in wintertime) that keep feet warm and dry during the coldest and wettest of hikes.
Bombas, Merino Wool Gift Box, $78, available at Bombas.
The man who is just starting to dabble in skin care will love this shaving set, made up of shaving serum and post-shave lotion, featuring Moroccan Neroli.
Aesop, Moroccan Neroli Shaving Duet, $80, available at Aesop.
Gift the Star Wars fan on your list an ice mold in the shape of the Death Star or a Lightsaber.
W&P, Star Wars Death Star™ Single Ice Mold, $14, available at Shopbop.
For the guy who loves his Le Creuset collection and now is ready to begin a cast iron one.
Barebones Kitchen, 12" Cast Iron Dutch Oven, $110, available at Huckberry.
Made for the dad type who won't let his phone be at anything less than 70 percent, this portable leather charger can also be monogrammed.
The Daily Edited, Monogrammed Black Phone Charger, $70, available at The Daily Edited.
If the man in your life has an interest in whiskey but doesn't know what he likes yet, give him this tasting set that holds six samples of whiskey ranging from buzzy Japanese to classic Scotch.
Tasting Collection, Whisky Tasting Collection, from $41.60, available at Tasting Collection.
NYLON uses affiliate links and may earn a commission if you purchase something through those links, but every product chosen is selected independently.