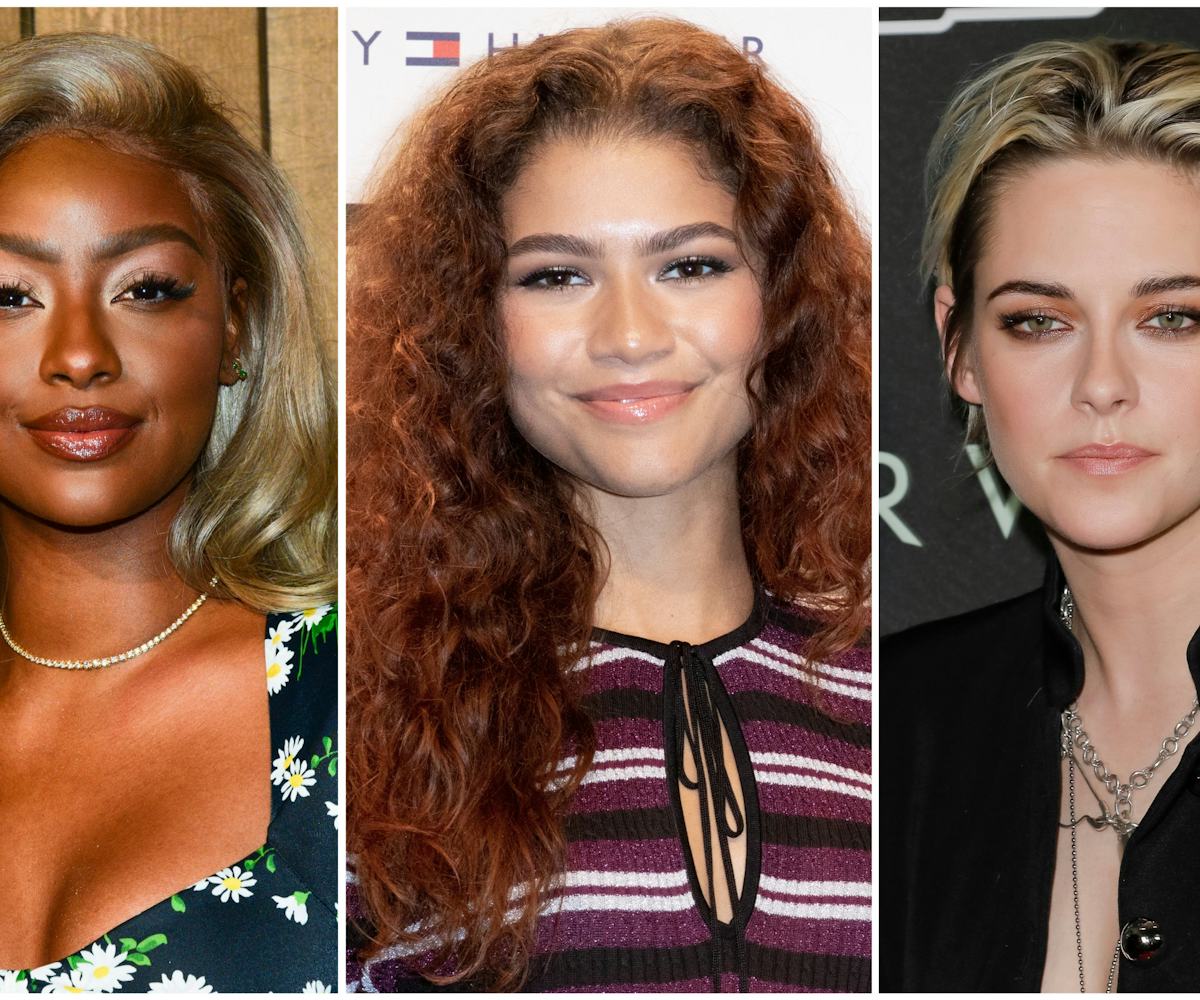 Images courtesy of Aurora Rose/Patrick McMullan via Getty Images; Rosdiana Ciaravolo/Getty Images; Tibrina Hobson/FilmMagic
7 Hair Color Trends You're Going To See Everywhere This Spring And Summer
The celebrity stylists have weighed in
Hair is typically one of the first things to switch up amidst change. New season, new job, new breakup, the list goes on (and on). It may seem cliche, but it symbolizes a new beginning. Whether you're in a big transition or are just simply preparing for the warmer months to officially roll in, there's no better time to change up your look — as made evident by all of the spring and summer hair color trends that have been popping over the last few months.
From out-of-the-box coloring ideas, like Billie Eilish's neon-drenched two-tone hair, to subtle solids, to once-taboo trends that have found their way back into the mainstream, there are a ton of hair coloring options ideas circulating today that satisfy just about every style or taste. Plus, they're less committal than, say, cutting all of your hair off — or getting bangs.
Ahead, check out seven expert- (and celebrity-) approved hair color trends for 2020's spring and summer that'll have you feeling brand-new.
Spring 2020 Hair Color Trend: Lived-In Roots
Once taboo, celebrities like Margot Robbie, Hunter Schafer, and Kristen Stewart have embraced grown-out roots, and the trend is now trickling down into salons all over the country. "The rooted look is definitely here to stay for this spring season," IGK colorist Olivia Casanova tells NYLON. "The 'lived-in color' trend is a natural look, incorporating your natural color into highlights. This look can be achieved by getting highlights or balayage, blended into your natural root color. It creates a low-maintenance color, so you can go the whole summer without having to worry about touching up."
Spring 2020 Hair Color Trend: '90s Highlights
Much like the grown-out roots, the chunky '90s highlight is a hair trend that has gone from tacky to in-demand, with celebrities from Dua Lipa and FKA twigs to J.Lo and Beyoncé all leaning into the look. According to Lipa's celebrity colorist Nicola Clarke, the key to the look is making it look sharp and clean, not sloppy, noting well-done colors and good sectioning are important.
Spring 2020 Hair Color Trend: Sandbox Blonde
The dusted, greige-blonde shade brings together both ashy and golden tones for a low maintenance color that is easy to grow out and into. Using a lace front wig, celebrity stylist Kendall Dorsey achieved the color on Justine Skye, noting that he started by giving her a brown shadowed root, double-edge blonde midway, and natural ends. Also made popular by stars like Gigi Hadid and Amanda Seyfried, the color adds light to the face while requiring fewer touch-up appointments than a traditional blonde.
Spring 2020 Hair Color Trend: Warm Reds
"It has been a long while now that hair color has focused on cool, platinum, gray, and metallic tones. Now, it's time for red and gold to shine," Nelson Chan, celebrity hairstylist, colorist, and founder of Beverly Hills Nelson j Salon, tells NYLON. "Warm, red hair has been overlooked in recent times, but it's making a strong comeback," he adds, noting that warmer tones are often more complementary to a wider range of skin tones than ash-colored, cooler tones — be it a copper-red hue like on model Diana Veras or the poison ivy-red shade Zendaya debuted in the fall.
Spring 2020 Hair Color Trend: Chocolate Brown
While natural-looking highlights and bold colors are trending, this season also sees the rise of a classic, solid-natural: chocolate brown. "As we continue to embrace a beautiful natural look, a chocolate brown will enhance natural brunette locks with warm, rich tones," Kristina Tabb, co-owner of Santa Monica's Tabb & Sparks Salon, tells NYLON.
Spring 2020 Hair Color Trend: The Drenched Top
There's no denying the impact Billie Eilish's electrifying hair has had on the beauty world. Her slime green, two-toned look may seem over-the-top, but according to Karissa Schaudt, a colorist at Chicago's Maxine Salon, the look isn't just for celebrities. "This modern color technique is original and punk displayed in a very striking way," she tells NYLON. "It's for the client looking for a statement; it doesn't necessarily have to be as bright or funky as Billie, but it will put a creative twist on anyone's outdated color. Keep in mind this isn't an ombré because the entire head is 'drenched' in color."
Spring 2020 Hair Color Trend: Babylights
Also known as "twighlighting," this trend brings bright pops of highlights around the hairline and on the ends of the hair, according to Tabb. "This color trend is perfect for natural blondes looking for a way to add some dimension and brighten things up for the spring."