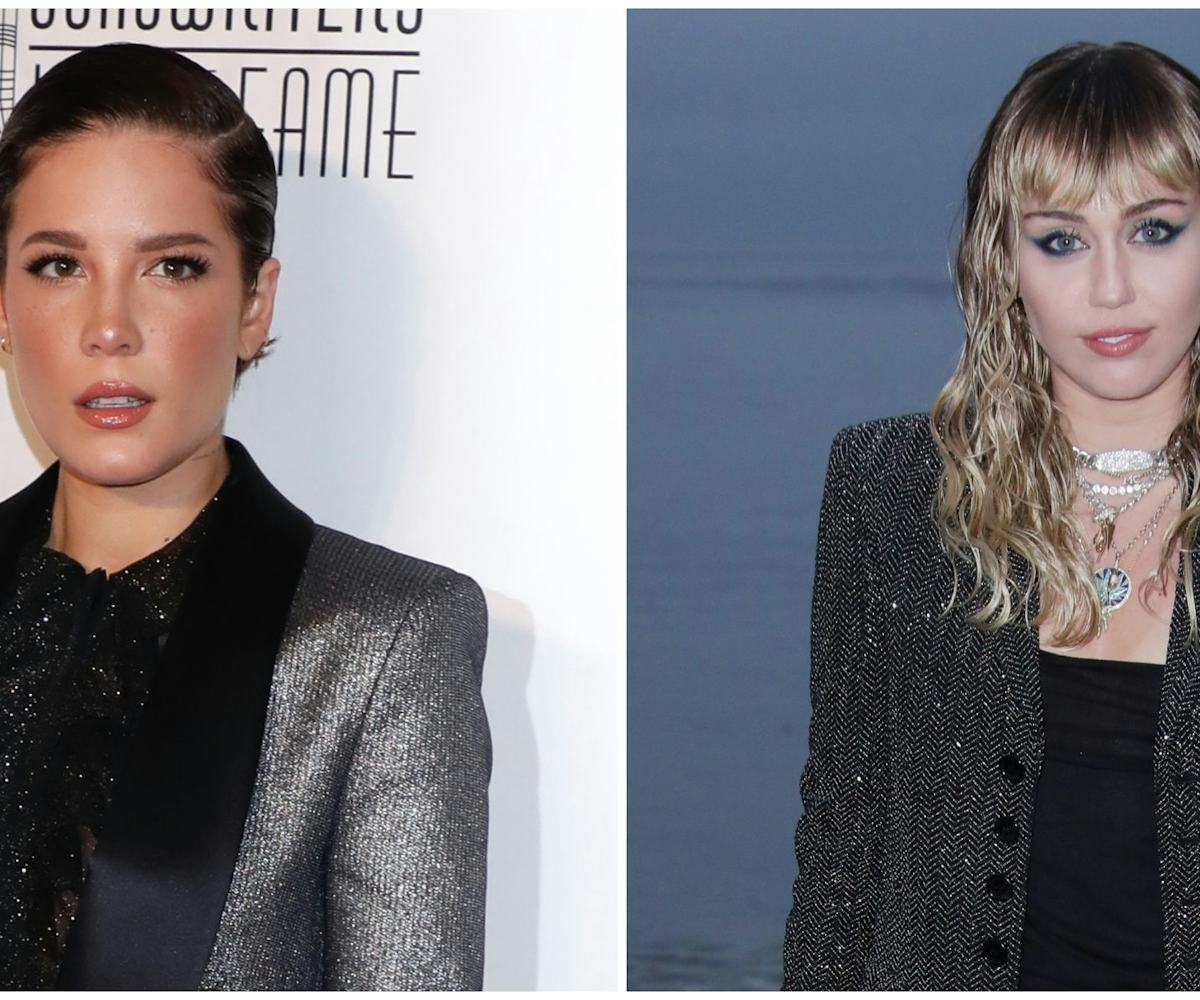 Photos via Gregory Pace/Shutterstock, Matt Baron/Shutterstock
Halsey Claps Back At Troll Who Blamed Miley Cyrus' Breakup On Her Queerness
Over the weekend, Miley Cyrus was spotted kissing Kaitlynn Carter around the same time as her split from husband of seven months, Liam Hemsworth, was announced. Because apparently some people still don't understand queerness, they are blaming the end of the relationship on Cyrus' interest in genders other than men. Halsey took down one of these people who blamed Cyrus and Hemsworth's breakup on bisexuality.
Halsey, who herself identifies as bisexual, quote-tweeted a post by @thetigerbob that said that Cyrus and Hemsworth's split "confirms that you shouldn't date bi people." He also alleged that Cyrus cheated on Hemsworth. What's more, he said that this comment is "not offensive, just true" and finished with the claim that "bi is greedy and never satisfied." Gross.
Halsey, not having it, responded to him: "Doesn't surprise me that ur saying this and ur page has u crying about Brie Larson too!" Indeed, he didn't seem to be a fan of Captain Marvel. She continued, "Stop being afraid of women who aren't afraid to do what pleases them and not other people."
In response to his own tweet, "Tigerbob" said that his accusation is based on "facts and life experience." So, sounds like he got cheated on by a bisexual person and now thinks it's cool to stereotype all of us? It doesn't take a genius to realize that bisexuality is not synonymous with non-monogamy and that anyone, regardless of sexual orientation, has the potential to cheat. Though, given how there are no claims of Cyrus cheating on Hemsworth, this seems like an irrelevant point to even bring up. And, Cyrus' attraction to women didn't seem to interfere in their relationship, as she explained, using an unexpected bacon analogy, when talking about being queer and in a relationship with a man earlier this year.
All in all, this "Tigerbob" troll just seems to want to rile people up and get them to argue with him. He spent pretty much all of Pridemonth supporting the Straight Pride Parade and, of course, hated that Halle Bailey was cast as Ariel in The Little Mermaid. Honestly, he sounds like he doesn't have a life.
Though the end of any marriage can be sad and disappointing, it's not anyone else's business to try to interfere and try to blame one person for the separation. And it's just plain disgusting to blame a split on someone's queerness.