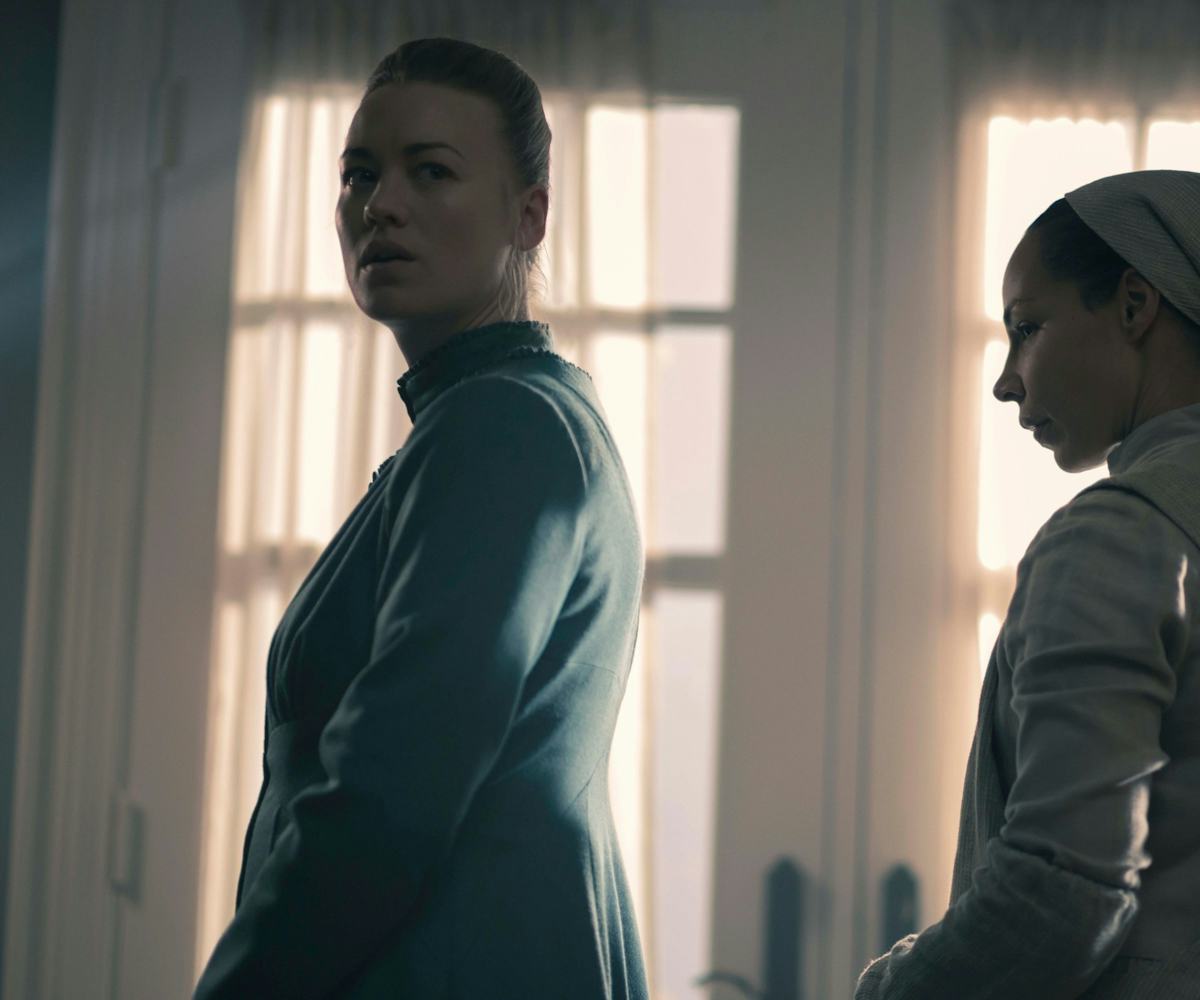 Photo by Elly Dassas / Hulu.
'The Handmaid's Tale' Still Hasn't Fixed Its Race Problem
If it weren't for the provocative premise set by Margaret Atwood and the amazing performances of actors like Ann Dowd, Yvonne Strahovski, and, of course, Elisabeth Moss, I'm not sure I'd still be watching The Handmaid's Tale. Seeing the extreme subjugation of women in the misogynistic republic of Gilead—a setting that feels simultaneously far-fetched and also right around the corner—can be oppressive. That oppressiveness is due in part to Gilead's monotony; we see handmaid June (Moss) experience the same things over and over: militarized surveillance, ritualized rape, and public executions—as well attempted escapes. Now three episodes into its third season, the Hulu original series is trying to break the cycle of sameness, ramping up its characters' resistance efforts. This is all good for the narrative, but the show still has a glaring issue: It hasn't yet addressed its race problem.
Since The Handmaid's Tale premiered, the question of how race impacts this particular dystopian society has been asked over and over. Oppression doesn't exist in a vacuum, so there had to be some residual effects of America's racism in Gilead; plus, sexism itself is enacted on women of color differently. And yet, that moment of reckoning, or even acknowledgment, still hasn't come. The major players in The Handmaid's Tale are white, save for June's best friend, Moira (NYLON cover star Samira Wiley), and June's husband, Luke (O-T Fagbenle), both of whom escaped to Canada; and Rita (Amanda Brugel), one of the Marthas, a class of women whose role is to care for the households of Gilead's elite. The Marthas are "mammified" in that they are mostly Black women who take on maternal roles in their households, as well as in the resistance, as we learn in the second season. But even as, in Season 3, some of the Marthas are given more prominent roles, Moira is marginalized, with her role comprising taking care of June's infant child and passing the time with her new, white girlfriend. We know the depth of Moira's friendship with June before the Gilead takeover, but she is denied a connection to Black family or Black culture.
That women of color still only exist in this televised world via their proximity to white women—even after two seasons of valid critique—feels like a testament to a very white writer's room. Yahlin Chang, a woman of color, wrote three episodes of The Handmaid's Tale—including the third episode of the third season, which was directed by a Black woman—but the other nine people who have written for the show over the last few years are white, and it shows. Unfortunately, this could also be part of the key to the show's success. June is both the relatable victim of a problematic regime and the white savior who is going to burn the whole thing to the ground. Within the confines of this show, woe is the white woman's experience, and victory will also be hers—with some minor assists from women of color. This is to be expected when white people are charged with dreaming up their version of gender-based oppression.
This is tired. It's clear that The Handmaid's Tale writers have been paying attention to the contemporary and historical issues impacting women in America. There's a scene in episode three of the latest season, "Watch Out," where June's new overseer, Commander Lawrence (Bradley Whitford), takes her to a Gilead processing center. Dozens of women stand in cages awaiting their fate. Most of them will be sent to the treacherous colonies, and five of them will be "spared" to become Marthas. Visually, the scene looked ripped straight from a news story about the overcrowded detention center where immigrants of color have been held, but the cages held many white women. Similarly, in the Season 3 premiere, Emily (Alexis Bledel) has to cross a river with June's baby in tow, nearly drowning while hiding from gun-toting authorities, to escape to Canada. Her experience is exactly how Black women had to escape to the North during slavery. That The Handmaid's Tale is willing to plug white women into the oppressive narratives reserved for Black women and other people of color, feels intentionally ahistorical. But then again, so does the decision to hire almost only white writers for a feminist epic—as does the choice to make it "race-blind" in the first place.