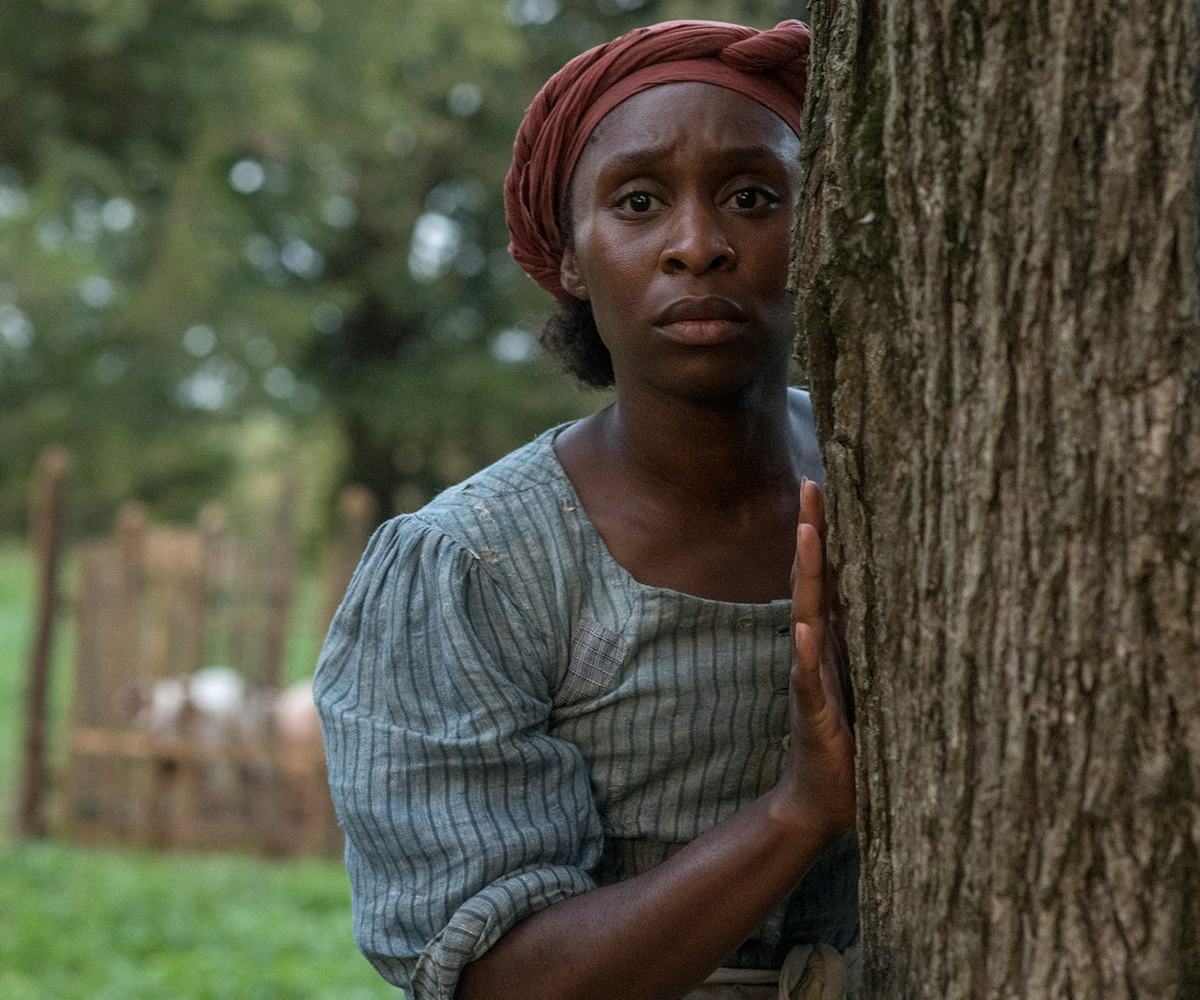 Credit: Glen Wilson / Focus Features
Despite Its Flaws, 'Harriet' Is The Biopic That Hollywood Needed
Cynthia Erivo takes on the long-awaited story of Harriet Tubman
Given how much movie studios love biopics, American history, and slavery, it's flabbergasting that Harriet Tubman — not exactly an obscure figure in an untold chapter of this country's ugly history — has never been the primary subject of a theatrically released feature film. Or maybe it's sadly unsurprising: Though Tubman's heroic exploits seem tailor-made for big-screen dramatization, she was, after all, a black woman—not a demographic whose stories have been prioritized for most of the medium's 100-plus years. Fast-tracking a lavishly appointed Harriet Tubman biopic might require more opportunities for talented filmmakers like, say, Kasi Lemmons. Lemmons is perhaps best known for Eve's Bayou, a 1997 Southern Gothic coming-of-age drama that was critically acclaimed (Roger Ebert named it the best film of the year) but not a big enough hit to guarantee its director steady feature work. For much of her career, she's been averaging a movie about every six years.
Now Lemmons has returned with the long-overdue Harriet, whose subject had previously been consigned to early iterations of prestige television (though with top-rate talent: Ruby Dee played her for an episode of a CBS show in the '60s, while Cicely Tyson played the part for an NBC miniseries in the '70s). Here Cynthia Erivo plays the woman who escaped slavery to Philadelphia, only to return and rescue others from bondage, working with the Underground Railroad. The movie follows her from young adulthood (when her efforts to legally secure freedom are stymied, because the rules aren't made to protect her) and leaves off before the start of the Civil War. Throughout, Harriet remains indefatigable. When she escapes slavery, she makes a difficult 100-mile journey on foot, alone. When the U.S. passes the Fugitive Slave Law of 1850, making it easier for slave owners to catch and reclaim runaways, Tubman is undeterred, and brings people up to Canada.
This kind of work requires, as one character notes, "skill and careful planning," suggesting the daring and unpredictability of a well-executed heist. For the most part, this suggestion goes unused; Harriet is too respectable (or too hung up on respectability) to conduct itself as a genre film. It's understandable that Lemmons wants to play the biopic stuff a bit more straight-ahead to honor Tubman; what stylistic embellishments are needed in the face of such real-life heroism? But the movie still indulges some of its genre trappings anyway — its final stretch plays out, entertainingly enough, like a Western, introducing a few creaky genre notes into a staid biography. As invigorating as it is to see a rifle-toting Harriet Tubman standing up to oppression, the movie unproductively splits the difference between reverence and thrills. The thriller scenes aren't particularly suspenseful, and the dramatic stuff isn't particularly graceful.
Most disappointing, though, is how little Lemmons gets from her cast as a cohesive unit. Erivo has a couple of Oscar-ready won't-back-down speeches, and she performs them with vigor, but she spends most of the movie in a wide-eyed state of intensity, less immediately charismatic than she was in last year's Bad Times at the El Royale or, especially, Widows. Harriet is full of musical presence: Erivo is a talented singer, Leslie Odom Jr. originated the role of Aaron Burr in Hamilton on Broadway, and Janelle Monáe is on hand as the owner of a Philadelphia boardinghouse. But none of them really sing. Well, Erivo does literally sing a few spirituals, but the cast never gets in sync; the movie doesn't give them enough space. Monae, in particular, an electric performer on stage, feels like she's reciting lines rather than inhabiting a character. Instead of relying on her actors' inherent musicality, Lemmons brings in a lot of actual music, leaning heavily on Terence Blanchard's score for the movie's emotional work.
The least familiar aspect of Harriet is the way Lemmons treats what Tubman refers to as her conversations with God — not just prayer, but full-on visions and fainting spells, mixing flashbacks and pre-visions of the future. This is an interesting idea, especially given Lemmons' deft point-of-view navigation in Eve's Bayou. But as executed here, with fragmented flashes, it separates Harriet from the other characters and places her into a private fugue that the movie never really deepens. Maybe that's why the cast doesn't have much ensemble rhythm; the movie shuts Harriet off from them without really exploring that isolation. It feels like a shortcut from hero to superhero.
Yet the movie is content to leave out plenty of more concrete superheroics, revealing in its closing moments that Tubman became a Union spy, and one of the first U.S. women to lead soldiers into battle. Biographical films can't cover everything, of course, but the movie's postscript makes you wonder why the movie picked Gideon Brodess (Joe Alwyn), a member of the family Tubman escaped from, to serve as a boilerplate villain when she could have been taking on the Confederates. There are jolts of energy at the beginning and end of Harriet: First, excitement of seeing Tubman's story on the big screen, where it belongs; then awe as the movie fills in the continually impressive details of her life story. It's a shame that this ultimately has more to do with the subject than the movie itself. Harriet feels like a necessary but unsatisfying starting point—it may be up to another Harriet Tubman movie to go further.
Harriet is out in theatres now.