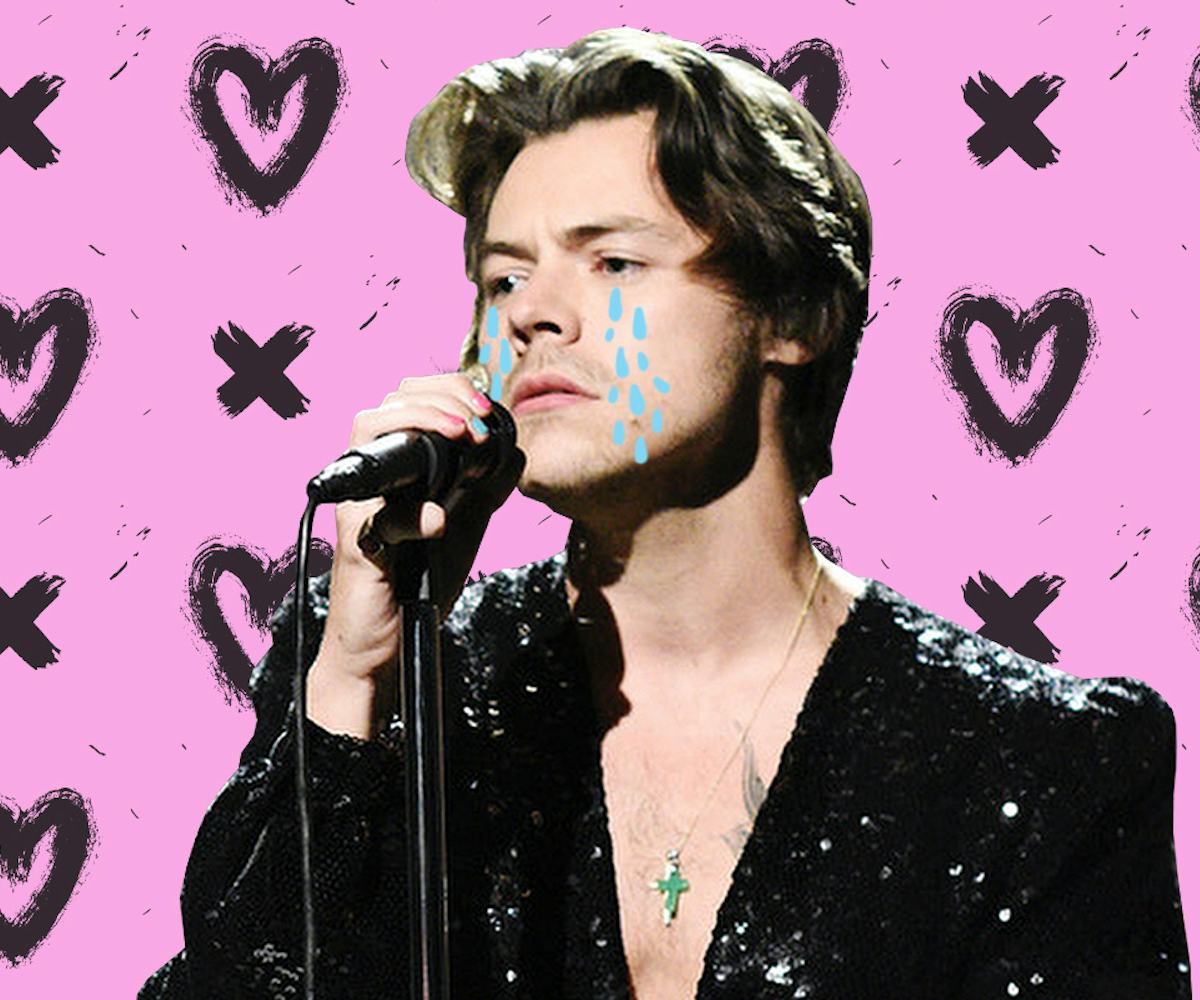 NBC/Getty Images
The 12 Most Emo Harry Styles Lyrics On 'Fine Line'
He should probably talk to his therapist about these
Harry Styles is very sad. Or at least, the version of him that lives inside the 12 songs from his album Fine Line, out now, is very sad. He's said it himself too, in an August 2019 Rolling Stone profileabout the record: "It's all about having sex and feeling sad." It cannot be stressed enough just how sad he is.
After taking the album out for couple of spins around the block, he was right, mostly. But Fine Line is also many other things. Styles' sophomore record does well to hide a lot of its swirling emotional turbulence among the textured weeds of its surprisingly adventurous production. He dips into folk and acoustic ballads; there's a song that leans a little reggae, before whipping back into lush Americana and groovy disco. His vocals undergo a good amount of warping and duplicating too: on album opener "Golden," his voice seems to amplify outward like one of those spinning, radiant kaleidoscopes. Sonically, Styles is the freest he's ever been.
But of course, all anyone wants to know is: just how emo is Fine Line, actually? Many people are speculating that most, if not all of the pining and torturous writing that makes up the record is about French model Camille Rowe, Harry's reported ex-girlfriend. (He didn't do much to mask the clues. Most obviously, there's a literal voice recording of a woman cooing in French at the end of the wistful "Cherry,")
To help out with the sleuthing, and after much scientific research with a test group of one, NYLON has deduced the twelve most emo lyrics from each song on Fine Line. One can only hope that this round-up will help Harry open the conversations with his therapist. For everyone else, get your Instagram caption-fingers ready — cause it's a doozy.
"Golden"
"I don't wanna be alone/ When it ends/ Don't wanna let you know/ I don't wanna be alone"
It is always a little heartbreaking to witness someone's vulnerability, especially when it's related to being alone — even though it surely won't last too long in Harry's case.
"Watermelon Sugar"
"I don't know if I could ever go without/ Watermelon sugar"
"Watermelon Sugar" is arguably the most positive song on the record, so it was tough trying to find the most depressing lyric. However, knowing that Styles is currently having to go without his watermelon sugar high, that's kind of :(.
"Adore You"
"I'd walk through the fire for you/ Just let me adore you/ Like it's the only thing I'll ever do"
"Adore You" is another song that straddles the line between euphoria and something more torturous, and Harry saying he'd walk through flames for the mystery object of his affection lands that lyric squarely on the side of the latter.
"Lights Up"
"All the lights couldn't put out the dark/ Running through my heart"
Someone please help Harry Styles' heart which cannot seem to find its way out of the abyss.
"Cherry"
"I just miss your accent and your friends/ Did you know I still talk to them"
"Cherry" is a goldmine of sad lyrics (take note for your Instagram captions). Though the above does border on being a bit creepy — there's just something about the reveal of Harry still talking to his ex's friends — his missing her accent is so sighingly bittersweet.
"Falling"
"What am I now?/ What am I now?/ What if I'm someone I don't want around?"
Ouch. A big signifier of knowing just how badly you messed up is when you start not being able to even stand yourself. A runner-up for saddest lyric of "Falling": "And I get the feeling that you'll never need me again." Hindsight is 20/20.
"To Be So Lonely"
"Don't call me 'baby' again/ You got your reasons/ I know that you're tryna be friends/ I know you mean it/ But don't call me 'baby' again/ It's hard for me to go home/ And be so lonely"
Harry Styles can't go home anymore, and that's really sad!
"She"
"A woman who's just in his head/ And she sleeps in his bed/ While he plays pretend/ So pretend"
An eerie "Eleanor Rigby"-esque tone saturates Harry's storytelling in "She," which centers around a mysterious woman he can't get out of his head. It's dark.
"Sunflower, Vol. 6"
"I don't wanna make you feel bad, but I've been trying hard not to talk to you/ My sunflower"
The way Harry wistfully ends this lyric on the endearing, "My sunflower"...that'll make your chest hurt.
"Canyon Moon"
"Staring at the ceiling/ Two weeks and I'll be home/ I carry the feeling/ Through Paris, all through Rome"
In the five stages of grief, it seems like Harry has finally gotten to acceptance. He can make it home now! But those moments of reminiscing can get ya sometimes, and it looks like he's still not fully in the clear.
"Treat People With Kindness"
"And if our friends all pass away/ It's okay/ It's okay"
For "Treat People With Kindness," Harry pivots to something ostensibly cheerier, but detectable under the surface is a still-strong current of emotional turbulence. It rears its head, finally, in the above lyric. I guess even Harry Styles can't escape the perpetual anxiety of the world ending.
"Fine Line"
"A test of my patience/ There's things that we'll never know"
There was a tweet a while back pondering why break ups between people who were together for 5-7 years seemed less devastating than break ups between people who were together for less. Harry pretty much sums up why a remaining ambiguity can sometimes hurt the most: "There's things that we'll never know." Someone give this man a hug!