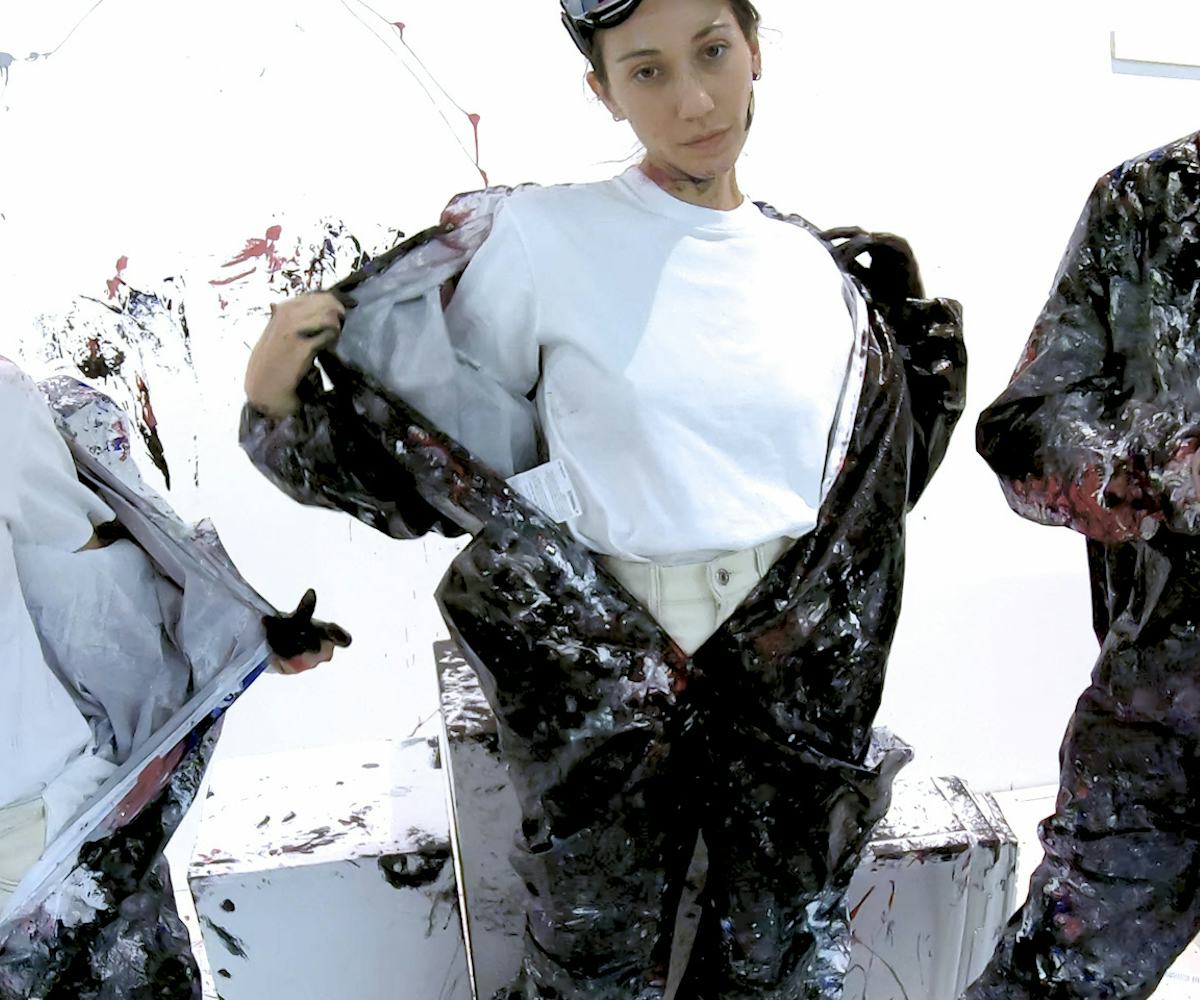 Photo Courtesy of Helmut Lang
Tei Shi and Jeremy O. Harris Throwing Paint For Helmut Lang Is Extremely Cathartic
The brand expands its signature paint-splattered apparel with a new collection
Helmut Lang, the designer, may have stepped down from his namesake label nearly 15 years ago, but that doesn't mean his influence left with him, too. In fact, for the past few years, the brand has been bringing back his signature designs, including the iconic "painter jean," which first debuted in 1998. On Thursday, Lang's paint-splattered details will expand with a new collection of apparel, including T-shirts, hoodies, tanks, and dresses boasting block text or an embroidered "HL" logo (our favorite, if we had to choose) alongside the artsy embellishments.
To celebrate this launch, the brand teamed up with musician Tei Shi and playwright Jeremy O. Harris, along with friends and the cast of "Slave Play," to throw paint on random objects in a (formerly) clean, white room at the New Museum. The whole experience, which you can watch in the video, below, seems like one of those Wreck Rooms except those involved are less prone to injury and more inclined to still find paint on themselves a week or two later.
Sure, this creative approach is an easy fashion DIY (and quite the cathartic one, we've observed), but getting messy with paints might not be everyone's thing. Plus, painterly details have been popping up across a number of designer-name items from the likes of Marni, Moschino, and even actual artist Sterling Ruby's debut foray into fashion. We think this trend is just beginning to gain steam, so get in on it while you can.
See Helmut Lang's new paint-splattered range, below. You can shop the collection on Helmut Lang's website, as well as select retailers, including Saks Fifth Avenue and Bloomingdale's, now.