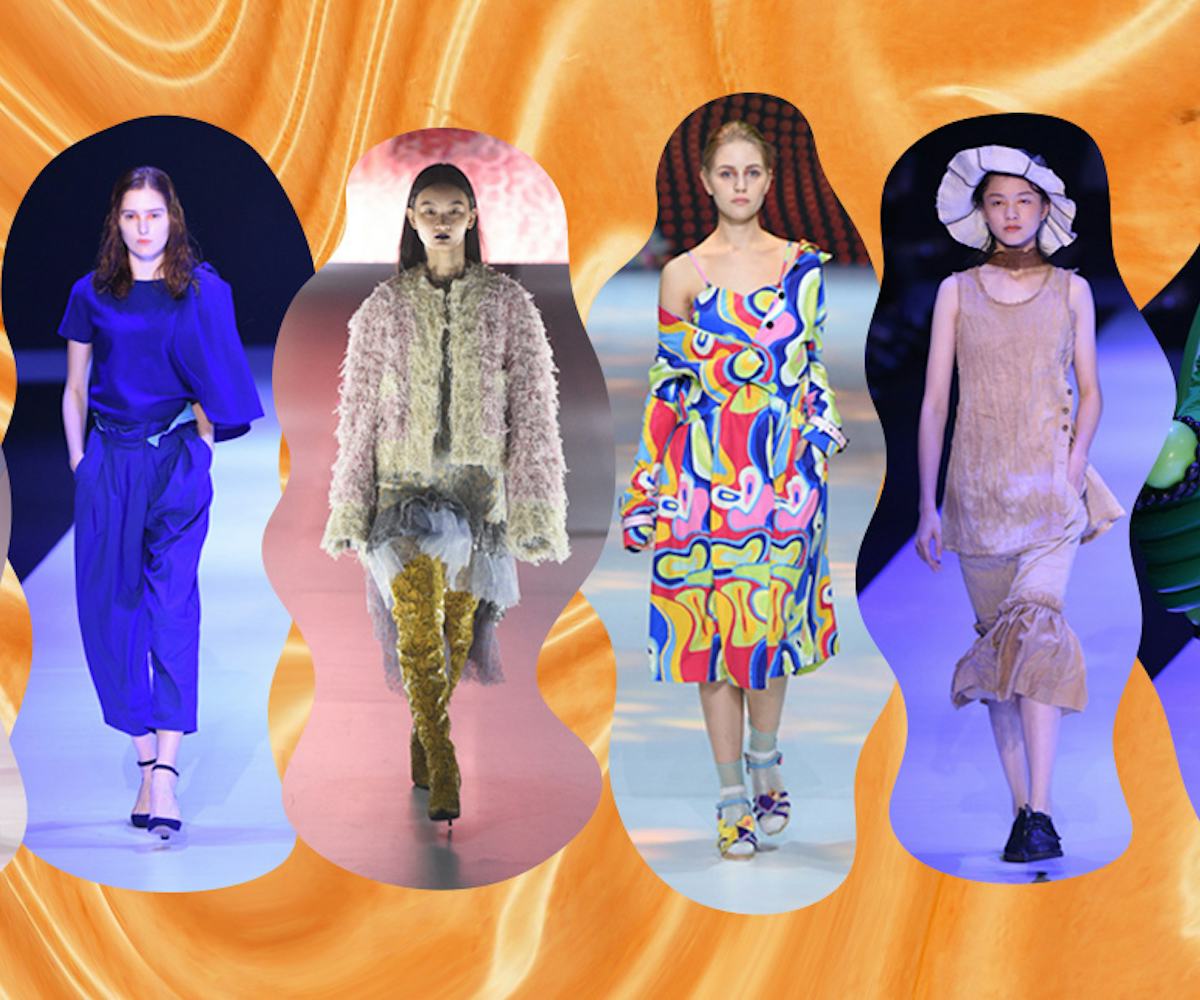 Photos Courtesy of The Hong Kong Trade Development Council (HKTDC)
How Hong Kong Ended Up Having Low-Key The Best Fashion Week Around
Exhausted from the New York Fashion Week madness? Always understandable. Well, because self-care is very important/on-trend, I sidestepped NYFW in an especially dramatic fashion: I took a nearly 16-hour flight to Hong Kong, aka the electric fashion hub you mustn't sleep on. In other words, watch your back, NYFW: The 2019 edition of Centrestage, a larger-than-life trade show and fashion festival showcasing established and emerging (mostly Asia-based) designers, just wrapped up on Sunday. It was as thrilling of an experience as taking the lightning-speed escalators found in Hong Kong's MTR stations, meaning I found myself briefly not breathing and hoping for the best. If you know, you know!
Only in its fourth year, Centrestage, presented by Hong Kong Trade Development Council and held at the seriously exquisite Hong Kong Convention and Exhibition Centre, which sits right next to Victoria Harbour and is steps away from Golden Bauhinia Square, has something for every fashion lover. (That's truly an understatement.) This year, more than 200 brands—with almost 100 from Hong Kong, alone—were featured via runway shows, presentations, on the racks at the gigantic fairground, on the local celebrities in many a front-row, and catwalk contests, including one that happens to be the biggest sustainable fashion competition in the world. This all went down in four days, by the way.
Things kicked off with Centrestage Elites, perhaps the extravaganza's most coveted ticket, which spotlights established (or, elite) designers. In previous years, perpetually innovative brands like Japan's FACETASM and South Korea's Juun.J were the headliners. This time, the resort 2020 collections that made their runway debut came from New York's Altuzarra and Hong Kong's very own ANAÏS JOURDEN. Altuzarra's '70s boho goddess with a side of cowgirl collection was super earthy (brown tones contrasted with rich hues like fuchsia, quartz accessories, a whole 'lotta fringe), which makes sense since it was all about sustainability: The dresses were crafted from deadstock fabrics and materials used in his previous collections. 'Twas all very easy, breezy, beautiful—in other words, very Altuzarra.
Though ANAÏS JOURDEN hasn't reached Altuzarra fame just yet, that's going to change. Promise. Go on and revisit Ariana Grande's "7 Rings" music video for the millionth time. Notice the cropped purple puffer? You do. That's the ANAÏS JOURDEN Kira Confetti Puffer, but Grande's "I want it, I got it," memed-out lyric from the bop probably won't work out for y'all; Kira appears to be out of stock everywhere so, set a Google alert. There's a sea of JOURDEN head-turners to want/get, and they've been worn by an impressive bunch of famous faces including Lorde, Bella Hadid, Gigi Hadid, Emily Ratajkowski, Priyanka Chopra, Elisabeth Moss, and Sky Ferreira.
Also head-turning was what stormed down the Centrestage runway at the JOURDEN show, with goth warehouse rave-y music blasting. And whew, what a show! It felt haunting and fun and euphoric, and yes, Zendaya could/would/should ASAP slay in some JOURDEN. If you're already familiar with Anaïs Mak's line, then you know she's fearless when it comes to playing with textural fabrics and the art of the layer. This collection was loaded with chantilly lace, shag, tulle, oh my! Loved the oversized hands-veiling sleeves, the frayed edges, and the seams on display as a result of her sheer moments. Sometimes a bit Haider Ackermann-y, but with a popstar punch. Or, with a high-kick: the LVMH Prize Semi-Finalist immaculately paired her numbers with femme fatale snakeskin heeled thigh-highs or sneakers. (P.S.: Mak's been recently working with Nike.) The collection was luxe yet explosive, after all, Mak is often inspired by her hometown's joyful, neon-lit chaos as well as posh Paris, where she studied and where she'll once again show in a few weeks during their fashion week.
Additional Centrestage highlights all came from Hong Kong-based up-and-coming designers and their spring 2020 collections, from ARTO.'s bold, bright beauties to 112 Mountain Yam's '60s psychedelic lava lamp prints and organza confetti dresses. And then there was YMDH—that stands for You Make Daddy Happy, by the way—who really nailed it in the psychotically zany and surreal childhood memories/nightmares department, with a collection aptly called "I DON'T WANNA GROW UP." McDonalds, rubber ducks, Toys R Us, teddy bears, toy guns, and more were all incorporated in the provocative-punk designs and reworked with dark/humorous/detached irony: Nylon webbing backpack straps wrapped around a highlighter-marker yellow slicker raincoat felt borderline straitjacket-y; an elephant hood attached to a baggy, acid wash denim look gave prison torture vibes... Crazy, sexy, cool isn't an unfamiliar theme for the buzzed-about YMDH, a past collection was inspired by Kurt Cobain and the Qing Dynasty, blending Chinese culture with grunge. Anyway, someone at team YMDH needs to text Billie Eilish's stylist, right now.
And finally, the always intriguing Tak Lee did it again. The 2017 London College of Fashion graduate presented a shadowy show with a severely sculptural—and often purposefully crinkled—collection. Her more subdued looks, like a trumpet skirt with exposed raw edges, were perhaps the most intriguing. For Lee, the come-a-little-closer beauty is found in the purposeful imperfections. It's called art, y'all. Sartorial shout-out to the hakama-style trousers and those lumpy, drooping bucket hats that almost act like a hood, perfect for a sunscreen-drenched goth girl spring/summer 2020.
We all know that Hong Kong has had a rough couple of months and has been in the news a lot lately. So, we're happy to provide another kind of headline: Hong Kong's fashion scene shines like its famous glowing neon lights, and the underrated fashion hub is home to a ton of designers boasting skyscraper-high talent. Okay, I'm blaming the jet-lag for those uninspiring headlines. So, let the above photos do the talking, and—sorry, NYFW—see you next year, Centrestage!