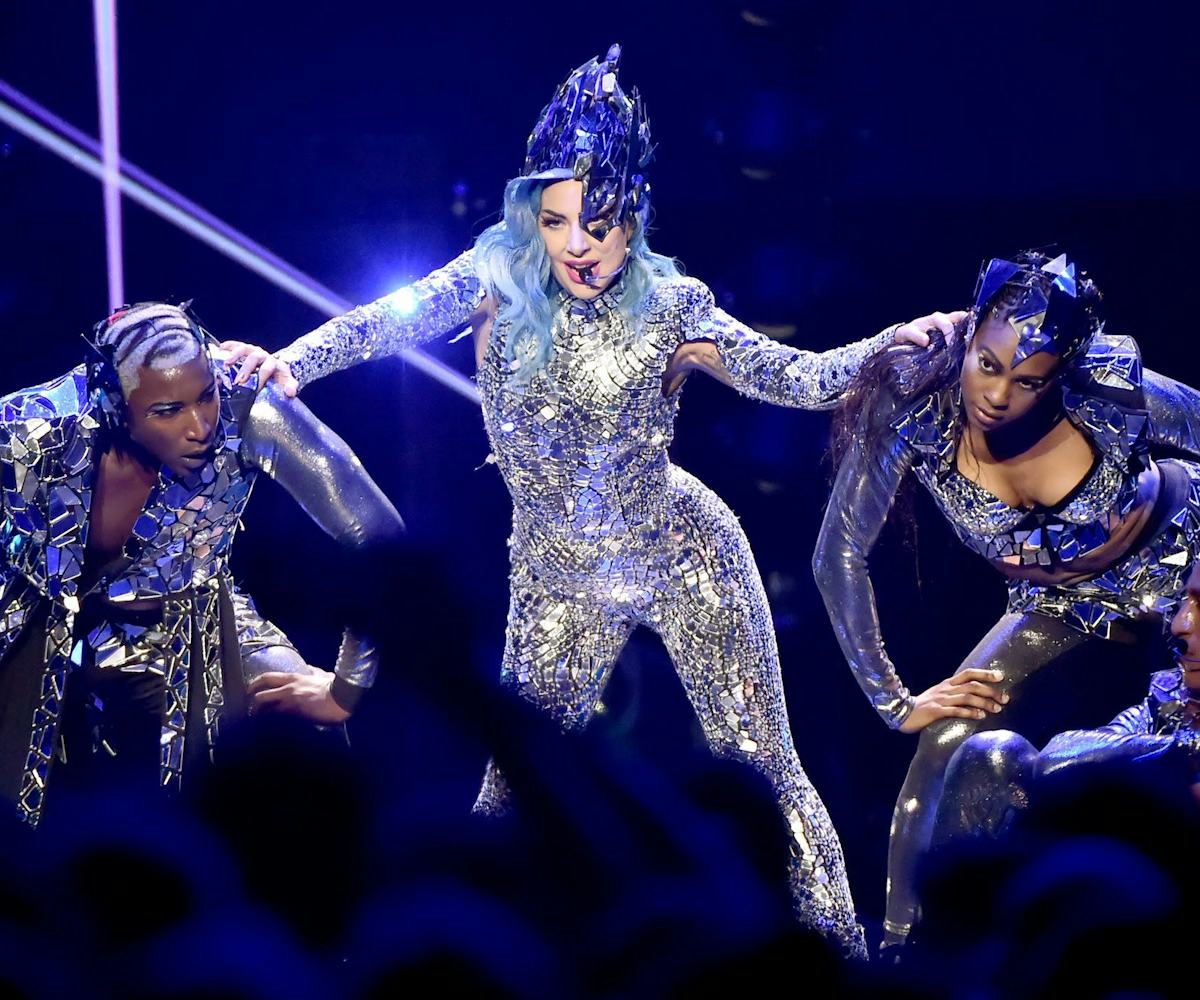 Photo by Theo Wargo/Getty Images for AT&T
Lady Gaga Tested The New Haus Laboratories Lip Crayons On Stage
"It's easy to apply and stays on, just like my monster makeup stays on during concerts"
Emulating Lady Gaga's iconically astounding beauty routine just got a lot easier. Back in July, Mother Monster announced she was launching Haus Laboratories, a makeup line created for all gender identities. Fans have quickly become enamored with every item of the collection, including a top-selling red lipstick and eyeliner. Now, for its latest addition, Gaga turned to the stage for inspiration and created Haus Laboratories first Matte Lip Crayons.
The crayons, available for purchase through the brand's site on Feb. 18, were made with Mother Monster in mind. As Lady Gaga explained in an accompanying press release, "We created LE MONSTER MATTE LIP CRAYON for the lipstick lover who can't get enough. It's easy to apply and stays on, just like my monster makeup stays on during concerts. It's reliable, irresistible, and sexy."
According to Makeup Artist Sarah Tanno, Global Artistry Director for Haus Laboratories, Gaga herself has tested the "feather-light" product, which will reportedly wear comfortably on your lips. "As the Global Artistry Director for Haus Laboratories, I'm always doing product testing. First it has to survive everyday life—of course you will need a bit of a touch up like any formula—but the ultimate test on product performance is if it can last during one of Gaga's shows, and It has exceeded all our expectations," Tanno said.
Lady Gaga did an additional test run of the crayon for an Instagram announcement. Wearing a bright pink shade that matched her hair and nail color, she said the product was made for her biggest fans. "I've been testing this for a long time (like in Miami) and I know you're going to love this bold lip color," she wrote. As her Instagram caption alludes to, Lady Gaga had previously shared a February photo that hinted at the possibility of something new for the brand.
Even if your daily routine doesn't require a night spent on the stage in front of millions, the crayon does come in plenty of colorful options made for everyday wear. The launch features 12 shades including a nude pink hue called Dust, a pure red named 1950, a burgundy wine crayon dubbed Pusher, and a neon pink crayon shade called Hot Rod.
Below, get a peek at every shade of the lip crayon, including the bright pink worn by Lady Gaga.