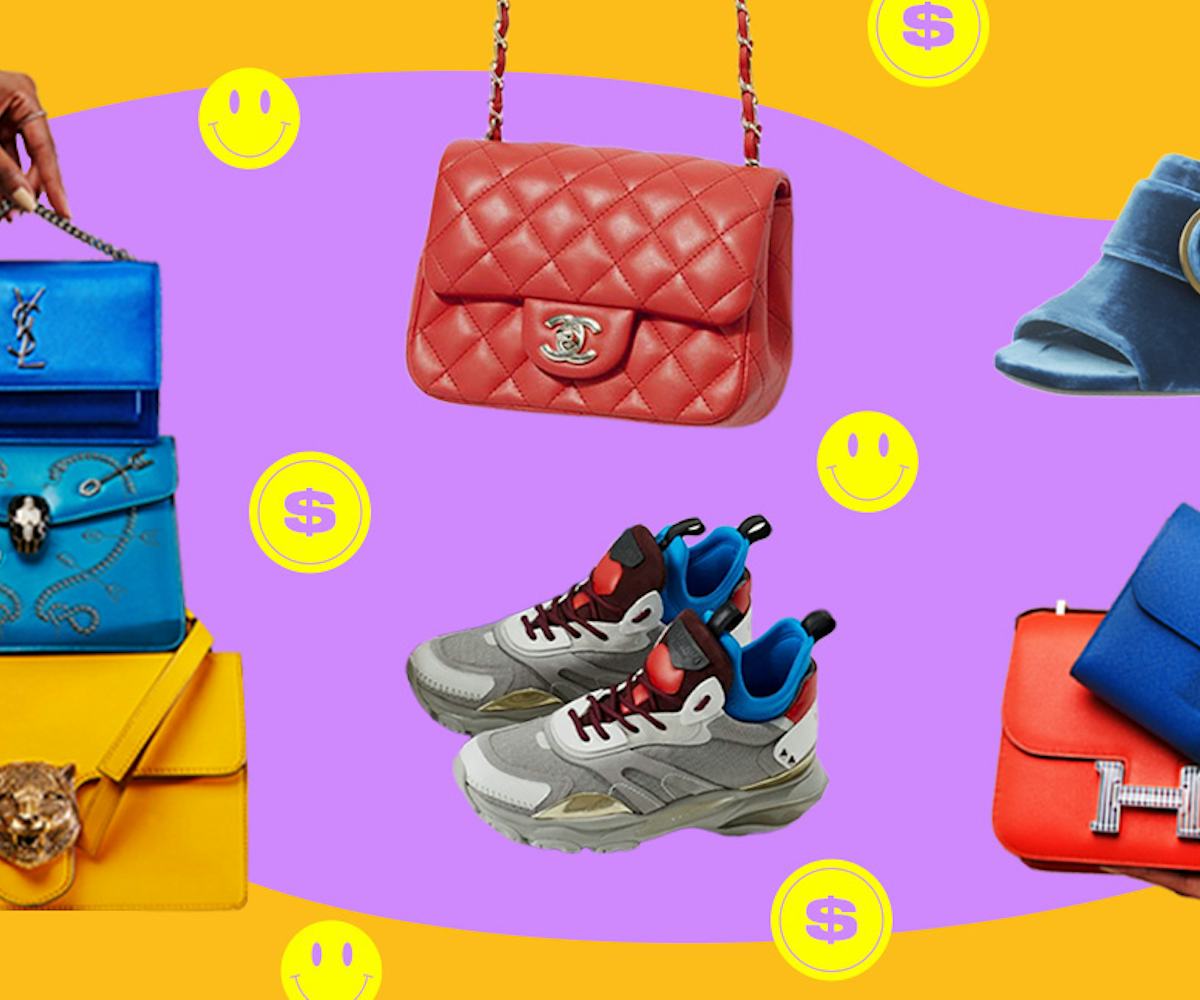 Photos via The RealReal, Rebag, LePrix, and Vestiaire Collective
How To Shop Secondhand Luxury Shops Without Breaking The Bank
The experts share their tips
I consider myself a longtime, avid secondhand and vintage shopper, having scored many of my favorite wardrobe pieces in thrift and vintage shops. However, there was once a point in my life that I thought any shop that boasted "luxury" or "designer" secondhand was probably too expensive for me, and thus overlooked them entirely. While that might have been true once upon a time, things have changed, and everyone can find some new item to love in these stores.
Shopping luxury consignment and secondhand can sound intimidating, but it's had a deserved, major renaissance over the past couple of years (and, considering that it's such a sustainable option, we foresee it continuing to grow in popularity). It's not all $3,000 vintage Chanel bags—though, there are plenty of those available, too. Today's leading luxury resellers have tons of affordable gems just waiting for us to find.
We talked to the experts at four of the leading online (and IRL) luxury consignment and re-sell retailers—The RealReal, Rebag, Vestiaire Collective, and LePrix—to get their tips on how to shop secondhand luxury without going broke, and sharing the must-have finds for each of their sites.
Keep your eyes on the items you want
Most of the time, when shopping for luxury secondhand pieces (and most online shopping in general), you're able to favorite your most coveted items. If you fall in love with something a bit out of your price range, this feature is key. Why? Because sales do happen, and the longer an item is for sale onsite, the more it tends to drop in price. "Wishlist the items you love and watch it over time," says Elise Whang, co-founder of LePrix, an online shopping destination that stocks designer consignment from over 600 boutiques located around the world. While in LePrix's case, you'll receive an email alert when prices drop, others may require you to keep tabs on your item.
I can personally vouch for this feature and have made it a habit to check in on all of my saved items daily. Sure, it's heartbreaking when someone else purchases the item before it gets marked down, but when that vintage Fendi skirt drops from $350 down to $180, it's a truly satisfying purchase. Keep in mind, though, as these items are one-of-a-kind, once they're gone, they're gone. "Our advice is, if you can't stop thinking about it, just get it. Wear it, love it, and you can always consign it later on if you want!" Whang says.
Choose vintage over more recent collections
Across the boards, when it comes to shopping secondhand luxury, vintage items tend to be priced lower than secondhand items from recent seasons (aside from, you know, the obvious most coveted vintage rarities). Emily Dang, co-founder of LePrix, breaks it down: "Choosing vintage over new recent collections can save you money. For example, the 2019 Dior saddle bag retails for $2950, but you can buy the original vintage for over 50 percent off, or the vintage mini version at 85 percent off."
Make an offer, if possible
In some cases, like on LePrix, you can make an offer on an item, allowing you to name your price on an item, rather than pay the sometimes-steep list price. "Many of our consignment store partners list gorgeous items that customers can make offers on," says Whang. "Many of our customers have scored Off-White jackets, Chanel belt bags, and Balenciaga sneakers for a fraction of the price, just by bargaining."
Consider a trend from a few seasons back
Sometimes, the key to a good deal lies in shopping for items that you love that had It status a little while ago. "If you're hunting for a great deal, consider a style that speaks to you but is from a few seasons back, like Western boots from designers like Isabel Marant, Saint Laurent, and Calvin Klein," says Sasha Skoda, head of women's at The RealReal, an online marketplace for authenticated, consigned luxury goods. "With the recent dad sneaker trend, now is a great time to scoop up a pair of more minimal sneakers like Stan Smiths or Common Projects, and finally, with the recent focus on loafers and mules, there are some great steals to be had on past season ballet flats from designers like Celine, Martiniano, Repetto, and Lanvin."
Remember, when it comes to the trend cycle, things always come back, so snag it now for a deal so you can have a covetable item, later.
Consider the characteristics
As Charles Gorra, CEO and founder of Rebag, the online (and IRL) destination for buying and selling luxury handbags, explains, there are many secondary characteristics that affect the price that shoppers don't tend to think about. "Many shoppers loosely know what they want before they begin browsing, but often characteristics such as year, size, material, and condition are secondary thoughts. These are the factors which can make or break price," Gorra says. "Colors and materials can drive price points up or down, depending on desirability, and moderately worn conditions knock off tens to hundreds of dollars."
Gorra suggests comparing and contrasting different iterations of the same item so you can find the right bag at the right price for you.
Look for pieces from emerging brands
Just because these websites boast luxury secondhand designer doesn't mean that's all they carry. Most of the time, you'll find items from cool contemporary and emerging designers for a fraction of the price point, and will potentially hold a high resale value later on. "Look for pieces from emerging designers like Staud, Khaite, Toteme, Rejina Pyo, and Sandy Liang," recommends Skoda. "These brands are in top demand right now, so even though they aren't established luxury brands with the high price point to match, they hold a strong resale value and are a smart investment."
Make checking in your new habit
Many of these sites stock hundreds, sometimes thousands, of new items each day. With that said, checking back each day provides a new chance to find something really amazing at an incredibly accessible price point. As Fanny Moizant, co-founder of Vestiaire Collective—a community-driven platform for pre-owned fashion spanning luxury designer to vintage, streetwear, and new sustainable labels—recommends, follow a shop's "new" and "trending" sections to find the best of the best. "As we have nearly 4,500 new items on the site every day, there is an endless selection of hot new pieces curated by our in-house fashion team. My advice to everyone is to download the app and follow our Trending and We Love selections for the best pieces."
Most importantly, know where to find good deals
One of the most important tips, however, is to know where you're shopping. Know which sites are best for what you're looking for or, better yet, know what kind of items each of the major sites is known to have super great deals on. The experts share what each of their brands has to offer, below.
The RealReal: While The RealReal definitely carries some drool-worthy, yet pricey, designer goods, there are also tons of gems to be found at a more affordable price range. "A general favorite hack is filtering by Editor's Picks (where our editors curate some of our best pieces), and then add a price filter to set your budget range—to under $200, for example," says Skoda.
She also considers the site a great place for snagging trends that have made their way back around. "Buying pieces from original collections can be a much more budget-friendly way to stay on-trend with more unique pieces that will help you stand out from the crowd," she says. "For example, mini bags are our top rising trend this year, with demand up 544 percent. While trendsetter Jacquemus' bags fetch an average of $500 on our site, you can find mini-bags from past Salvatore Ferragamo, Jimmy Choo, and Missoni collections for under $100."
Other finds to not pass up? According to Skoda, you can find tons of Manolo Blahnik shoes under $95, luxury denim under $100, Hermès scarves for under $200, and Celine (we mean, old Céline) sunnies for under $200.
Vestiaire Collective: On Vestiaire Collective, you'll find a range of designer items that also range pretty widely in terms of pricing. "People are often intimidated by big luxury names, believing they will be out of their price range," says Moizant. "They would be surprised to hear the brands like Saint Laurent and Louis Vuitton have thousands of pieces on Vestiaire Collective in very good condition, available at an affordable price point." For example, you can snag wardrobe staples like this classic Gucci belt for $90, these minimalist Chloé wedges for $60, these gorgeous Prada mules for $240, and this vintage YSL jacket for $150.
But there's way more than just luxury available. As Moizant points out, the brand adds a whopping 40,000 items per week, so you'll find tons of contemporary brands such as Ganni, Cult Gaia, Reformation, and more falling way under the $200 price point.
Rebag: As the name would imply, Rebag is secondhand luxury bag heaven. From vintage Chanel to last season's Gucci (to, like, a lot of Hermès Birkin bags), prices can be high. If you're in the market to make an initial investment, you can do so while still ensuring your wardrobe is refreshed every six months through the Rebag Infinity program. Once you purchase a bag, you can wear it for up to six months and send it back for store credit when you're ready for something new. You'll receive up to 70 percent of the bag's purchase price to go toward your next item.
However, it carries about 50 high-end luxury brands. While some of these can reach the updates of thousands, you can also find some ranging between $200 and $400. "Continue watching out site, as we're always adding in small leather goods that fit into the price point," says Gorra. For example? This Fendi backpack for $230, or this floral 3.1 Phillip Lim satchel for $325.
LePrix: Sure, you may be met with goods well into the thousands-of-dollars range upon entering LePrix's website, but there are tons of steals available, waiting to be found. For accessible gems, Dang suggests first taking a look at accessories. "From Celine sunglasses from the Phoebe Philo era, aka 'Old Céline,' to iconic plaid Burberry bucket hats, to the vintage Chanel jewelry, the accessories section can often be a treasure trove without costing a fortune," she says, adding that many of these fall under the $250 range. She points out that shoes and accessories from brands like Versace and Louis Vuitton often have items available for under $200, which are certainly unexpected. One of her current favorites (and oh-so on-trend)? These vintage Versace shield sunnies.
Clothing from luxury designers can also sometimes be priced very affordably, like this (also, very on-trend) open-knit crochet Balenciaga frock for a mere $40 or these staple fringed denim cut-offs from Stella McCartney for $90.
Dang points out that LePrix's vintage selection is also a great way to shop on a budget while still being on-trend, particularly, the '90s. "One of our favorite style icons albeit fictional right now is [Sex and the City's] Carrie Bradshaw. Her best outfits are very on-trend for 2019, including Fendi baguettes [for a mere $169!], fun hair accessories, and flirty dresses."