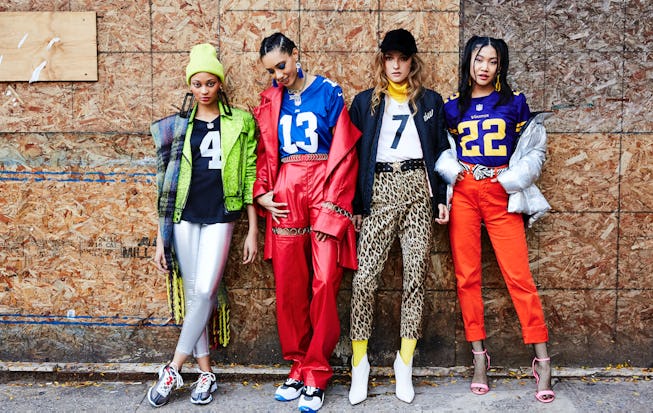 Photo by Lauren Perlstein
You Don't Have To Know Anything About Sports To Rock These Looks
Unpopular opinion: Jerseys have been long underappreciated in fashion. We have to admit that we're not really the hugest fans of sports (although we do have a soft spot for Colin Kaepernick, obviously). But if there's one sporty item that should totally be a low-key wardrobe staple, even for the klutziest among us, it would have to be jerseys. Why should only jocks have all the fun? All to say, we're reclaiming jerseys for our own, and we're going to show you how to rock a few Nike styles yourself (be warned, heavy use of accessories are involved). You don't have to know the teams the jersey are repping, but honestly, bonus points if you do.
Photos by Lauren Perlstein
Styled by Josh Brewer
Hair and makeup by Shideh Kafei
"All black everything" is such a boring motto, especially when you're living in New York and everyone is opting for variations of the same outfit. We're mixing it up with some green and metallic silver (and a black jersey for good measure).
Christiane Staten wears Nike's NFL Oakland Raiders Game Jersey, $75.97, available at Nike.
A monochromatic look is great, don't get us wrong, but what's even better is one pop of a complementary color. We got that look by mixing this red set with some pops of blue.
Indi Irvine wears Nike's NFL New York Giants Limited Vapor Untouchable, $150, available at Nike.
There's no wrong answer when it comes to the question of what to pair with leopard print, and this look is proof. A Steelers jersey and a turtleneck are a perfect match when paired with these leopard pants.
Lauren Hurlbut wears Nike's NFL Pittsburgh Steelers Color Rush Limited Jersey, $111.97, available at Nike.
Hello, and welcome to layering heaven. Keep warm with a puffer jacket layered over a Vikings jersey (and a long-sleeved tee if it's still too chilly).
Carolyn Wong wears Nike's NFL Minnesota Vikings Game Jersey, $100, available at Nike.