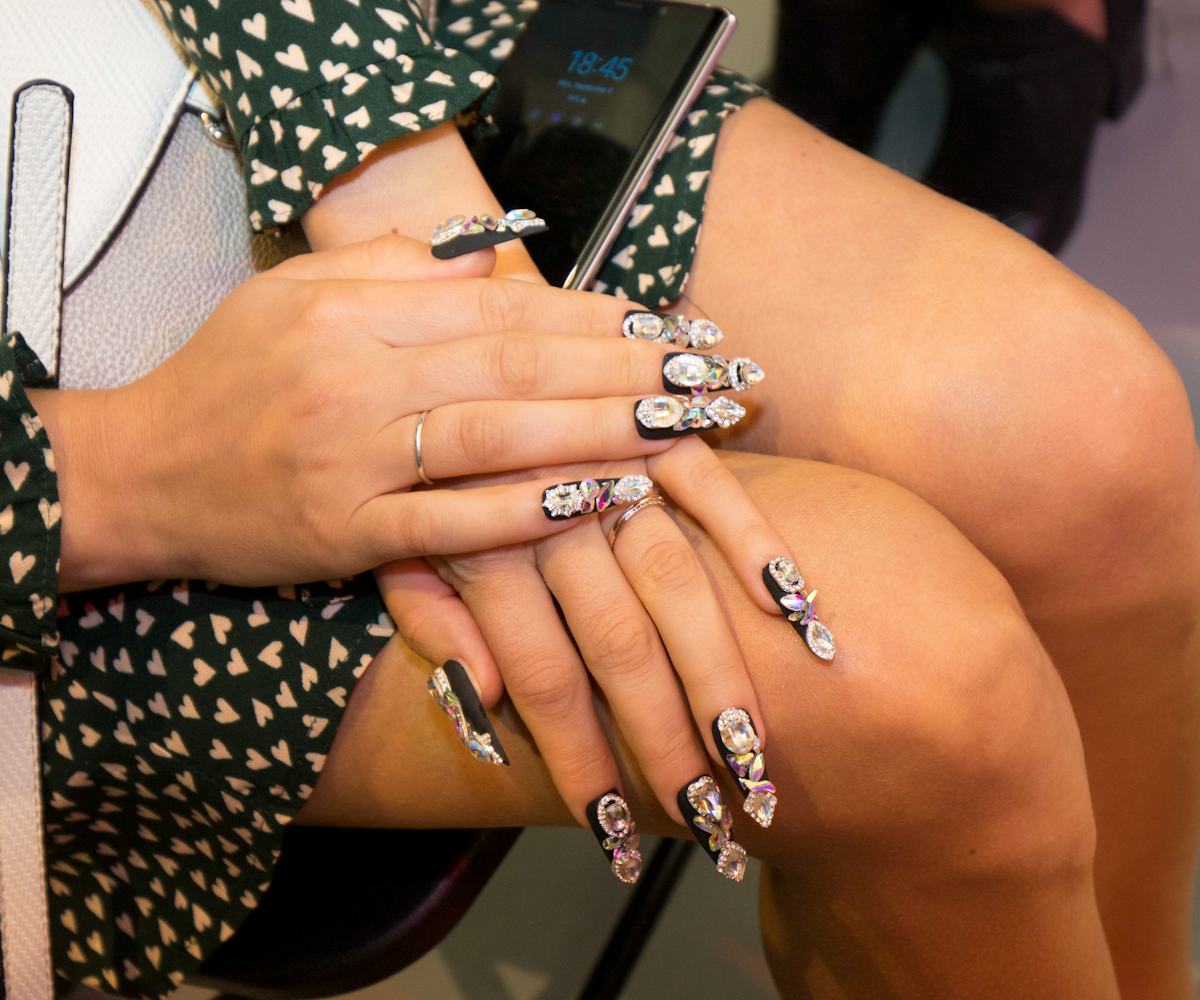 Image by Sophia Wilson
What To Know Before Trying Blingy Nails
They're in and they're easy
Blingy nails—whether encrusted with jewels, dotted with rhinestones, or adorned with pearls—are trending. The look isn't new—people have been attaching gems and baubles to their nails for decades—but it's undeniably having a moment right now. Maybe it's the Hustlersinfluence or maybe it's just the return of late-'00s fashion? Hard to say, but we're happy they're here.
Once upon a time, though, embellishment-heavy nail art was relegated to hood nail shops, kawaii girls, and music video sets, donned by pop stars and around the way girls alike, but not considered high fashion. You'd be hard-pressed to find mainstream celebs rocking anything other than almond-shaped nude nails, and runways were particularly bland, models often rocking the same four shades of sandy beige. Well, times have changed, due in part to artists like Cardi B—whose come-up included an intricate, icy manicure—and social media, where people can readily flaunt their miniature works of art. For better or worse, nail art's gone mainstream and high fashion, all at the same time, and trying to escape the siren song of bling is futile.
The Blonds NYFW show is one example of blingy nails on the runway. The brand put on its very own version of Moulin Rouge this season, and while the whole thing was as theatrical as you might imagine, the nails arguably brought the most drama to the show. Some models donned ultra-long, black stiletto nails with 3D roses while others wore gem-covered extensions filed to a sharp point. The scene was similar at Chromat, where Insta-famous model Shannon Clermont pulled up to the runway sporting an already-done set. Her translucent nails were the perfect canvas for an array of jewels, catching the light as she walked show after show. If you want to replicate the intricate look, be prepared to fork over $100 or more—the jewels and extensions don't come cheap.
If minimalism is more your thing, there's blingy inspo for that, too. Instagram offers up a bevy of subtle embellishment ideas—like a few pearls placed on naked nails or rhinestones arranged in a graphic arc. It's the bling-shy answer to getting in on the trend, and works well for nails lacking in the length department.
It's also one of the easiest to DIY, all you need are a pair of tweezers, a little nail glue, and attachments of your choosing—readily found at your local craft or beauty supply store.
If you can't afford full bling, or have no patience for a DIY project, you can also give press-ons a try. Products like KISS Masterpiece Nails have various lengths and shapes, so you can get the look in just a few minutes for a fraction of the price. In recent years, press-ons have gotten new life thanks to new technology, and can last up to two weeks—almost as long as a full set.
Whatever blingy route you wind up going down, just remember: More is more.