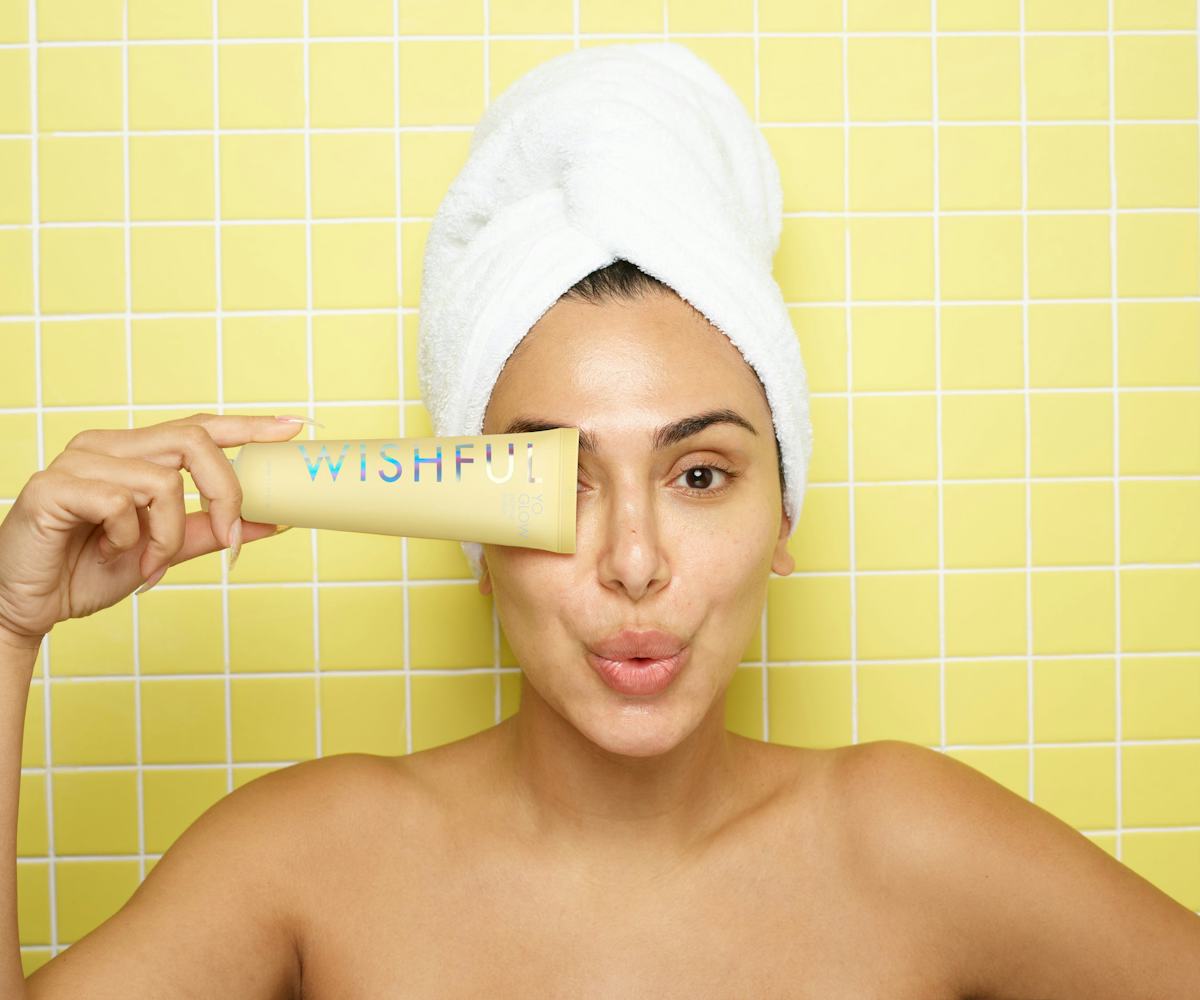 Photo courtesy of brand
Huda Kattan Just Launched Skin Care — And It's Bound To Become As Iconic As Huda Beauty
Wishful Skin is here with one single product
Make some room on your top shelf, because Huda Kattan is entering the world of skin-care. On Tuesday, Feb. 4, the famed beauty YouTuber and founder of Huda Beauty announced Wishful Skin, a line she intends to shake up the skin-care industry with. And unlike routines that require an arsenal of products and hours in front of the mirror, Wishful Skin is launching with one single item.
Sharing news of the launch with Women's Wear Daily, Kattan explained her intentions with Wishful Skin. Admitting that her own skin-care routine is "way too long," the makeup mogul said she wanted to do things different. "How can we really expect people who are so tired and so busy to understand all those steps," she asked. "We want to be this brand that becomes kind of educational, but also simple. The tag line is, 'gentle, simple, effective.'"
That adherence to simplicity begins with the brand's debut product — Yo Glow Enzyme Scrub. Retailing for $39, the scrub is meant to exfoliate the skin, and contains pineapple enzyme, papaya enzyme, and AHA and BHA, two skin-friendly acids intended to cleanse and clear the skin.
The cruelty-free skin care line is meant to differ from Huda Beauty, with Kattan telling WWD that this latest addition to her already stacked makeup résumé is a representation of her own beauty needs. "I'm not only this person who is made up and always likes to wear their hair flawless and their makeup flawless.…I am also this very simple [person] — I like to be cute sometimes, and to be simple, and to be in my essence and who I am — that's kind of what Wishful represents," she said.
As for what inspired Kattan to pursue her place in the skincare industry, the beauty YouTuber has spoken at length about her own struggles with finding the perfect skin-care regimen and has shared a lifelong experience with acne. Back in January, she had hinted at the launch of a line, telling Instagram followers that she started "experimenting" and had discovered a product to help control her acne.
Kattan didn't divulge what other items might be coming to Wishful Skin, but she did hint to WWD that more is definitely on the way. She pointed to a potential expansion into body care products, but reiterated her desire for the line to remain simple and easy to use.
For now, you can pick up the scrub online and in select Sephora, Harrods, Selfridges, Boots and Cult Beauty stores. See the product in action, below.