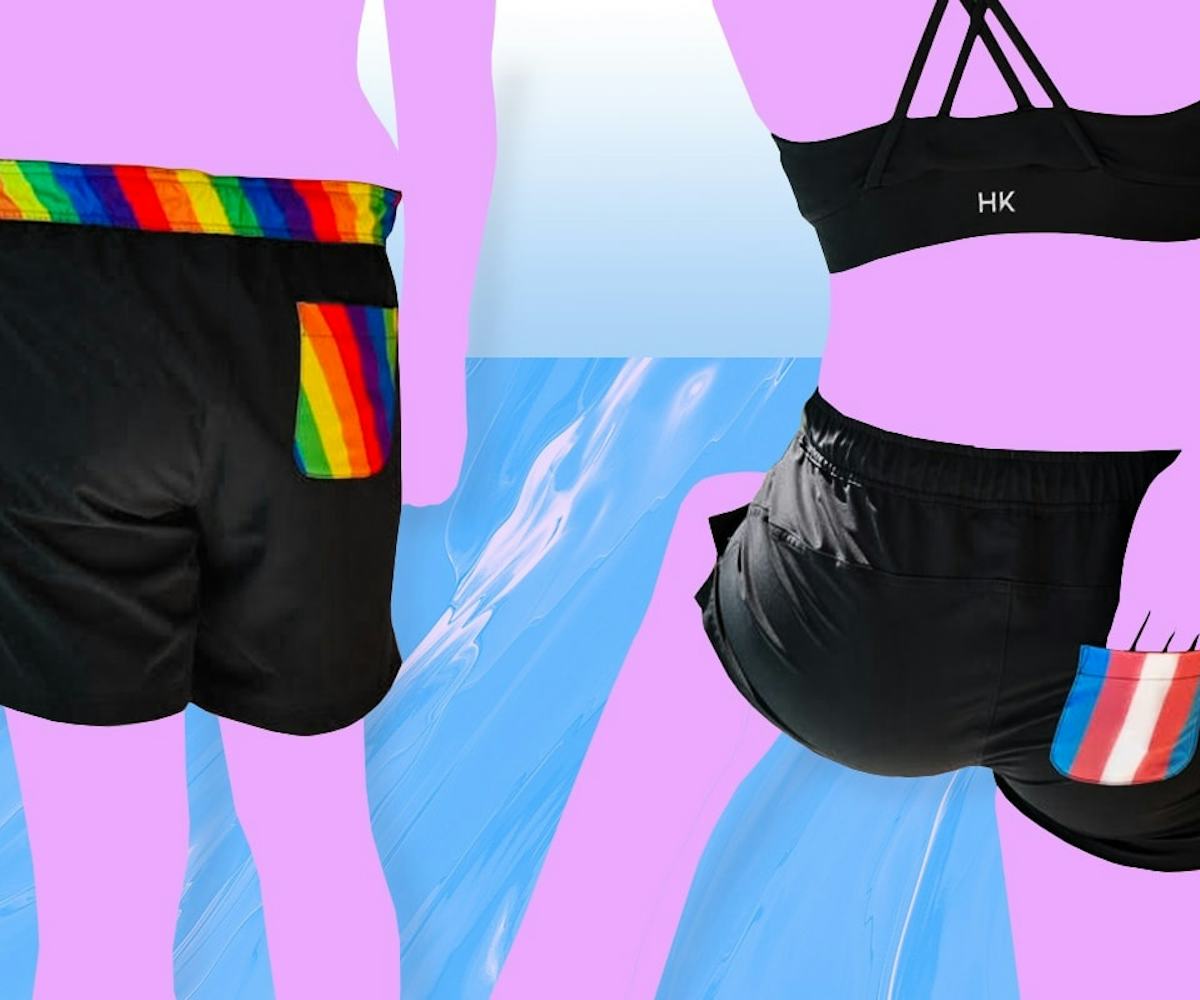 Photos courtesy of Humankind Swim, illustration by Lindsay Hattrick
Humankind Swim Is Making Comfortable Swimwear For Every Body
Gendered swimsuits are on their way out
"The LGBTQ community is overlooked in swimwear. You're either categorized as wearing a men's trunk or a women's bikini, and there's not an in-between," says Haily Marzullo, founder of genderless swimwear company Humankind Swim, who's well aware there's been a lack of queer swimwear options. Even as new swimwear styles have proliferated over the years, there's still a gap when it comes to people who don't conform to the gender binary, or who feel their identity isn't represented within swimwear's typically feminine and masculine styles.
Marzullo created her own brand to combat this problem, and she's the perfect one to do it, since she's dealt with the issue for a while. As a lesbian who is not interested in wearing the bikinis that are marketed to women, Marzullo says that she's been trying forever to find swimwear that she feels good in. "Being from L.A., I was always around the beach or in the pool, and I struggled to find swimwear that made me feel comfortable," Marzullo tells me. "I was mixing pieces together that weren't classified as swimwear."
She felt most comfortable wearing a sports bra-style top and trunks that were usually made to be worn by men. It was a huge hassle, she says, to have to search high and low in multiple different stores to find separates that she felt comfortable in, which weren't tailored to be worn to the pool or by a woman. And, after all this searching was done, she was still left with only one swim option for the entire summer. She says, "I wanted to tackle that, and give people more options and a community, where [customers] can feel that I have their best interests [at heart] and understand what they've been going through." She chose to make the line gender-free because "I see the world going in that direction," adding: "I wanted to make a product that was universal, no matter what your gender is."
The result was the first launch of Humankind gear, which is perfectly minimal and effortless, and inclusive of every gender; it's a mindfully crafted, minimalist collection that's made with both physical and emotional comfort tailored into the design.
For the tops, Marzullo crafted what looks like a sports bra, but with material that was made to get wet. "Traditional sports bras aren't meant to be going in the water—they're not meant to be completely submerged and then dry quickly," she pointed out. This sort of design, as a bonus, gives structure and support, so anyone can realistically wear it "from playing a game of volleyball to being in the pool." The trunks are created with two lengths and are fitted a bit higher up on the hips than what's currently on the market, which she found was better on more types of bodies.
She's also launched a Pride line this summer, which will also be selling at its own stand at L.A. Pride in June. The collection is less in-your-face than many other Pride collections, which was a deliberate choice: Marzullo wanted the designs to be "minimal enough that you'd want to wear them year-round." Many Pride collections, we agreed, seem to be made so that brands can pat themselves on the backs for being accepting. They end up being flashy and bright, and only feel wearable during Pride month, or at a Pride parade.
It's clear that this collection was made by someone in the LGBTQ community who knows what people like us want, and who knows what it feels like to be pandered to by a brand. This collection is definitely not that. On the bra top, the logo is a rainbow gradient, while on the trunks, the back pockets are decorated with either a Pride flag or a trans flag, and the same design is printed on the inside seam. "I'm not the one that wants to wear bright rainbow trunks," she jokes.
These collections aren't all for the brand: Marzullo has plans to expand its offering very soon. Next up is an athletics and athleisure wear collection, which will have different styles of bra tops made for lounging in or working out. There will also be T-shirts that are made to fit well and be comfortable for every body. If it's up to Marzullo, the future will be full of accessible, genderless clothing.
Want to see more stories like this? Sign up for our wellness newsletter.