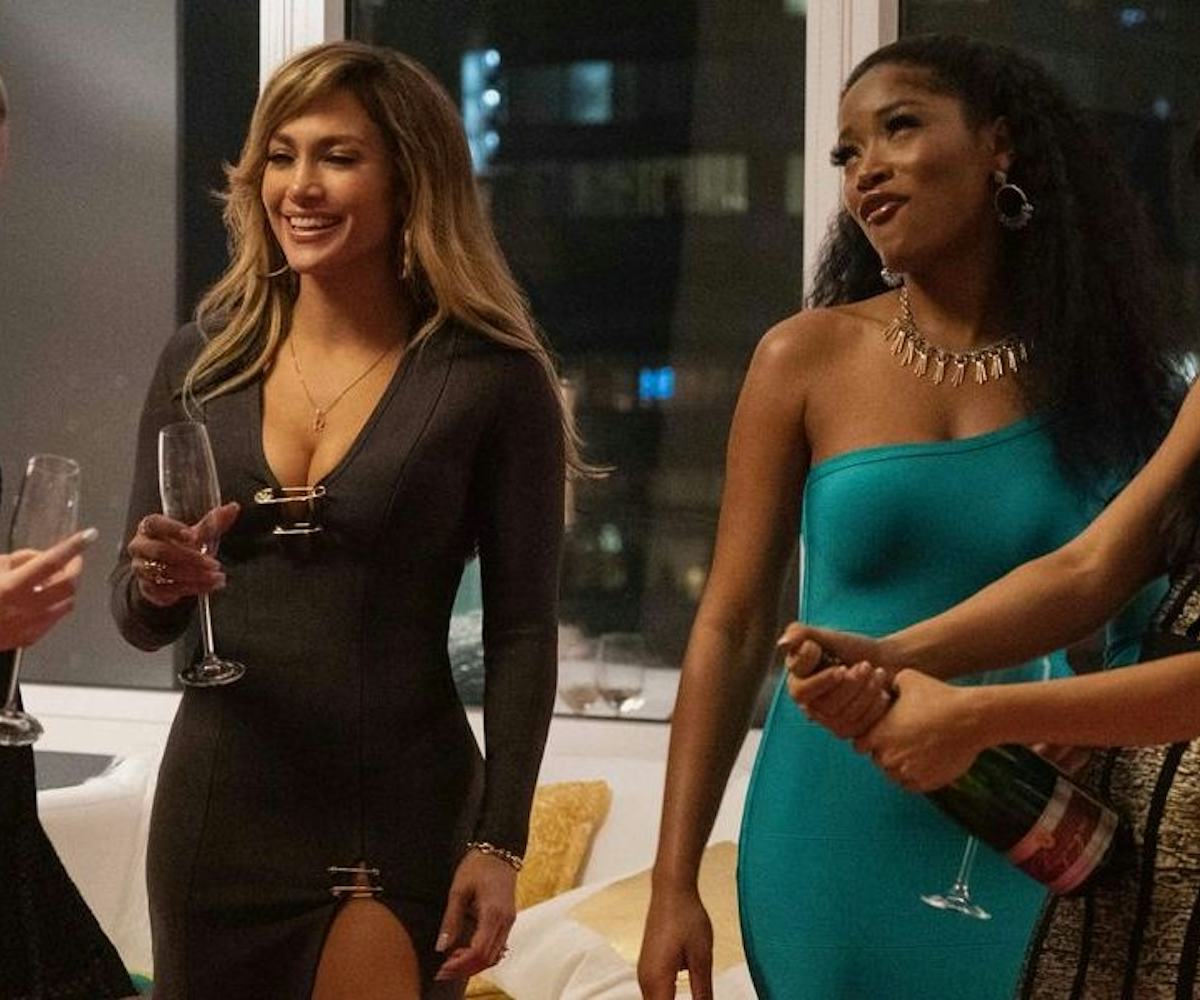 Photograph courtesy of STX Films.
'Hustlers' Is A Must-See Tribute To The Best (And Worst) '00s Fashion Trends
We spoke to the costume designer about *those* JLO and Cardi B stripper looks and what celebrities inspired him for the film
The late '00s were a sometimes tragic time for fashion—UGG boots, Juicy Couture tracksuits, Von Dutch hats, and Bebe shirts were just some of the era's household names. These—and more—are on display in Hustlers, the based-on-a-true-story film starring Constance Wu (Destiny), Jennifer Lopez (Ramona), Keke Palmer (Mercedes), and Lili Reinhart (Annabelle) as strippers who turn to drugging wealthy men and stealing their credit cards as a way to make money during the financial crisis.
Likewise, '00s music hits "Gimme More" by Britney Spears and "Love in This Club" by Usher (who makes a cameo in the film) soundtrack some of the film's stripping scenes, the first of which comes in the form of a gasp-inducing performance from Lopez in an extremely revealing fringed bodysuit with a G-string. Responsible for envisioning that look? Costume designer Mitchell Travers, who says that he referenced looks from '00s-era Rachel Zoe and Victoria Beckham, "and a little bit of Jennifer because, you know, she was creating a lot of the trends that were happening at the time and she still is today." After Lopez mentioned to Travers that she wore a lot of silver jewelry at the time, he was inspired to have the sparkly bodysuit custom made for her. "I wanted there to be a little bit of a heightened theatricality to the costume," he says. "This was really a performance. And I took cues from that to understand that this is somebody who understands that this... She's got to get the whole room involved, and she's got to make every dollar she can. And so to do that, she's invested in her costumes and she's created an act, whereas, the other girls there were just dancing."
Another incredible look in the club came from Cardi B, who appeared in one memorable scene wearing just rhinestone pasties, paired with a corset around her stomach, fishnets, and sky-high silver booties. "The corset was something that I got very, very early on in the film. I knew that it would be an important moment, once it was time to use it. And I kept holding it back, I didn't really know why," he says. " And then, it was about three o'clock in the morning, it was one of my very last changes, it was with Cardi. And so I was just like, 'You know, if not now, when?' So, I pulled out the corset, I showed it to her, and she was like, 'Oh bitch.' And she started laughing with me. I'm so inspired by her freedom with her body, her ability to do so many different looks. And so I figured, she had the confidence to pull it off, she's certainly got the body to pull it off. So, I got her in, we laced it up, and she was sold."
Mitchell says that he not only appreciated Cardi's willingness to trust him, but also the advice she had for him: "She lived this life, and so it was very easy to have a conversation with her about what is authentic, that she remembered about that time in her life. And, she actually gave me some really great tips and tricks from her time spent in the club, that we then used not only on her character but for the other girls as well."
Mitchell similarly had a vision for Lizzo who, while only appearing briefly in the film, makes an impression in one particularly striking look made of a fishnet bodysuit and a pink marabou hat. "The moment that I knew we had Lizzo, I had this dream of putting her into fishnet body stocking, and I wanted to find a way to incorporate that marabou hat, which Pamela Anderson had worn at the VMAs. It was just one of those iconic visuals that we have from the time. And I felt like who better than Lizzo to wear that," he says. "She'd let me do my thing, which is extraordinary for someone of her caliber to just trust a relative stranger, with fishnets and a feather hat. But, she went for it."
For Reinhart's character, Travers referenced Hannah Montana-era Miley Cyrus, as well as Ashley Tisdale and early Kelly Clarkson, "because, I wanted there to be a bit of a change of purity about her character." With her character seen vomiting whenever a stressful situation occurs, Travers wanted to relay "a sense of humor, and that comes with the clothing, that I think is important for me to provide for her character. So I looked through a lot of cotton eyelids or sweet prints. Finding anything that, you kind of got the sense that she might've been, like, one of the cheerleading squad at her high school, and was still a bit in that mentality when she moved to New York and got caught up with these girls."
Another character who gets caught up in all the drama is Wu's Destiny, whose wardrobe Travers describes as "before Ramona's influence and after Ramona's influence." While we first encounter Destiny, she's a more timid woman, who follows trends a little too closely—the "SEXY" chocker and platform flip-flops being notable examples—to fit in with the rest of the group, but her fashion transforms as she begins to make money and find her sense of style before beginning to feel like she's not able to keep up with the scam. "It was really important to show how much growth this person was going through," Travers says. "But then also, to reach a point when you recognize that, it was starting to be uncomfortable [for her], this much change and this much growth over that short amount of time."
One such example, according to Travers, is a puffy denim printed coat paired with a venom strapless one-piece and denim heels. "It's a bit of a nod to, of course, the famous Britney-Justin moment. But there is something childlike about the puffiness of the coat, and it's this weird combination of, you know, former stripper, but you're starting to see some softness in it as well. And, it's really indicative of the time period, and I feel like it's a very visceral memory for so many of us about what the early-2000s and mid-2000s looked like," he says. "I'm just really happy with the way it plays in the film, because, it gives a softness to the edge that a lot of the rest of the film holds. And, it's a signal to us, as the audience, that the walls are kind of coming in on her character, and she's not able to keep up with it."
But before that happens, there are numerous shopping scenes filled with Christian Louboutin heels and Herve Leger bodycon dresses, whose archives Travers had access to for the film, plus every It Bag from the era from the likes of Gucci, Coach, and Louis Vuitton's then-coveted collaboration with Takashi Murakami. "I find that a lot of costume designers are frightened of logos and don't use them, but, I really like to use it in my work, because, I think it's a tool that so many human beings use to communicate with each other. It lets you know what somebody can afford, and if you start to see too many logos, you might understand that they don't have the ability to control that or restrain themselves from it," he says, noting that the characters of the film would have been a "more-is-more" crowd. "[Logomania] was something that was huge at that time. We've shied away from it, but it's definitely back. You see heavily branded and heavily monogrammed things coming back to the forefront of fashion."
Another thing coming back: brands helmed by celebrities. In another cheeky nod to Lopez's past, who had a popular clothing line in the '00s, Ramona reveals that she is designing a line of denim swimwear. "Everybody wanted a line, it became this thing where, you know, everyone had a line. It became this moment where part of being a celebrity and part of being a part of that culture, was to have your own line. And it's something that's still pervasive today. I mean, how many celebrities have a makeup line now?" he says. "I thought it was such a smart detail of [director] Lorene [Scafaria] to include in the story, because it really spoke to Ramona's looking to these celebrities for a bit of an identity. And, of course, the fact that it's all denim swimwear, I thought was brilliantly written... The consequences of any of her actions are never really thought through. It's all impulsive, and it's done for the look and not the substance, which I think is a great symbol for the character."
And while Travers was quick to use all good and bad trends of the aughts for the film, he recognizes that some should never make a comeback in real life. "The jeans were just particularly bad at the time. They were really low, which is incredibly unflattering for 99 percent of the human beings who wear them. They had a white topstitching, crystals all over, embellished pockets, and then a boot cut at the bottom, with too much of a stack so that the bottom got all stepped on and dirty and roughed up. A lot of bad decisions can go into one garment, and I find that the denim is the victim of the early 2000s," he says. "Unfortunately, they're a wonderful tool for a costume designer, but, hopefully, not for a stylist."
Hustlers is out in theaters now.