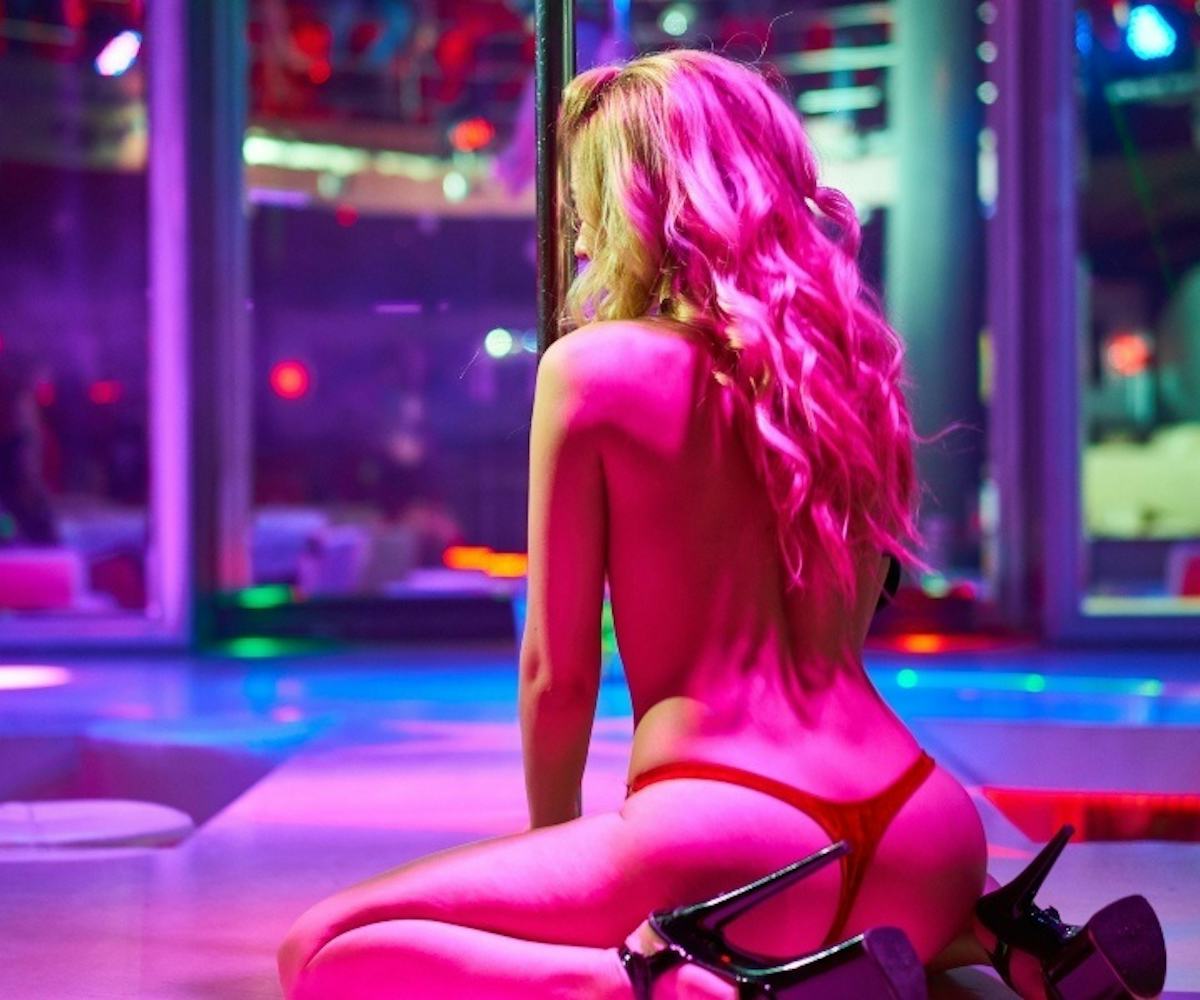 Photo by Aleksandr Rybalko / Shutterstock.
Strippers Tell Us What 'Hustlers' Got Right And Wrong
"The whole drugging clients thing isn't as common as being drugged is"
Accompanied by overwhelming critical and popular praise, Hustlers made $33.2 million at the box office during its opening weekend. Based on the New York magazine 2015 article, "The Hustlers At Scores," the film tells the story of a group of strippers who were arrested after they were busted for drugging men and then running up tens of thousands of dollars on their credit cards.
Hustlers lured audiences with an all-star cast—Cardi B, Constance Wu, Lizzo, and even Usher join J. Lo's star turn in the movie—and a rare glimpse into the strip club world.
Maybe what was most noteworthy, though, was that this was the rare movie in which sex workers were at the center of their own narratives. In most movies sex workers are often relegated to the background, even offered up as punchlines and collateral damage. Sex workers are way too often depicted as body parts and props; they're talked about, but not talked to. This didn't happen in Hustlers, and it's exactly why I wanted to hear what strippers thought about the movie—because their opinions matter the most.
Gizelle Marie, New York
I think the movie was very informative and impactful. We don't have films that represent us this clearly. It's still a bit vague, but it's a movie. I don't expect them to tell it all. A lot of women sensed "whore-phobia" within the movie, which I understand, but how else could they explain our reality without doing so? The strip club culture is not glitz and glam, and they did the best they could without exposing too much.
I think the movie is something veterans and baby strippers should both see, because it shows the drastic changes in the economy that we have seen throughout the years. I believe this will give a different perception to the younger dancers to have higher standards for themselves and be more clever with their craft.
The whole drugging clients thing isn't as common as being drugged is. That was one of the concerns a lot of women in the industry have [raised], which is understandable. Most of us could leave a drink at the bar of our club and end up drugged by customers slipping things in our drinks.
I love the storylines between the girls, Ramona being the "big sis/vet" and Destiny being the "young naive dancer/baby stripper. " It was relatable. Being a veteran and an advocate for our industry, I try to be that Ramona, [because] I needed one when I was a Destiny. The harsh realities of [what happens to] sisterhood when things don't work in everyone's favor definitely showed. These are the things we face, and it's up to us to change [them]. I've always been the stripper who gave the last off my back. I had a [dancing] partner for years, and we had our ups and downs and disagreements. You can't expect people to stick by you entirely because people tend to have their own agendas, dreams, and goals at the end of the day. I wish there was more togetherness and sisterhood in our industry. But the economy for our industry has been drying up so much that it has women working against each other or very few women working together. It's understandable. But this is where change starts. This movie opened Pandora's box to make us think about what's next and how we need to move [forward].
Gia Tailor, New York
I'm not really happy about the fact that the girls who the story was based on* feel [like Hustlers wasn't made] in complete truth, [but] I can honestly say someone did their damn research! There are so many bombs dropped in this film for girls who thought our lives were glamorous all the time, or that money was always good.
I won't say I've seen any public druggings, but I've seen some shit. Some girls and I fished** all the time. I even lived with a club manager once because I had nowhere to live, and I always overheard him discussing the Russian girls they were bringing in to the newly built VIP room of that club. [They took] out cameras, etc. We were dealing with guys with money before the clubs got commercialized [by] promoters, etc. It was a fun getaway for men, now we deal with broke guys trying to show off or those who want to know what you're willing to do [beyond dancing] for money.
The movie was perfect. Dressing room conversations, taking girls in, having goals outside of work, staying at friends' houses who were closer to work, boyfriends not understanding… it was just perfect. It was just shocking how accurate [it was]. Girls at my retail job were like, "It was dry. It wasn't what I thought." Our life isn't what you think. That's our real life you watched.
*Ed. note: Samantha Barbash, the former dancer who served as the inspiration for Lopez's character, has been vocal about turning down a low offer to consult on the film and all of the film's inaccuracies.
** Dating and meeting guys to lure them into the club to spend money.
Kash, Wisconsin
I've only been dancing since 2016. I'm from Wisconsin, and I walked into a strip club by myself when I turned 18, and I don't think it's anything like the movie. It did not show how each dancer is seriously living two lives. There is no house fee where I work, but they do take 25 to 50 percent of the VIP money. There are a lot of pole dancing competitions and feature shows. I'm an amazing pole dancer, along with many girls I work with! I keep my relationship with the clients good because I want them to keep giving me money. A lot of clubs get sued out here, and it does make the prices of the drinks go up.
Ciera, New Jersey
I like the movie. I give it 7/10. I found some parts relatable and realistic about what really goes down in strip clubs. Everything isn't glitter and gold. Women think they're going to come in and make tons of money. That's not always the case. [There are] certain women who make a bag when they work, and there are others who makes barely anything, every time. It's not for everyone. The game has changed, that part was relatable. Now, it's a lot of sex and drugs going on in some clubs, but not all. The drugging/robbing men part I didn't agree with. I feel like it puts a bad name on dancers.
Venus Slim, Illinois
Hustlers did what it was supposed to do: entertain non-sex workers. If some sex workers and strippers were entertained by it, then that's just a plus. Being able to enjoy it through a sort of double-consciousness was how I was able to do it. Yes, there were scenes that showed what strippers can and will go through; and yes, there was a stench of dancer exploitation, [with] dancers not being paid adequately for their time and effort. The movie tried to show everything that strip clubs have in 90 minutes, and that just can't happen.
There was the token fat stripper wearing some coverup—Lizzo was bomb as FUCK in it, though, but fat dancers don't always wear see-through robes; the newbie who broke a rule when trying to get dances during another dancer's set—even though I feel like that's obvious to not do; and the top dancer taking pity on the new girl and teaching her the ropes—which doesn't usually happen, from what I've seen. It was made to "oooh" and "ahh" [non-sex workers], and it did just that, as heard by the laughs and gasps during some scenes [when I went to see it].
As a dancer, much of that stuff was just normal to me. I was seeing myself in bits and pieces, and it was enjoyable, but nothing to write home about. Sex workers should see the movie alone or with other sex workers. Because watching it with [non-strippers], even if they're close friends, will inevitably turn you into the Stripper Encyclopedia, where they constantly ask you questions about stripping during and after the movie. The way that a stripper, or [any] sex worker, will watch the movie is very different from someone who has not been in the scene. It's the difference between, "Yeah, I've been there!" And, "Oh my God, isn't that crazy?! I cannot believe it goes down like that!" It's a good movie, but it's the type of movie where non-strippers and sex workers will see once and think they get how strip clubs operate. But I'm not sure if that's the film's fault.
Hustlers is out in theatres now.