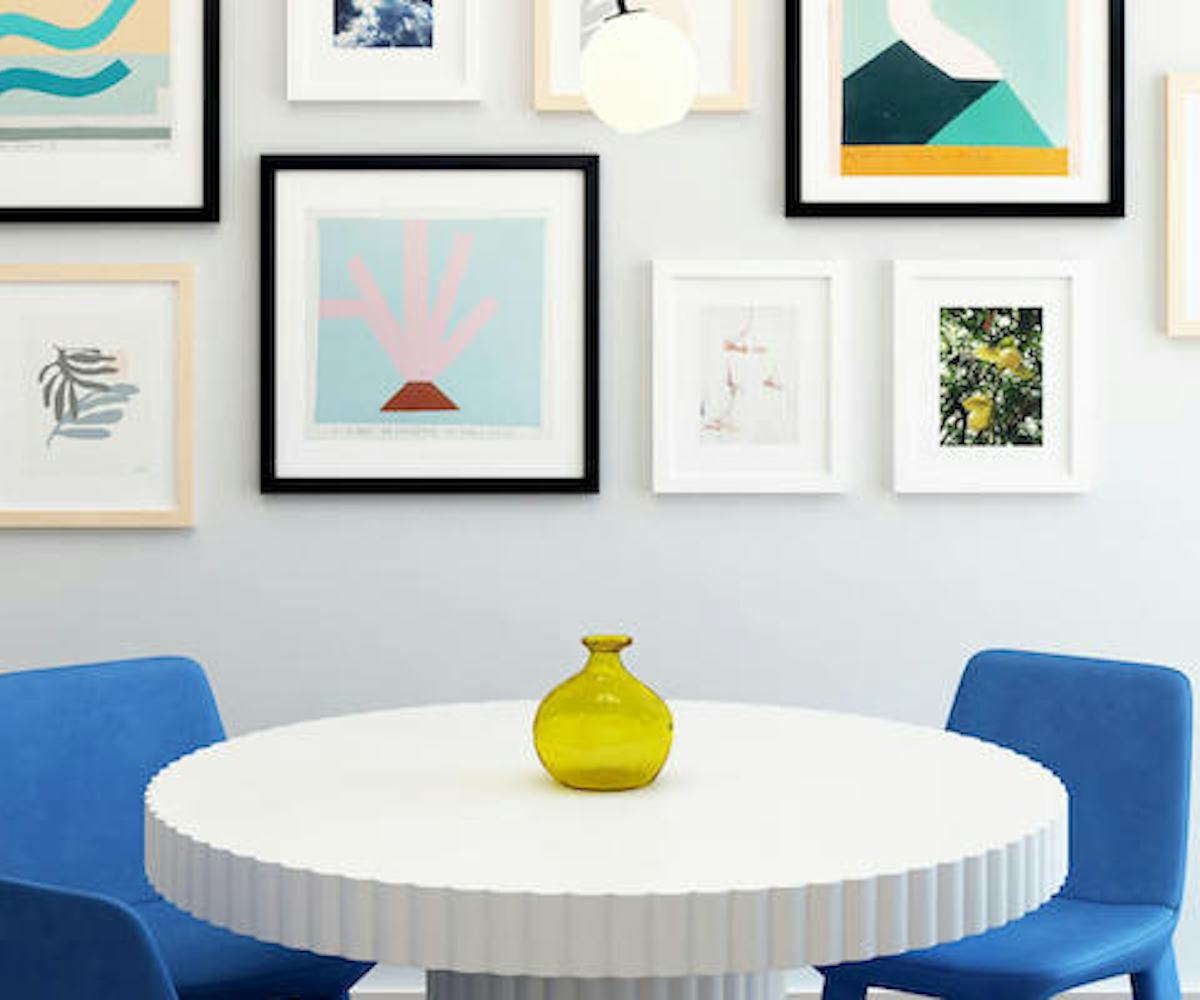 Photo via Hutch
This Interior Design App Is My New Form Of Self-Care
How Hutch has calmed me down
As the year 2018 comes to a close, it's pretty clear that "self-care" is as important as ever, thanks to the fact that everything in the world feels totally fucked up.
Of course, self-care comes in all forms. Some people take baths or waft themselves with smoke from a sage wand, while others just make sure they have 30 seconds each day to connect to their breath. Everything from naked yoga to slapping on a sheet mask can be considered a form of self-care nowadays because it's really just about taking a moment to ignore the bullshit and connect to yourself and your body.
For me? Self-care comes in the form of the interior design app Hutch. Yes, an app that's not focused on meditation or working out or keeping track of my breath, and rather centers on decorating a bare room to look like the luxurious Parisian flat of my dreams, is my newest self-care tactic.
The app works as follows: Each day, you're presented with a new design challenge where you play interior decorator. You choose from a couple of blank room templates—living room, bedroom, dining room, or office—and decorate following the specific vibe of the day, choosing from hundreds of furniture, décor, and even wall paint options. It might be the most soothing, calming, therapeutic activity my iPhone has ever provided for me. After a long day of looming deadlines and running from meeting to meeting and rarely having a moment to sit down and just breathe, it's become my favorite way to unwind and has awakened another creative side of me I didn't know existed.
Do I feel a flutter of excitement when I receive a push notification letting me know that when I get home from work that evening, I get to spend a time decorating a Swiss chalet? You're damn right I do. Call me "boring" or "addicted to my smartphone," but if playing interior decorator for hours on end has slowed down my heart rate while in the midst of an anxiety attack (yes, it's personally become a tried-and-tested remedy for my occasional episodes), that's all that matters. It's also a wonderful distraction from today's depressing, frustrating, and anger-inducing news, which we all deserve a break from every now and then.
What's more, each piece of furniture, from bed frames and couches to wall art and knick-knacks, are all real products that can be purchased from trendy places like West Elm and Anthropologie and many, many more. (That's where they get you, I guess, but, hey, nothing in this world is perfect.)
On top of the app, Hutch also has launched a limited-edition collaboration with non-profit Girls Inc. to create Gallery Wall Kits, wall art sets containing three to six pieces from three different female artists. As someone who currently has bare walls and hates bare walls, this is an easy way to breathe life into a room with pieces that are cohesive yet unique. Not to mention, all proceeds go back to Girls Inc., so you can feel good about shopping because you're supporting an important cause.
Basically, this app has become my new favorite pastime, whether it's helping me unwind from a long day, bringing joy to a mundane morning subway commute, or distracting me from my anxiety condition.
And, as someone who is one day looking to graduate from An Adult to An Adult Who Owns Furniture From Places Other Than Ikea, it's pretty much the perfect way to get familiar with what else is out there and play around with higher quality, prettier things without spending a dime.
Check out the app for yourself at Hutch.com.