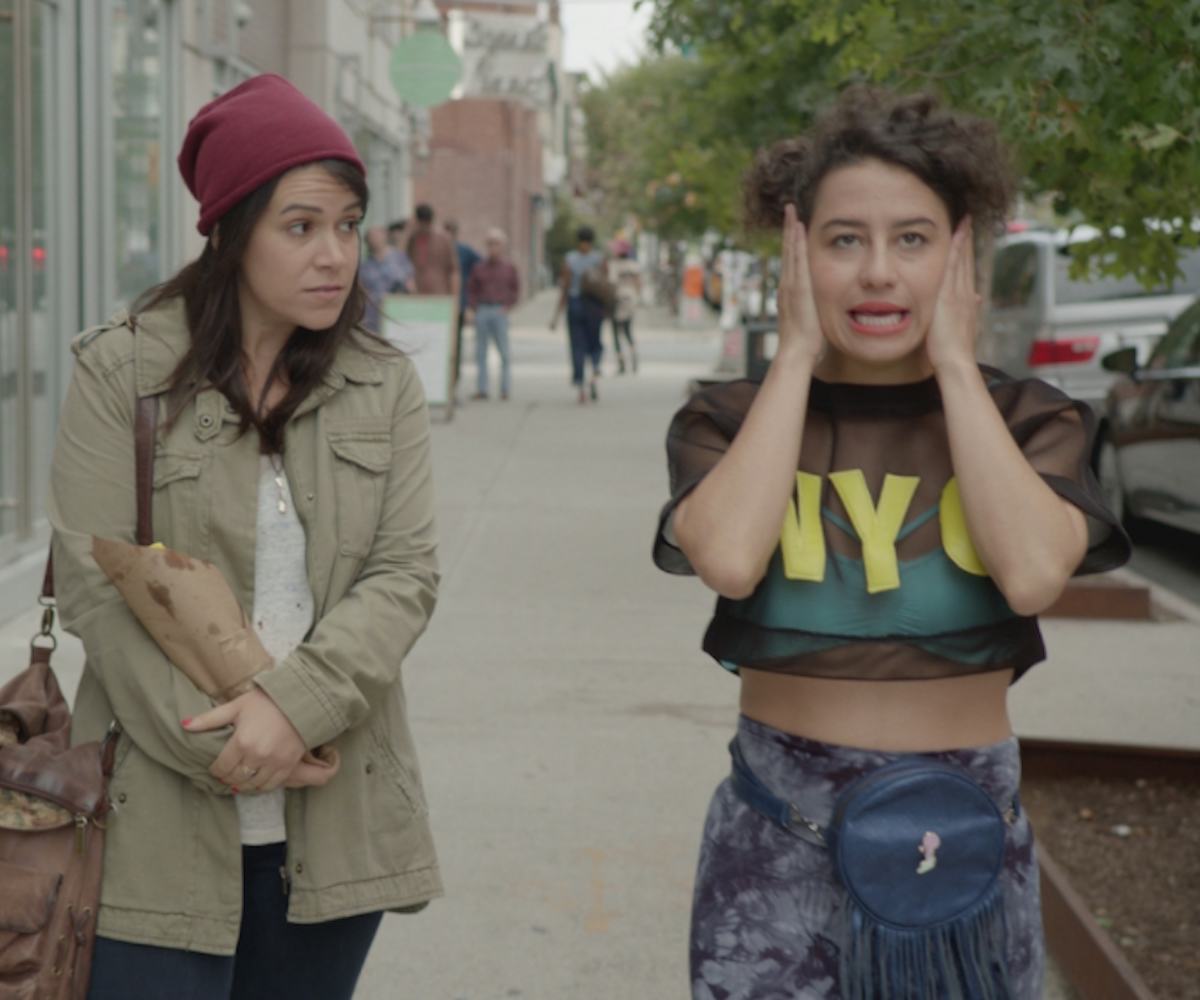 'Broad City'/ Comedy Central
A Tiny Tribute To The Bra That Took Over The World
Remembering Ilana Wexler's strappy bralette from 'Broad City'
There were a lot of memorable fashion moments from Broad City, but there was only one that, you know, changed the world. Or at least my world, and the world of every bra-wearing person I know.
I'm talking, of course, about the fashion moment that was Ilana Wexler (Ilana Glazer) wearing one of her glorious strappy bralettes, thus launching a million Google searches for some combinations of the words: "bra" "strappy" "broad city" "ilana" "buy now."
When Broad City came to Comedy Central in 2015, there was much that was notable about its aesthetics; the clothes worn by Abbi (Abbi Jacobson) and Ilana straddled the line between normcore and sleazecore (before the latter was even a thing), and most items looked like you could pick them up at an American Apparel or Urban Outfitters or just your local well-picked-over thrift store. They were noteworthy because of how accessible they were, and because they could easily be replicated with the clothes you already owned. And then there were those strappy bras.
It's funny to look back it now, because the excitement over the strappy bralette as worn by Ilana has now long since died down, but at the time, the strappy bralette really felt revolutionary. It was that rare piece of underwear that embodied both a tomboy and femme aesthetic and that worked if you were small- or large-breasted. It was possible to dress up or down, to keep hidden beneath a sweater, displayed under a sheer top, or flashed when sporting a crop top at work. (Well, that last mode of wearing was definitely best left to the show.) And it was affordable; in fact, you can still score that original LF bralette model on Poshmark for, like, $11. So it wasn't just that everyone wanted something they saw on TV, it was that everyone could have it. A bra as a democratizing fashion object? It was a lot more groundbreaking than florals in spring.
In fact, this strappy bralette was so groundbreaking that it could soon be found everywhere. Victoria's Secret, in its Sisyphean quest to remain relevant, dumped their padded push-ups bras in favor of their own versions of the strappy bralette, and soon it was joined by every fast fashion brand from Forever21 to H&M, all rushing to join in on the rush for strappy bralette dominance.
The appeal of these bralettes almost disintegrates upon close examination; it's like trying to explain a joke. Things are funny because they make everyone laugh; this bralette was enormously popular because everyone wanted to wear it. It's rare that this happens with a fashion item, that everyone wants the same thing. Most trends are enjoyed by small segments of the population, it's unlikely that they reach the ubiquity of this bralette, and unlikelier still that the inspiration for their fame isn't a huge movie star or pop icon, but rather the supremely strange co-lead on a basic cable show about stoner best friends who are trying to find themselves.
And yet, that's exactly what happened with this bralette. It blew up and could be seen everywhere, not unlike those inflatable waving men that car dealerships use to grab customers' attention and that Ilana used to torture her coworkers. And then it was gone. It's been a couple of years since the strappy bralette was a fashion focal point for anyone. They still exist, of course, but now feel more reserved for that much-maligned aesthetic category "festival fashion." But it's hard not to feel slightly nostalgic about a time when it was possible to rally around a bralette, to see the possibility in something that could be worn anywhere and by anyone; that defied the mandate to be put on by hooking in the front or back. All you had to do was slip it over your head, throw on any top you owned, and head out into the world knowing you looked good; you looked like Ilana, but also, you looked like yourself.