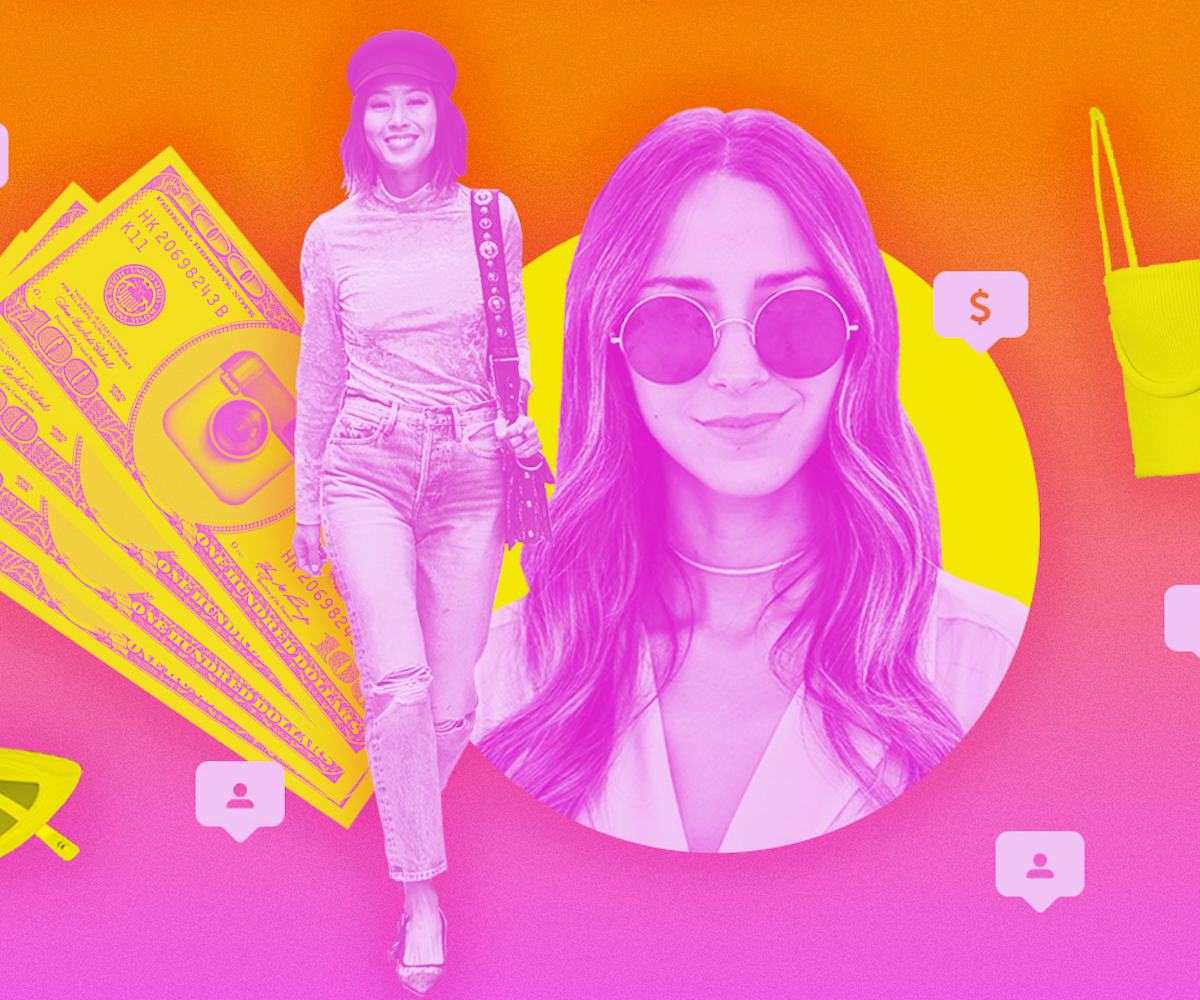 In The 2010s, We All Dressed For Instagram
The name of the game this decade became sartorial validation via likes
When Instagram launched in 2010, few may have expected the social media network to fundamentally change how we collectively think about the act of getting dressed. There were other image-based platforms before it — MySpace launched in 2003, followed by a publicly available Facebook in 2006 and Tumblr in 2007 — but none of Instagram's social predecessors made the impact that founders Kevin Systrom and Mike Krieger's platform would.
Before Instagram changed fashion, the average person dressed for work, for special occasions, or for nights out without attempting to put a value on the act of getting dressed or broadcasting the event to a select audience. But soon enough, personal style and what you wore transformed from an insular activity to one that was shareable and, perhaps most notably, profitable, if the hashtag #OOTD — one that has been shared more than 285 million times on Instagram alone — is any indication.
The name of the game in the 2010s became validation via likes. Those items that pop on the 'gram are those that make the cut in your closet (whether you kept those items is another story, as one in 10 people in the U.K. admitted they purchased clothing specifically to take photos to post on Instagram, only to return those items after wearing once). Arguably, the result of a decade of dressing for Instagram has been a convergence of tastes; seasons are defined by a single designer "It" item, like cartoonishly large hats (or micro purses) and $500 futuristic sunglasses, which then spur an entire economy of knock-offs and fakes; the emergence of fast-fashion dominance that compresses the time it takes a cerulean color trend to trickle down from the top tiers of fashion's ranks to your local Zara; and a regard for clothing as disposable. As Hasan Minhaj put it in a recent episode of his Netflix satirical news show, Patriot Act: "We all know fast fashion is stylish and cheap, but let's be real: social media really blew it up, because whenever we go out, the outfit's gotta be poppin' for the 'gram."
Eventually, Instagram genres of dressing emerged: There was the Instagram "baddie," (which one might credit the Kardashian-Jenner universe for creating), the hypebeast/hypebae (those with a proclivity for streetwear and sneakers), and the basic bitch (a millennial characterized by a penchant for wide-brim hats, Ugg boots and leggings, which would go on to become the Gen-Z equivalent of the VSCO girl for a new generation of users). Documenting your daily outfit became sport, both in its competitiveness and gamification: When Instagram launched its polling feature on Stories, for example, outlets like Harper's Bazaar would have its editors post outfit options for viewers to vote on, determining how they'd dress for the day.
Below, a look back at how one platform defined how we got dressed for a decade — and, most likely, beyond.
The Rise Of The Influencer
At the beginning of the 2010s, traditional media platforms — magazines, newspapers, cable news — had just come out of the Great Recession, and the writing of the industry's future, so to speak, was on the wall, at least according to the 2010 Pew Research State of Media Report. Executives may have expected a change in how people receive information — Twitter is name-checked in the report as at least one platform where people engage online, as is "blogging" — but few in fashion media likely expected Instagram to flip the way people receive style guidance on its head.
Many of Instagram's fashion influencers we know today started as bloggers — Susie Lau aka Susie Bubble and Bryan Yambao aka BryanBoy among them — maintaining a presence on their own websites, prescribing fashion edicts, posting outfit shots, and writing personal industry musings. Though they generated a niche following within the fashion community, blogs depended on people finding them in the first place, and were devoid of any inherent sharing features like those on social media that would have expanded their reach.
When Instagram launched in 2010, the shiny new platform offered OG bloggers the chance to easily share photos — without the hassle of saving an image from a memory card to your computer, then uploading to some photo-sharing site like TinyPic just to have to upload again to a blog after that. In the earliest days of Instagram, people like Aimee Song and Arielle Charnas posted like any of the rest of us might have, a photo of a dog or a friend, respectively, that received a few dozen, perhaps a few hundred likes, and offered no real commercial appeal to followers.
There were those who remained skeptical of the death of the fashion blog to Instagram early in the decade. "While our site gets traffic from Instagram, it doesn't necessarily convert into sales," Rachel Sacks-Hoppenfeld, the former director of e-commerce and mobile and digital strategy at Loeffler Randall, told Fashionista in 2014. "When I look at where my traffic is coming from, it's from editorial, banner content, email and affiliate marketing — so many people come in from blogs, even smaller-scale bloggers with very loyal followings."
But by 2013, it was clear that fashion bloggers began using Instagram to post their outfits, their daily routines, and access to industry goings-on, in what would eventually spawn the birth of the "influencer." As Instagram evolved and rolled out new features outside of direct messaging and commenting that expanded how people used the platform — and how much time they spent on it — those OG bloggers took advantage, growing their following so much so that individual users and advertisers alike began to take notice.
The Monetization Of #OOTD and 'Fit Pics
Though brands within fashion and beyond had a presence on Instagram at the beginning, it wasn't until 2013 that they started advertising with sponsored posts and #ad hashtags, when Michael Kors became the first brand to officially advertise on the platform.
The ad "worked," attracting thousands of new followers to the Michael Kors profile, according to Fast Company, in a move that would encourage other brands to eventually partner with emerging influencers, bringing the tested format of celebrity-style product endorsements to the average Jane — the key difference being Jane had 600,000 followers she could reach seemingly instantly. (Metrics and data analytics platforms would eventually be developed to chart just how successfully these influencers could engage with their followings.) Thus, the age of #sponcon began.
Soon, everyone wanted to know how much influencers made off their Instagram posts. In 2015, Danielle Bernstein aka WeWoreWhat was among the first to disclose just how much she earned at the time: As a 22-year-old with just shy of a million followers, she reportedly took home a mid-six figure salary, she told Harper's Bazaar.
The value in Bernstein's following (to brands, anyway) was that the 20-something might influence one of her followers to purchase an item they saw her wearing in a post. It wasn't just individuals who were paying attention to what bloggers-turned-influencers were wearing and sharing. In a meta phenomenon, fashion blogs themselves began mining Instagram influencer profiles for outfit "inspo," encouraging readers to copy outfits and purchase items the influencers had put together, in addition to pointing readers to their own fashion editorials (those which can be pricey and time consuming to produce). This proved to be a tested story format for Man Repeller starting around 2016, reaching its apex a year later as its founder Leandra Medine realized the joys of discovery on Instagram, the social media-turned-shopping platform.
The success of Instagram's biggest fashion influencers encouraged, well, everyone to start posting as if they were influencers. Some tagged brands (without a contractual sponsorship) in the hopes of suggesting they might be worthy of one, others in the hopes of feigning clout. Meanwhile, influencers paid to post sponsored content without disclosing they were doing so came under fire when the Federal Trade Commission issued warnings that any undisclosed sponsored content would be subject to fines for violating FTC advertising regulations.
Fashion Finally Embraces Instagram
Eventually, the fashion establishment — after years spent resisting the clout bloggers wielded, excluding them from the front row, and questioning their place in the fashion universe — embraced Instagram. Brands began not only offering creators sponsored posts, but also began inviting them to their runway shows and events to be photographed wearing head-to-toe looks by the label. Speaking of runways, they were transformed into spectacles specifically tailored to create an Instagram "moment", resulting in big budgets on sets, venues, and performances to cut through the noise on the platform for "impressions." Traditional fashion magazines, for their part, began including influencers in their coverage and created content around them. The result? More money and eyeballs on the media and clothing brands than they would have earned without the influencers' help.
In addition to catapulting the careers of countless fashion bloggers-turned-influencers, Instagram helped emerging creators launch their own fashion brands, too. No longer were expensive advertising campaigns or third-party wholesale relationships necessary to attract attention and sales to a brand. Instead, brands like Orseund Iris and Poppy Lissiman and entire shopping platforms like Revolve emerged, by way of the powers of influencer marketing, and you'd be hard-pressed to find an Instagram star with over a million followers who doesn't have a clothing venture or similar commercial business today. Although ManRepeller's Medine was onto something in the mid-2010s, Instagram wouldn't officially roll out its in-app shopping features until 2018. When it did, of course, the Instagram as fashion machine came, at last, full circle.
The Instagram system, for all its mechanisms and micro-economies, seems to be reaching a new peak as the 2020s approach. There's resistance to the idea of curating a profile (or a closet, for that matter) to fit a prescribed aesthetic, while Instagram, now a Facebook subsidiary, tests removing visible "likes" from users' accounts.
Whatever Instagram's future, a decade of likes and comments and Stories helped shape where fashion is heading in the years to come. For now, you won't be able to swipe up to see what's next, but you'll likely encounter it on the Discover page soon enough.