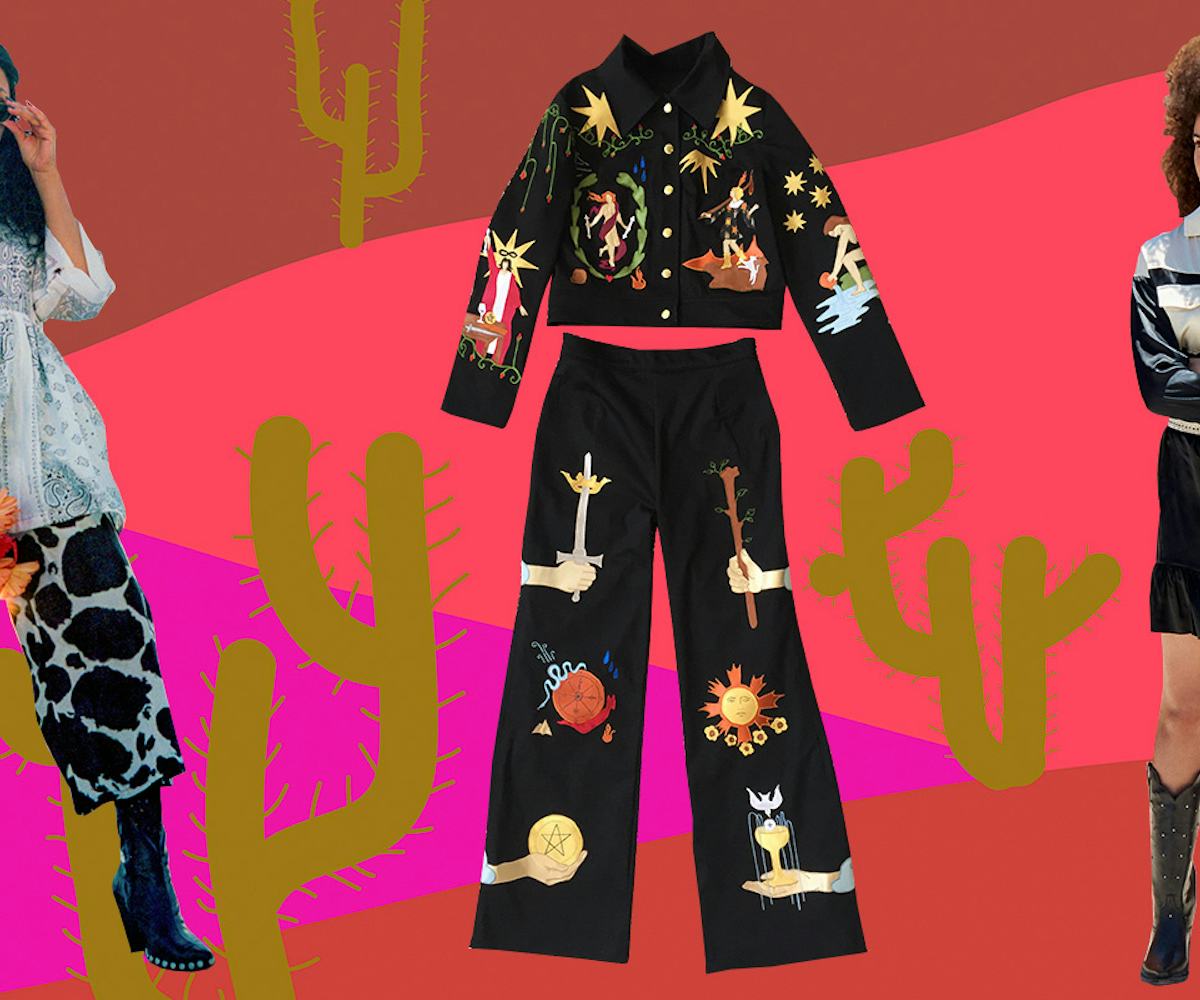 Photos Courtesy of Psychic Outlaw, Rose Cut Clothing, and Ranch Road Boots
6 Indie Fashion Brands That Make Modern-Day Westernwear
They're creating a new take on Americana style
Western influences are everywhere in pop culture lately. From Lil Nas X's new agey takes on cowboy clothing (think: neon colors, shiny fabrics, and animal prints) to Kacey Musgraves' fringed 'fits and Post Malone's gallon hats, the aesthetic — also known as the "Yeehaw Agenda" — doesn't seem to be going anywhere anytime soon. But why the current obsession with westernwear?
According to Jerry Lee Atwood and Joe David Walters, the founders of Union Western Clothing, a brand that's been worn by some of the biggest pop stars, the cowboy look has always been "truly iconic" and gone through a number of mainstream resurgences over time. For example, when the film Urban Cowboy came out in 1980, according to the co-founders, manufacturers could not keep up with the demand for western clothing and it became a massive trend from coast to coast. The look was also popular in the 1990s and early aughts as celebrities like Justin Timberlake and Britney Spears rocked Canadian tuxedos on the red carpet.
In fact, while westernwear never really goes out of style, especially in a large part of the United States, Sarah Ford, founder of Ranch Road Boots thinks the look comes back into the mainstream about once every decade because it's timeless and can be modified in an infinite amount of ways. But another contributing factor to its current rise could be the demand for sustainable fashion and a growing interest in thrifting, secondhand, and vintage, which is causing more people to rediscover and redefine traditional American aesthetics.
"This current Americana wave presents new and dramatically different generations the opportunity to re-contextualize what it means to be American," says Rebecca Wright, founder of the upcycled vintage brand Psychic Outlaw. In a time when the country is growing more and more divided politically, it's no wonder all kinds of people are revisiting these heritage aesthetics and bringing their own identities and expressions to it. Here are six brands keeping westernwear relevant.
Psychic Outlaw
Founded by Rebecca Wright, Psychic Outlaw is a brand currently based in Denver, Colorado, but it's influenced by Wright's motherland of Texas. It was growing up there that she was given her first pair of cowboy boots and multiple pairs of high-waisted Wrangler jeans by her great aunt, who highly inspired her style. Making quilted jackets from discarded fabrics and dresses created by sewing together old bandanas, the idea for Wright's two-year-old company grew out of her interest in making eco-conscious clothes using vintage, recycled materials. Her creations have the "same unique and exciting feeling of having a one-of-a-kind vintage piece," she tells NYLON.
Ranch Road Boots
"Ranch Road Boots was born out of love for the great American West," says founder and creative director Sarah Ford. Hailing from San Angelo, Texas, Ford, who comes from a family of Marines, served three tours to Iraq and Afghanistan before attending Harvard Business School and becoming an entrepreneur. Launching her brand in 2012 as a mobile custom cowboy boot shop, Ranch Road Boots is inspired by an appreciation for the global gaucho culture and released its first ready-to-wear collection in 2017. "We make premium luxury, handcrafted boots through traditional 'old-school' bootmaking construction methods made by the hands of multi-generational artisans," explains Ford. "All of our boots are made from small-batch leathers in limited runs."
Union Western Clothing
Union Western Clothing's bespoke suits with detailed embroidery and embellishments have been seen on such celebrities as Lil Nas X and Post Malone. Launched in 2013 by Jerry Lee Atwood and Joe David Walters, the founders wanted to create a company that would "extend the legacy of the rhinestone cowboy tailor," they tell NYLON. While Atwood grew up in the midwest and Walters was raised in Texas, their connection to westernwear stems from the "historical imagery of cowboy movie heroes and country musicians." But also, the duo was influenced by bespoke westernwear makers who created custom pieces for cowboys, actors, and artists. Still, they admit that westernwear is just the starting point for their journey and that they don't feel bound by it. Though, we must admit that they have a really good thing going when it comes to the all-American aesthetic.
Gladys Tamez Millinery
Worn by celebrities like Katy Perry, Lady Gaga, and Lil Nas X, Gladys Tamez launched her hat brand in 2012. The CFDA member, who grew up in Mexico on the border of Texas, says she's always made western-style hats and while they are only a small part of her collection, they are still at the root of what she does. "The techniques, traditions and craft of making hats is mainly being preserved by western-style hat makers," she says. "These makers are scattered over the Americas and it's their passion, generosity, and dedication that has allowed for those techniques to be preserved and passed on to a new generation." Other things she appreciates about millinery: Well-made hats are incredibly durable (they can outlast a person's lifetime, according to Tamez), so they can be passed down through generations or they can upcycled. "They defy trends," she says.
Rose Cut Clothing
Started in 2009, Los Angeles-based brand Rose Cut Clothing is inspired by "vintage westernwear, rock 'n' roll, and all things snakeskin," according to the company's website. In 2019, founder Judith Pierce told Juxtapoz Magazine that she makes custom suits that have appliqué and are bedazzled for weddings and stage appearances, and that she also does artist collaborations and textile design. Beyond this, she has a ready-to-wear collection, in addition to making clothes using old fabrics and tapestries. Her designs give westernwear a modern spin, featuring highly detailed embroidered graphics and iconography, including butterflies, yin yangs, and Magic 8 Balls.
BLÜNKE
Founded by Cape Town-based creative Trotse Tert, fashion brand BLÜNKE makes custom cowboy-inspired couture: cow-print shirts, jackets, and chaps, in addition to updated western suits with ruffles, exaggerated shoulders, and bows. It's cheeky and fun. "Cowboy and cow print go hand in hand," Tert says. "We're all living out the cowboy/cowgirl/cowthem within ourselves. It means something different to everyone. I can't speak for everyone else. But we're millennial cowboys going about our daily struggles, fighting it all, mostly alone." The designer thinks that dressing up as a cowboy could be a way of escaping or romanticizing our hustles.