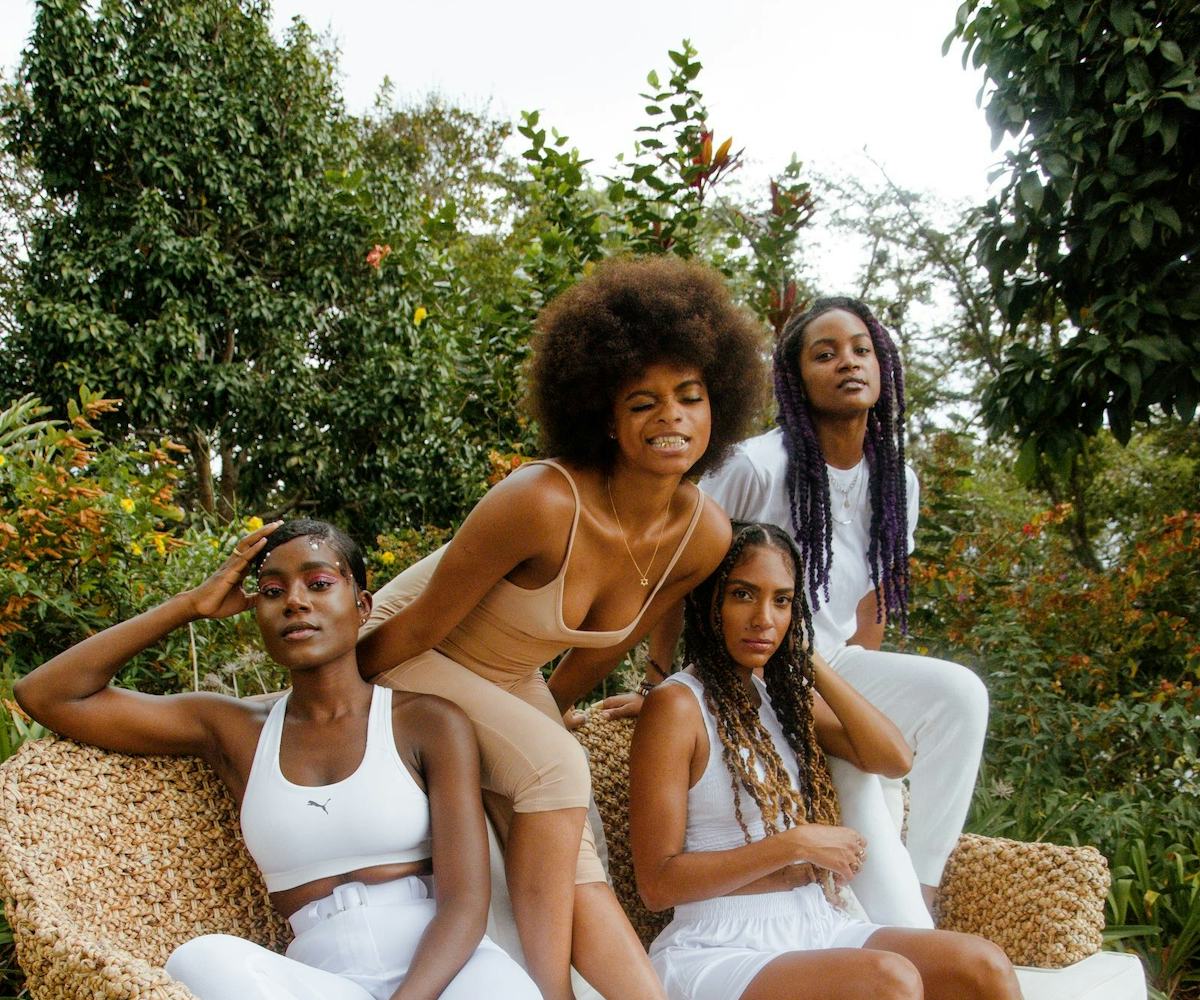 Destinee Condison for NYLON
The Genre-Blending In.Digg.Nation Collective Is Pushing Jamaica's Sound Forward
Learn about its all-women signees from Lila Iké to Sevana
Jamaica is the world's music mecca. The small island country has been the birthplace of eight distinct genres of music — reggae, dancehall, ska, mento, nyabinghi, rocksteady and dub, of course, but also, to the surprise of some, EDM. That's not to mention the many other subgenres whose roots evolved from Kingston's sound system culture and the riddims that came from it — hip hop, reggaeton and the dancehall-reggaeton fused dembow. With such a rich musical history to choose from, many of the country's newest and emerging crop of artists are creating entirely new sounds by fusing old school tradition with the spirit of now.
In.Digg.Nation, a music collective founded by Grammy-nominated reggae artist Protoje in 2014, has become a significant incubator for Jamaica's new emerging soundscape. Its two signees— Sevana and Lila Iké—are only in the infancy of their careers, but they've already made significant waves both at home and abroad. As Protoje explains over the phone recently, In.Digg.Nation's inception was spurred by his desire to nurture young creatives from different disciplines all across the island. "I felt like I didn't have a lot of popular artists mentoring me or putting me on [when I started], so instead of building upwards— I don't know who said this but—sometimes you have to build laterally," he says. "You have to build with who is beside you so you can be self-sustaining."
Protoje keeps In.Digg.Nation's ethos as one of collaboration by creating opportunities for artists outside of the collective — most notably singers Naomi Cowan and Jaz Elise — to participate in music projects like the Rock & Groove riddim. Creating a riddim, Caribbean parlance for what is essentially a piece of production, is a tradition of music-making in which multiple artists record atop a singular beat. (Think Sean Paul's "Get Busy," which is recorded on the Diwali Riddim.) Co-produced by the artist and producer J Vibe, the Rock & Groove riddim features four unique interpretations and executions: Sevana's "Haul and Pull" is a record that asks its listeners to be more mindful; Iké's "Sweet Inspiration" tells a story about finding a renewed sense of insight; Cowan dotes on a relationships in "Peace of Mind" and Elise's "Rock and Groove" encourages positivity. Together, it's a compelling display of Jamaica's new musical frontier.
Below, learn more about these four emerging acts bringing the country's diverse soundscape to the forefront.
Lila Iké
With an incredible vocal range, mesmerizing vibrato and effortless runs, Lila Iké is steadily carving out her own space by penning resonating lyrics in reggae. Though she has only released four singles, she's already conquered stages performing hour-long sets like the one she gave on the 2019 Rototom Sunsplash festival's main stage. The former Christiana, Manchester resident never forgets where she came from as she uses her music to bridge the gap between the old school roots reggae and more contemporary sounds. A huge fan of reggae icon Garnett Silk, she's been described as delivering music that is deeply nostalgic and reminiscent of music of the past, but appreciates the textures of influence found in the music of her peers. As she explains, "We're putting our own spin on reggae music and it's perfectly fine because that's what's going to make our generation stand out in history, but it's crucial in when you're doing that to just maintain a piece of Jamaica."
Her most popular single, the wafting and synth-driven "Where I'm Coming From," speaks directly to her ethos of acknowledging the people before her, and her own journey.
For Lila, artistry is not just a site for her to navigate creativity, but an opportunity to be a cultural ambassador for her country. When she's abroad, she's always mindful of what she represents beyond just herself. Speaking about her very first European tour, she shares, "I realized that people are very versed on Jamaican culture and there's a demand for it. It's our responsibility to go and deliver it."
Sevana
Hailing from Savannah-La-Mar, Westmoreland, a parish on Jamaica's west coast, Sevana refuses to be bound by any one particular sound or genre. She cites her inspirations as "every dark-skinned Black woman," though names Anita Baker, Nina Simone, Jah 9, Eartha Kitt and Maya Angelou, as the powerful women who have helped her find her own identity. "It's less so the sound and more so what the women had to say," she says, "and how strongly they felt about things that inspires me and powers me to know how strongly I should move and how I should be firm in what in my positions are."
In turn, her music is home to many muses as she ebbs and weaves through the sonic palettes of soul, R&B, and reggae to create her signature sound. Her hit records like "Sometime Love" offer its listeners a summery R&B bop, while the dancehall-tinged "Nobody Man" is an anthemic bop that decries wanting someone else's man. For Sevana, organicness, whether it be the energy of the studio or being contemplative about a moment, is what guides both her pen and her song's melody. "The song comes out however it needs to. I think that's what keeps things changing. It keeps the sound evolving," she says.
Though Sevana has only released one self-titled EP in 2016, her charisma and energy has still captivated the ears and hearts of many listeners, amassing over a million listeners through YouTube.
Jaz Elise
A newcomer to the world of music, Jaz Elise is bringing all of her background in dance to her music. A former member of the performance company Quilt, the Kingston purple-haired starlet infuses reggae into her upbeat, pop-like melodies.
Like her well-known single, "Fresh and Clean," Elise's lyrics are catchy, fun and down-to-earth. "I'm just a girl who loves music, who has a voice and wasn't always sure how to tell my story with conviction until recently," she says.
She considers her multi-disciplined background her key to reach a wide ranging audience, likening her skills to a box of crayons, which makes for interactive and energetic performances. As she says, "It's like you're able to use and find every crayon in the box. That's how I look at it. It's not just one color, there's a wide array of colors that you can use to create a beautiful picture."
Naomi Cowan
Despite being the child of legendary industry heavy hitters—the multitalented Tommy Cowan and gospel singer Carlene Davis—Naomi Cowan is carving her own path. A former titleholder of Miss Teen Jamaica where she engaged (and still engages) in philanthropic work before heading off to university to study film and television, Cowan now crafts refreshingly uplifting pop music without abandoning the dancehall and reggae palettes that she grew up with.
Prior to making music, Cowan struggled with depression. "I kept hitting walls and I recognized that music was the answer," she says. "Music saved me from myself. I've been through some stuff on a mental health front and I didn't even realize that most of it was a result of me not doing what made me happy."
Because of this, she says, "It was actually a bit of a spiritual experience choosing to do music." Her popular and much-loved hits, like the Afrobeats-inspired "Climbing" and nostalgic "Paradise Plum," are reminiscent of the ever-present positivity the artist infuses throughout her lyrics, while records like "Naked" speak to her honest writing. It took Cowan some time to finally find her freedom in music, but now she's intent on crossing over and hopes to share the music of her native and her own with the world.
Follow In.Digg.Nation on Twitter and Instagram.