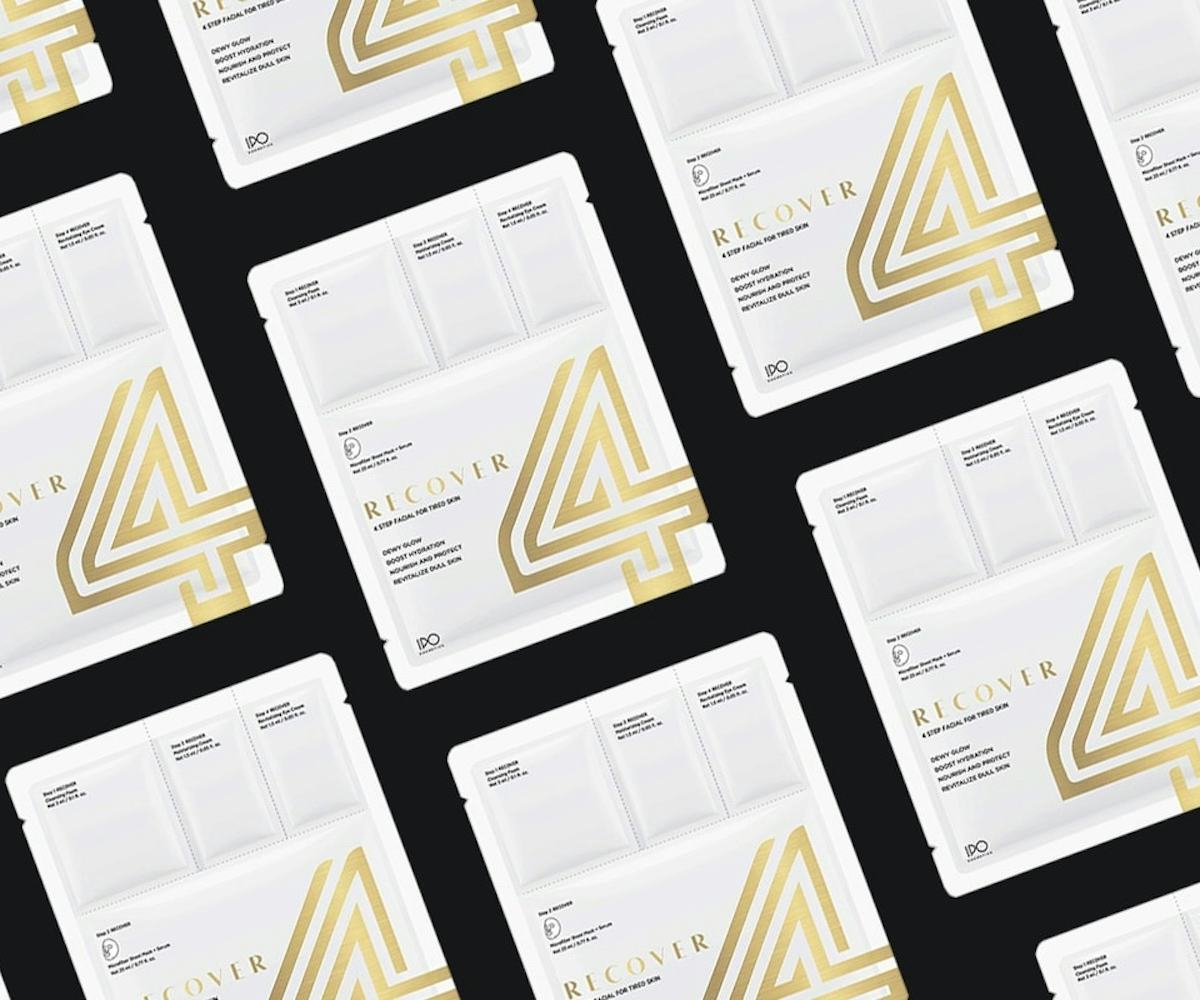 This $8 Face Mask Has Saved My Skin While Traveling
IPO's Recover facial pouch is the perfect on-the-go solution to travel-ravaged skin
Friends don't let friends miss out on all the cool, under-the-radar things they know about, like which little-known beauty brand is low-key making the best highlighter around. And because we consider our readers to be like friends, we gather together all our best finds in our Don't Sleep On Thisseries. Check in every week to see what things we can't wait to share with you.
As someone who is lucky enough to have the opportunity to travel often for work, there are obvious perks—like, getting to explore the world! However, if there's one downside, it's the toll that it takes on my skin.
I'm someone who takes their skin-care regimen pretty seriously when at home; I work hard at maintaining a healthy, dewy glow, but it all pretty much goes out the window the second I leave New York—especially if it's by plane. It seems that the dry cabin air, the lack of water, and the lack of sleep all work hand-in-hand to have me feeling (and, thus, looking) my absolute worst, as soon as I step into the gate.
However, I've finally discovered the one travel-friendly product I'll never board a flight without again: IPO Cosmetic's 4Recover Sheet Mask. This four-step, one-pouch facial pack has literally saved my skin after a long flight. Neatly divided into 4 separate pouches, this K-beauty-inspired facial set contains everything you need for a luxurious pampering session: a cleanser, mask, moisturizer, and eye cream, all formulated to bring your complexion back to life and ready to go in one neat little sheet. While the brand currently has two different packs on its roster, Glam and Recover, Recover has become my post-flight, as-soon-as-I-enter-my-hotel-room ritual.
The four-step process is pretty simple: First, detox and prep the skin with the algae extract cleansing foam. Next, apply the antioxidant, green tea extract-infused microfiber sheet mask, which soothes and firms the skin, and leave that on for 15 to 20 minutes. (Usually, this is when I take a moment to sprawl out on the hotel bed.) After you remove the sheet mask and gently tap in any leftover residue, apply the moisturizer packet, which rejuvenates and strengthens the skin with centella extract (also known as gotu kola), which is also amazing for skin elasticity. Lastly, the calendula flower extract-infused eye cream nourishes my tired-as-hell-looking eyes (and can be used on the lips, too!).
In just a little over 20 minutes, I look fully rejuvenated and revitalized after a long day of travel—even if I still feel kinda dead inside.
Because the perfect amount of product is included in one easy-to-use pouch, it makes these packs especially convenient for travel. While, yes, I may treat 4Recover as a post-flight treat, you can easily pack a ton of them to use daily for the duration of a trip. Not only are they TSA-compliant, recyclable, and leak-proof, but they also take up way less space than bulky bottles and tubes. (Leaving more room for clothes, an obvious plus.) What more can one ask for when it comes to travel-friendly beauty?
IPO Cosmetic's four-step facial packs retail for just $8 a piece, but you can snag a two-pack for $15 and a five-pack for $37. You can shop the full variety at IPOCosmetics.com.