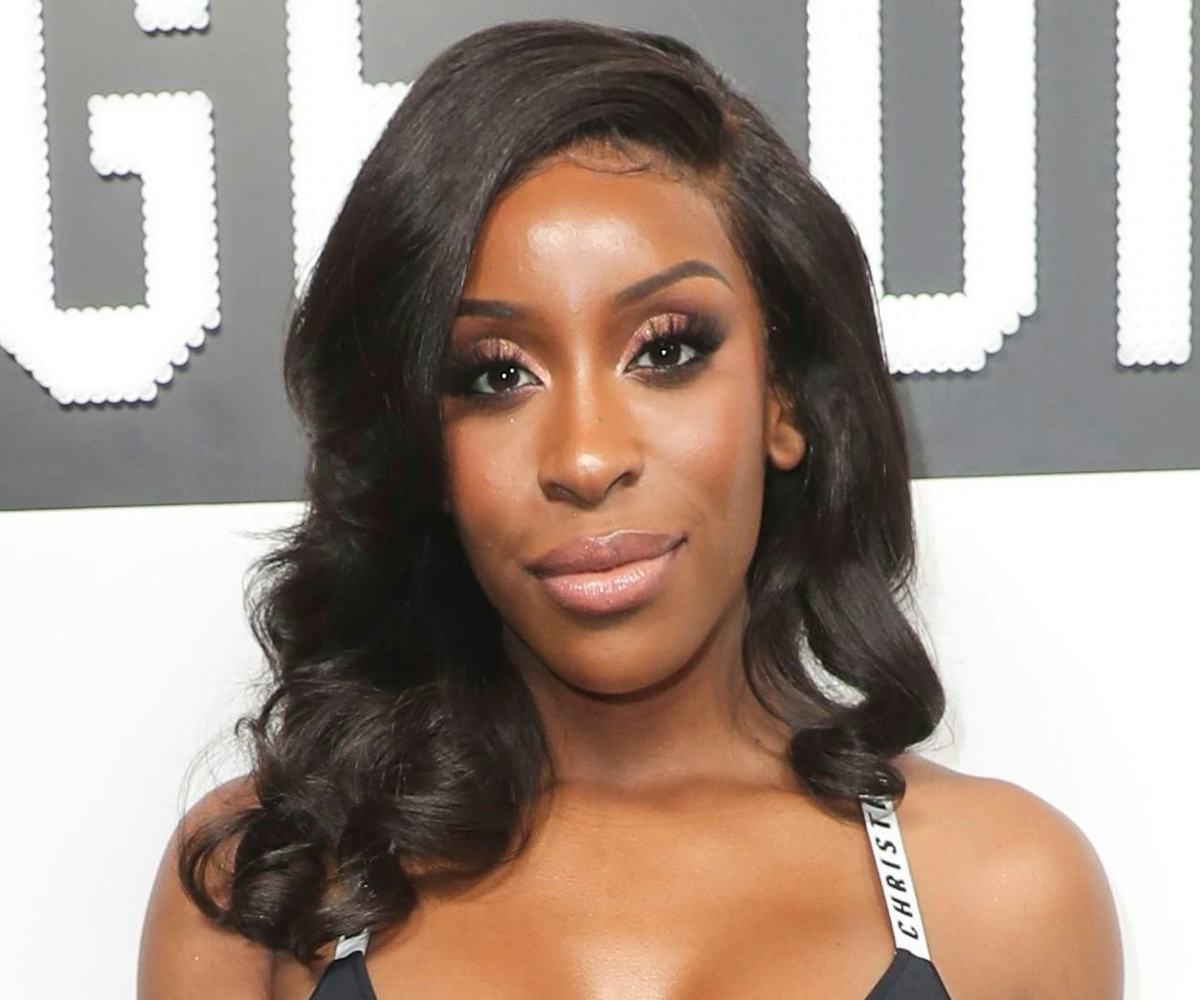 Chelsea Lauren/WWD/Shutterstock
#IStandWithJackie Is Trending After Jackie Aina Deactivates Twitter Account Amidst Drama
Involving Chelsie Worthy, Manny MUA, and Patrick Starrr
Twitter is a place where trolls are abundant and cancel culture is boldest, and its latest focus is Jackie Aina. The beauty YouTuber has come under fire after she offered up support to beauty influencer Chelsie Worthy, who accused Manny MUA and Patrick Starrr of copying her "traptorial" video style. In these tutorials, Worthy does her makeup to the beat of popular hip-hop songs, employing quick cut step-by-steps, choreo, and graphics. The drama comes weeks after Aina was under fire for the release of her Jackie Aina x Anastasia Beverly Hills Eyeshadow Palette, where some people took offense to the palette's focus on darker skin tones.
Worthy's initial callout was directed toward Starrr on Twitter, who posted a lip-sync-style tutorial featuring the Jackie Aina x ABH palette. "I was a Patrick Starr Stan," she wrote in a tweet. "This is the ugly industry we are in, though. I have NEVER been welcomed or wanted and this fully solidifies that. It's never 'groundbreaking' until 'someone else' does it." Twitter was quick to respond, many highlighting the many instances where Black women's work is recreated or stolen without credit.
Worthy followed the tweet with a since-deleted Instagram post directed toward Manny, who posted a video where he was lip-synching along to Meg thee Stallion and Nicki Minaj's "Hot Girl Summer" a day after Worthy posted a video to the same song in her signature traptorial style. Her Instagram post quickly went viral in the beauty community, sparking a response from Manny who claimed he'd never seen her videos and had created his video prior to hers. Following the apology, Manny also added her handle to the Instagram caption and cited her as additional inspiration.
Although Worthy didn't call out Aina, who reposted Starrr's post, in either post, the latter commented on another since-deleted post following tags and comments from fans asking for her to speak out: "When I saw Patrick's video I wasn't getting traptorial videos at all, and I reposted it because I saw he used my palette in a really unique way. I know you haven't said anything to me yet but I hope you don't in some way feel further discouraged because I helped boost his post … I want you to know that I have and will continue to support you." Following the comment, Worthy expressed disappointment in the way Aina handled the situation in now-deleted tweets. Although Worthy has since removed the tweets that were deemed critical by fans, a few posts regarding the situation remains.
Aina then deactivated her Twitter account hours after trolls on Twitter began calling her racial slurs and hurling verbal abuse. She then took to her Instagram story to shed light on the situation. "From now on I speak when EYE feel like it. Do not drag me into other Youtuber's mess no more...I'm tired of being cussed out, belittled, and disrespected after sticking my neck out for people who don't give a damn about me...Everyone else who has common decency and respect to understand that I'm not the security watch dog of social media and black women [and I] already carry enough weight 24/7, THANK YOU." She elaborated on this in a subsequent Instagram story post, where she reiterated the pressures she faces as a vocal Black creator, often expected to speak out or defend issues that crop up for other women of color. The incident has sparked the hashtag #IStandWithJackie (presumably inspired by the #IStandWithWvrthy tag that was started days before), where fans took to Twitter to share statements of support.
The drama has understandably sparked conversation around credit for Black women but has also illuminated how Black women are used as scapegoats for larger, systematic issues.
To be clear, the only people suffering in this scenario are Black women. In addition to Worthy's frustration, Aina—who should be celebrating the launch of a product that the beauty industry desperately needed—is now the subject of undeserved abuse, and being antagonized by people who don't otherwise engage in her content. Manny and Patrick have since moved on and posted other content (both videos are still up), the incident likely a footnote in their busy lives.
Since deactivating her Twitter, there's been no word on when Aina will be back on the social media platform.