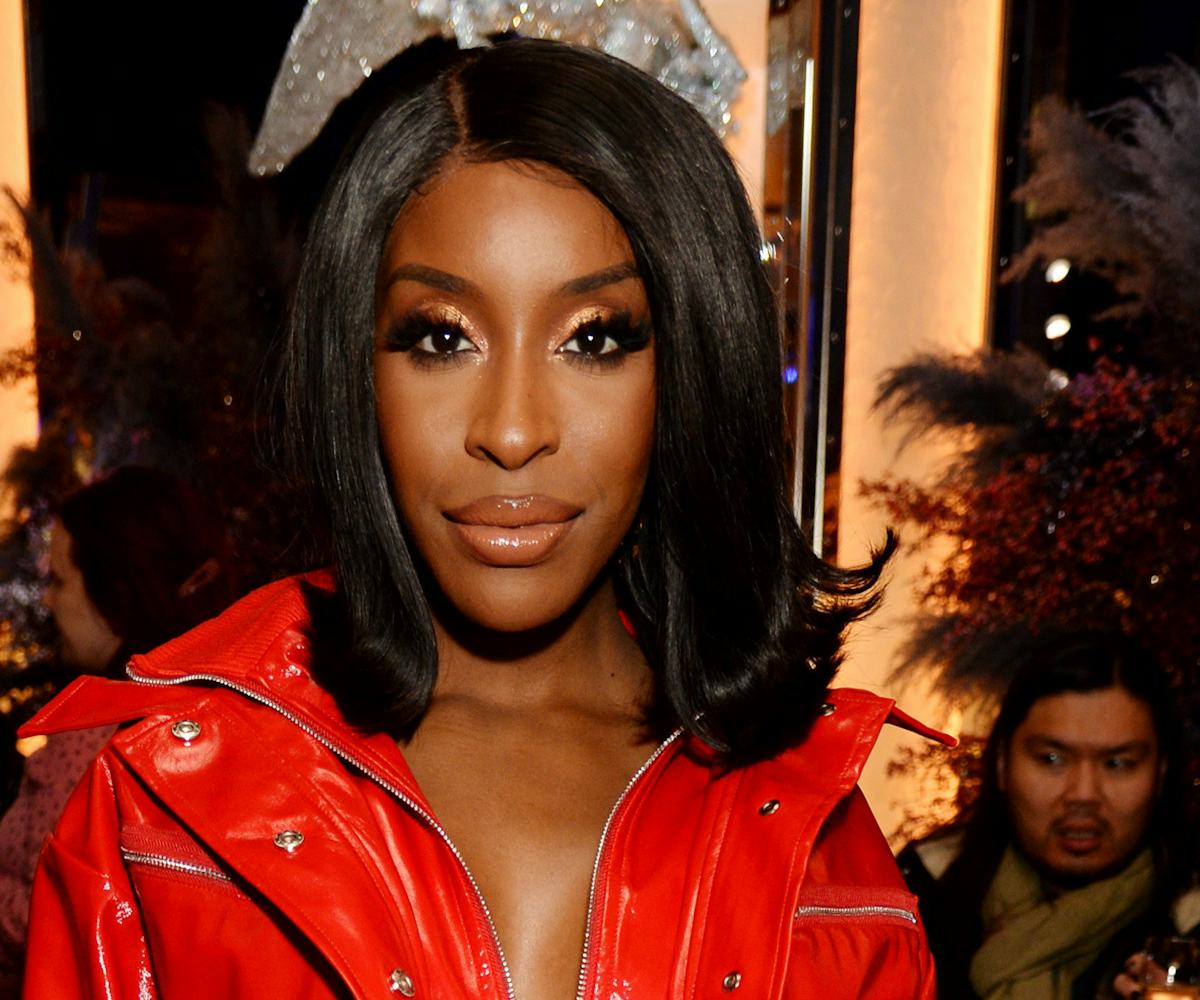 Photo via Richard Young/Shutterstock
Jackie Aina x Anastasia Beverly Hills is Coming, And It's For Brown Skin Girls
Not an ashy shade in sight
UPDATE 8/5/19: Jackie Aina revealed her eyeshadow palette in collaboration with Anastasia Beverly Hills on her social media late last night, tweeting, "Finally a palette where EYE, a melanin girl, can use ALL the shades without having to make them work or skip the ashy row 😭 a palette for ALL skin tones, but it was especially made for medium/deep/dark complexions ☀️❤️ this ones for you babes." The 14-shade palette contains an array of deep, jewel-toned hues and vibrant shimmers that'll look great on deep skin tones.
Naturally, everyone is thrilled, and we won't be surprised if the palette sells out within hours of its release.
The palette will be available on August 6 at AnastasiaBeverlyHills.com and in-store on August 15, but you can shop starting tomorrow directly on Aina's Instagram page.
*************************************************
Beauty YouTuber Jackie Aina—or, as I like to call her, Auntie Jackie—took to Instagram yesterday to preview a top-secret launch, and the internet went wild. The photo featured Aina's hand holding a blurred product filtered in black and white followed by a series of memes ( take a scroll, they're hilarious). She captioned the image "something is coming," causing everyone to speculate about what could be in the works.
We have an inkling that this could be the launch Aina mentioned at Essence Beauty Carnival earlier this year. "When y'all find out what's next, you guys aren't ready," she shared during an interview. "It's coming very soon." She hinted then that it might be dropping around her birthday, August 4.
"Why do I feel like you're about to drop an SPF, serum, something that has to do with skincare," one user commented, while others noted that it looked palette-shaped. "Another eyeshadow palette?" someone asked, to which Aina responded, "¯\_(ツ)_/¯." The announcement comes after rumors swirled on the Beauty Guru Chatter subreddit that Aina was collaborating with Anastasia Beverly Hills, with a user posting what appears to be a screenshot of a Jackie Aina x ABH Palette. A few commenters also guessed at a collaboration with mother Pat McGrath, while others hoped she would be teaming up with Fenty Beauty. Most, however, were just happy that Aina was dropping something, stating that they would be swiping their cards and sacrificing their coins no matter what.
If this is indeed a collab, this won't be the first time Aina has partnered with a beauty brand. In 2018 she teamed up with Too Faced to expand its Born This Way Foundation shade range from 24 to 35 shades and, before that, she released two powder highlighters with Artist Couture.
It could also be something entirely new—maybe Aina's very own line? Some also suggested it was Jackie-branded kombucha, and, to be honest, we'd very down for that too.
We'll update this post as we hear more, here's hoping we won't have to wait too long.