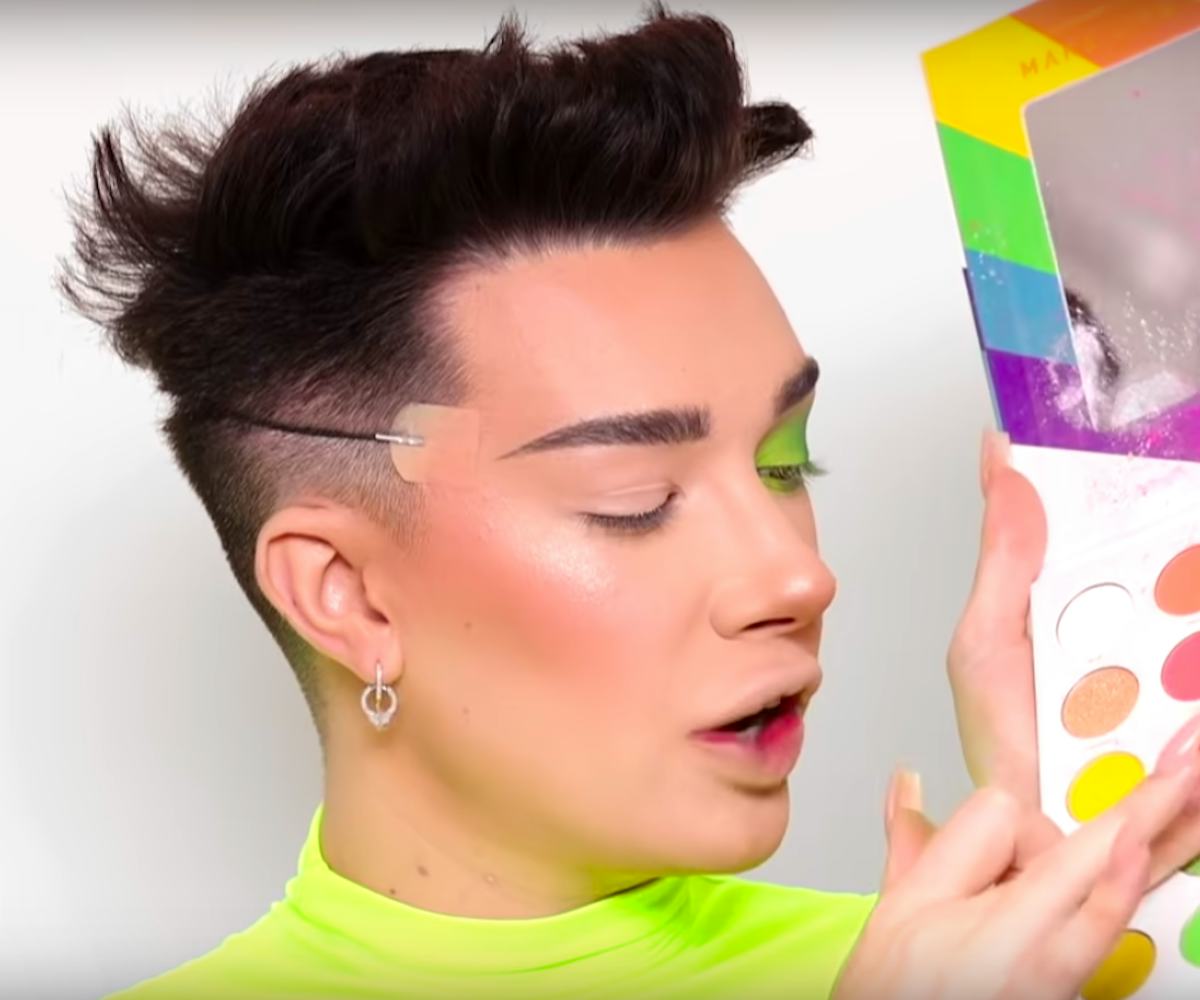 Screenshot via James Charles YouTube
Watch James Charles Transform Into Dua Lipa With Makeup and Face Tape
The internet willed this to happen
As one of the most noted names in the beauty YouTube community, James Charles has consistently served up major makeup transformations on his channel. The MUA hasn't been shy about sharing beauty secrets with fans, but for his latest video, he had a bit of fun with a celebrity doppelgänger. You might not be able to DIY this particular tutorial, but you will enjoy (or at least be captivated by) this clip of James Charles transforming into Dua Lipa.
The transformation begins with Charles donning darker-colored contacts, a green turtleneck, and some face tape. Adhering the tape to his face, the MUA is able to better mirror his face shape to Lipa's. After a few unexpected snafus with the tape application, Charles finally gets the desired look, and celebrates with an excited, "Oh my god."
In the video, Charles admits that he did some serious Dua Lipa research, including carefully studying her Instagram to better understand her preferred beauty routine. He notes that she always chooses fun, bright colors for the eyes, but does use a natural base and a little blush. "It's definitely very different from my typical makeup style," Charles says.
Applying foundation, concealer, and bronzer to the face, Charles moves to contour, adding product to his nose to better replicate the singer's face shape. After using a touch of blush, he moves to the part of the routine he's most excited for — Dua Lipa's eyebrows. As Charles notes, Dua Lipa often rocks a full brow, and to re-create the look, he uses clear brow gel and a brow marker to add dimension.
Moving onto the eyeshadow, Charles chooses to replicate a green eyeshadow look that was previously spotted on the singer. Mixing together various hues of green, he creates a look that even leaves him amazed. In order to fully transform into Dua, Charles adds lipstick, and then the final step, a wig.
Admiring the completed makeup, Charles calls it "absolutely crazy," and many fans were quick to agree. "Ok but you killed this Dua look," one follower wrote. Another person was completely shocked, tweeting, "I normally don't watch @jamescharles videos but DAMN his transformation into @DUALIPA was UNCANNY asf. Incredible make up artist to say the least." The singer hasn't yet responded to the makeover, but based on the support of social media, it's clear that the video is a smash.
Check out the transformation for yourself, below.