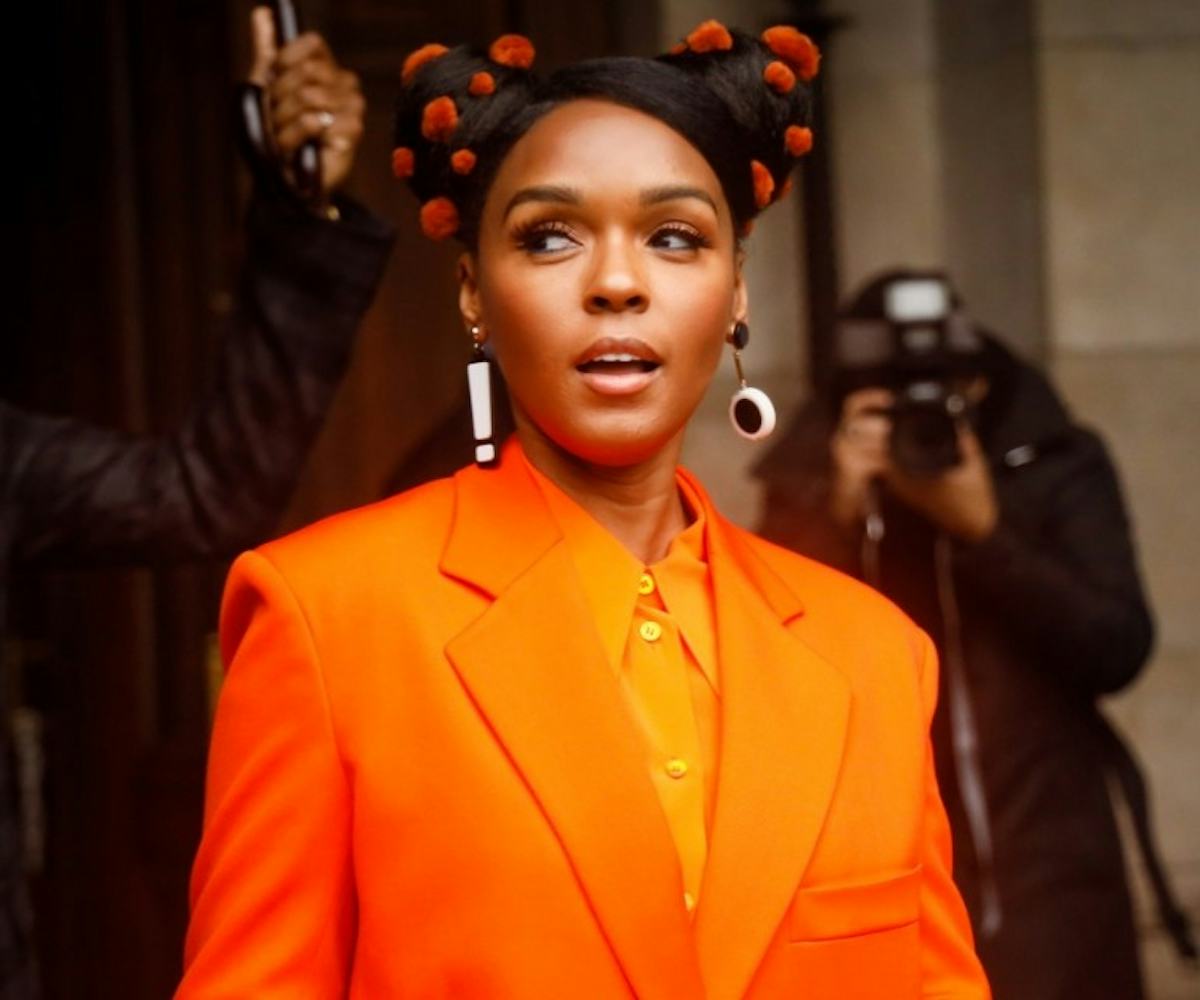 Photo by Hanna Lassen/Getty Images
Janelle Monáe Is The Best Dressed Celebrity At Paris Fashion Week Right Now
See every outfit she's worn so far
If there is anyone taking advantage of their time at Paris Fashion Week, it's Janelle Monáe. The award-winning performer has been hitting as many parties and shows as one person is capable of, including, but not limited to, Balmain, Valentino, Thom Browne, and Stella McCartney.
Monáe even eschewed her typical color palette of black, white, and red at times, opting for a black, white, and pink ensemble at Valentino's Fall 2020 runway show on Sunday, as well as a neon orange suit jacket and matching latex boots to Stella McCartney on Monday morning. And with one more day of Paris Fashion Week left, we have a feeling she'll be dressed up for the front row at Chanel on Tuesday.
With Monáe's rise as an actor and musical artist, she's also become a formidable fashion force, with the help of her stylist Alexandra Mandelkorn. Most recently, she showed up just about everyone at the 2020 Oscars in a beaded silver gown by Ralph Lauren that included 168,000 crystals and took over 600 hours to make. Still, she admitted to InStyle last year that she pushes herself to embrace her unique sense of style while in the center of the public stage.
"Embracing your uniqueness is an active choice," she said. "I don't wake up looking flawless every morning. I don't wake up feeling empowered. I don't wake up feeling fearless. I have to actively choose to feel that way. I'm like Issa Rae in Insecure, like, 'Bitch, keep it together!'"
See how Monáe is keeping it together at Paris Fashion Week, below.
Monáe wore a black tux with red-and-black striped boots to the opening of "L'Exibition[niste] by Christian Louboutin."
She wore a fringey trompe l'oeil dress to the Harper's Bazaar Exhibition.
She later opted for black-and-white Balmain to the Balmain show.
For the Vivienne Westwood show, she wore ruched gown, pearls, and not one, but two hats.
She carried a classic Thom Browne dog bag to the designer's runway show.
To stay warm at Valentino, she wore a plaid coat over her dress.
For Stella McCartney, Monáe stood out in a bright orange look.
She wore a black-and-white skirt suit with gold heels to Chanel.