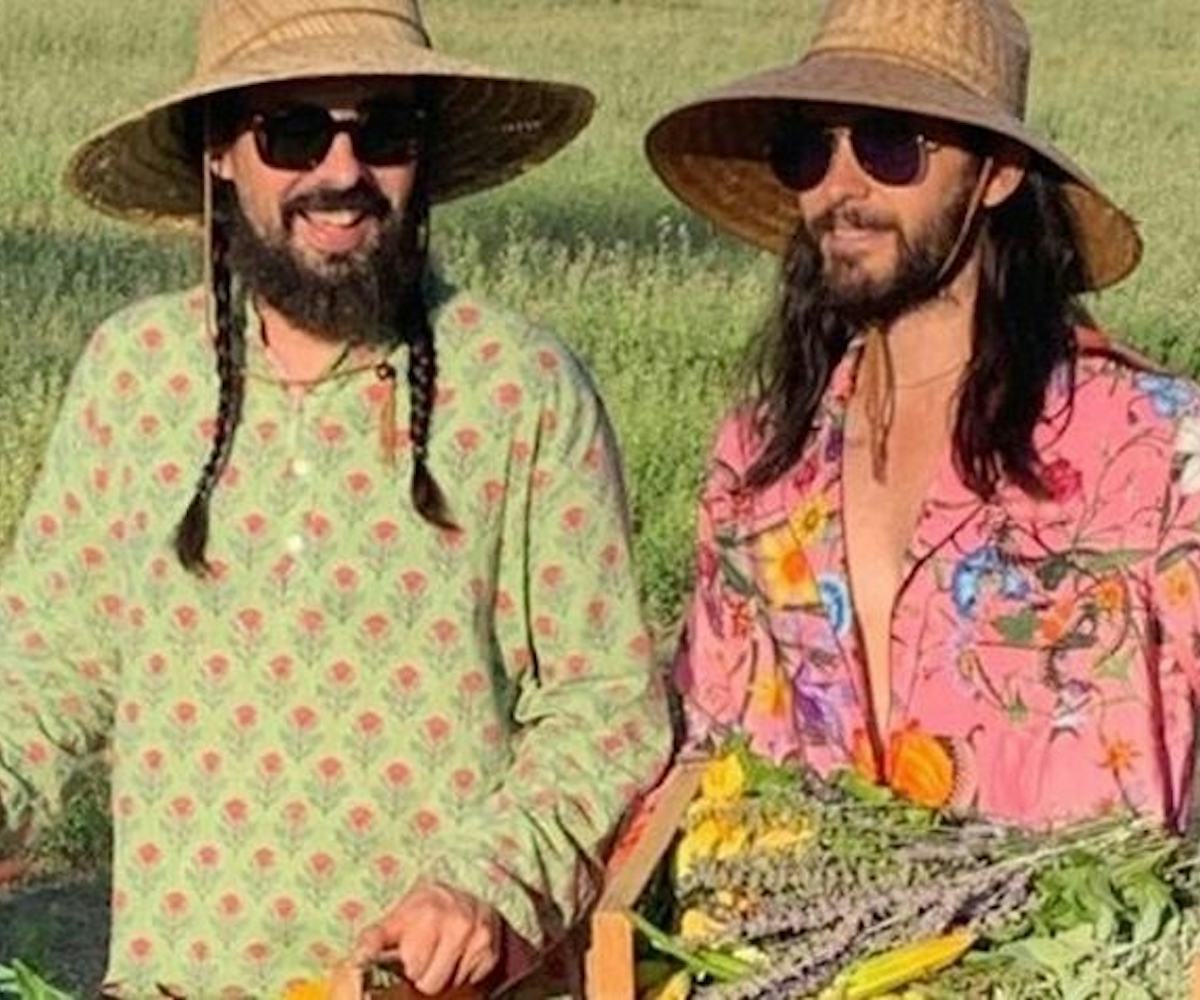 Photo via @alessandro_michele Instagram
Jared Leto And Alessandro Michele Garden Together In Head To Toe Gucci
The wholesome friendship content I've been waiting for
There's no doubting Jared Leto's friendship with Gucci creative director Alessandro Michele. Not only are the two frequently spotted together on and off the red carpet, but they're also beginning to look alike. Leto has also grown to become one of Gucci's biggest muses—I mean, how can we forget that viral coat meme (which he later sort of ruined)? As if we needed any more proof of their BFF status, the two recently spent the day gardening together (or, at least, pretending to) in full Gucci looks.
Earlier this morning, Michele posted a photo of the duo dressed quite excessively in head to Gucci, clutching crates of greens. Michele paired his printed tunic with cotton striped shorts and tube socks, while Leto sported hot pink satin joggers and the (questionable) sock-and-slide trend with his printed silk blouse. Both wore matching wide-brimmed sun hats and dark sunglasses, because everyone knows that when you're spending the day gardening, sun protection is key.
As someone who has recently had their inner suburban housewife gardening fantasy awakened by a chic, Scandinavian gardening company, I personally resonate with this photo. One day I wish to tend to my tomatoes with my BFF in allover Gucci, too. All Leto and Michele need to complete this wholesome moment—and, of course, properly manage and hydrate the fruits of their labor—are matching golden gardening gloves and this leopard print garden hose nozzle.