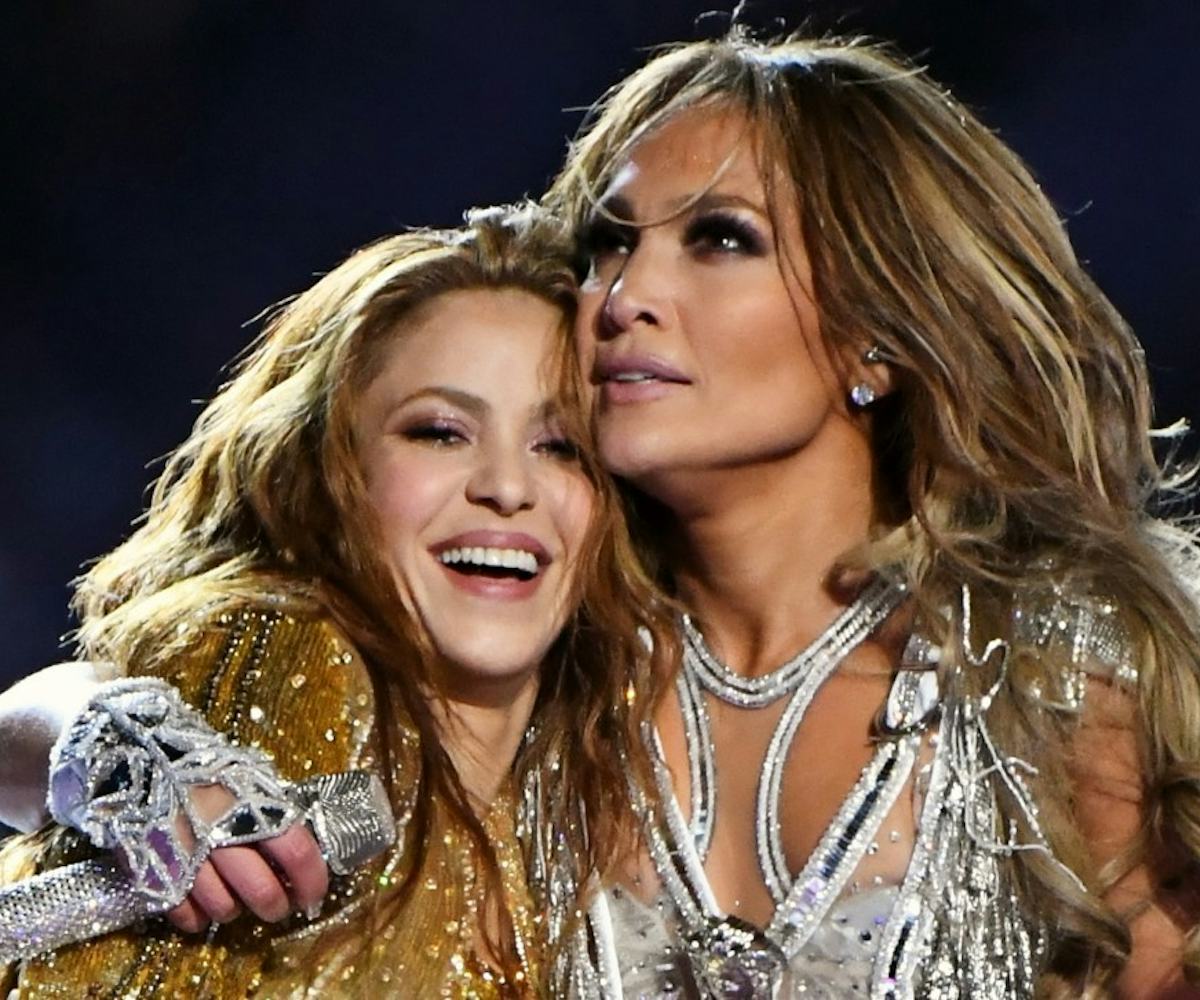 Photo by Jeff Kravitz/FilmMagic/Getty Images
Jennifer Lopez Wore All Of Her Super Bowl Halftime Costumes At Once
And every outfit was made by Versace, naturally
On Sunday night, Jennifer Lopez and Shakira finally delivered their highly anticipated 2020 Super Bowl halftime performance, and it was worth the wait. Both women pulled out all the stops when it came to the show, with Shakira wearing two custom looks by Dundas and Lopez blessing us with a series of four (4) Versace costumes.
Lopez's longtime stylists, Rob Zangardi and Mariel Haenn, spoke to Vogue about coming up with the night's looks, and, of course, Versace was a no-brainer.
"We felt that when people think of Jennifer, they think of Versace," Haenn said. "When the Super Bowl confirmation came through, we knew it had to be them."
While looking good was obviously important, making the costumes functional and quick-change friendly were priority. During Lopez's five-and-a-half minute set, she wore four different looks; a black leather leotard with matching chaps with a long pink skirt (which she later removed for her next look), a silver-and-sheer catsuit, and then a fringe-adorned silver harness to layer over it for a whole new outfit.
With so many costumes all wrapped into one show, Zangardi and Haenn decided that being able to layer each look on top of the other would make for the easiest transitions. The stylists also wanted to be able to highlight her music and style evolutions over the years. Still, the pair has one look that stands out as their favorite.
"It was important to Jennifer to have this one cape in the show," says Zangardi of the feathered cape that featured both the Puerto Rican and American flags. "That one is definitely our favorite."
See all of Lopez's outfits from her Super Bowl halftime show, below.
Jennifer Lopez started her set with a leather-and-pink look.
After removing her pink skirt, Lopez sported a full-on moto-style ensemble.
Underneath that, her shiny silver catsuit.
A lesson on layering: Lopez added a fringe-and-belted harness and a feather flag cape.
Gold and silver is always a great combo, especially when Shakira and Lopez are involved.