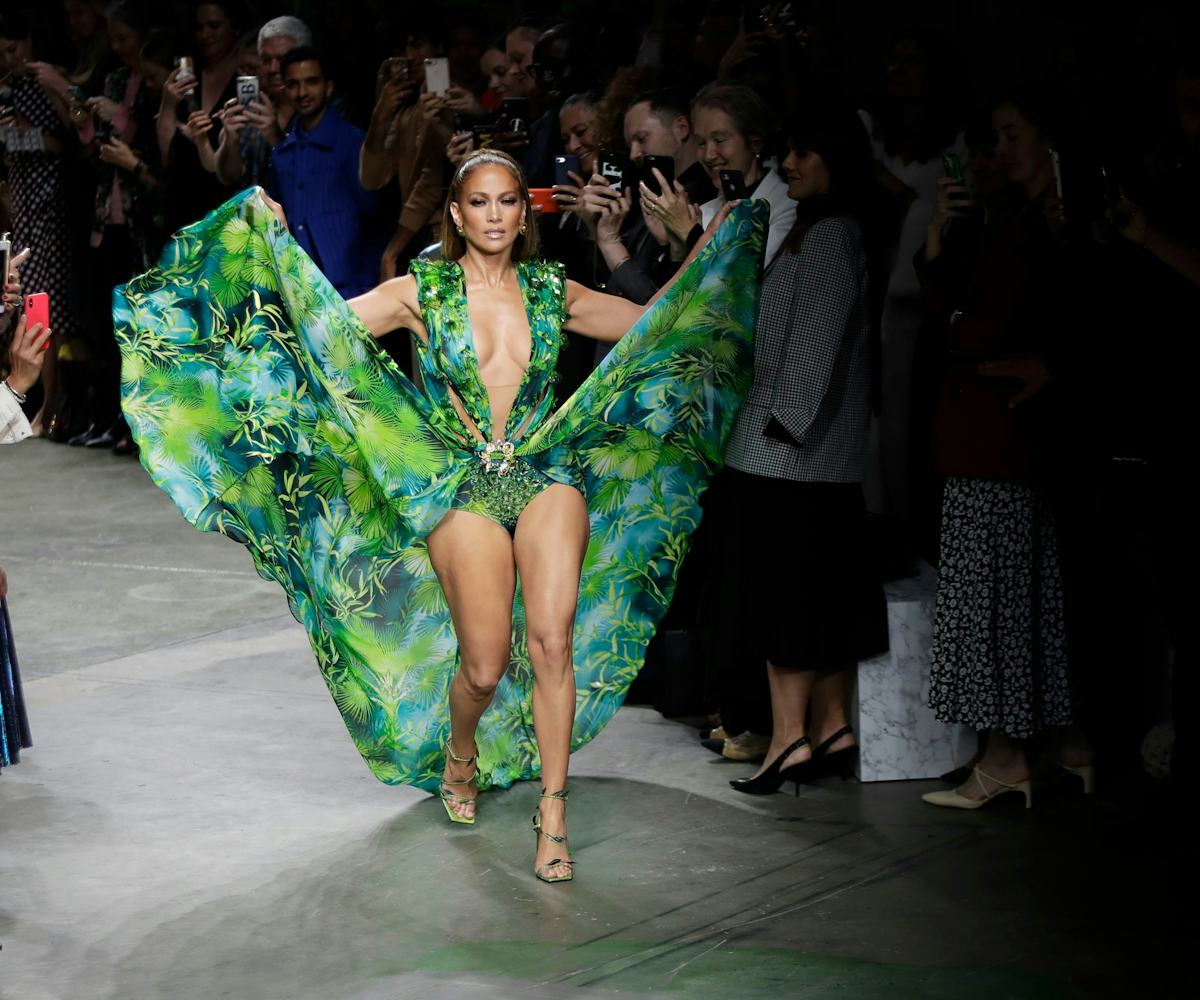 Photo via Luca Bruno/AP/Shutterstock
The J. Lo Versace Moment in Milan Was Clever Google Spon Con
Disappointing but not surprising
Last Friday, Jennifer Lopez closed the Versace runway at Milan Fashion Week in an updated version of the dress she wore to the 2000 Grammy Awards, which is credited with inspiring Google to create its Image Search feature. As it turns out, this viral moment was actually a calculated partnership between Versace and Google, and not just a spontaneous celebration of the historic moment in pop culture history.
According to a report from Business of Fashion, the brands worked together to bring the moment to life, and it seems that Google's influence went much further than bringing the dress back to the runway. Google's Italy Marketing Director Vincenzo Riili wrote a blog post about "reuniting" with Donatella Versace "to celebrate nearly two decades since this iconic moment in fashion (and Google) history," but there were many elements of the show that felt like overt Google advertising.
Google Assistant was used in the show in the lead-up to Lopez's debut. Versace's voice is heard saying "show me images of the Versace jungle dress," while Google Images is projected onto screens. Lopez makes her entrance after Versace then says, "Okay Google, show me the real jungle dress." On top of that, Rilli noted that Google's virtual reality painting app called Tilt Brush "helped decorate the runway space with digital artwork inspired by the new print," and the show invites were a flipbook that showed someone typing, "what is Versace Spring 2020?" into a Google search box.
Apparently, it was Versace herself who reached out to Google to work together. She said in a statement that there was "no money involved" and the partnership was created out of "simply... willingness to celebrate an important milestone for both of us." Though the J. Lo moment was iconic, these other Google-centric aspects would very likely not have happened without the tech giant's partnership. If it was virality that both brands wanted, though, that's definitely what they got — although it may have been at the cost of authenticity.