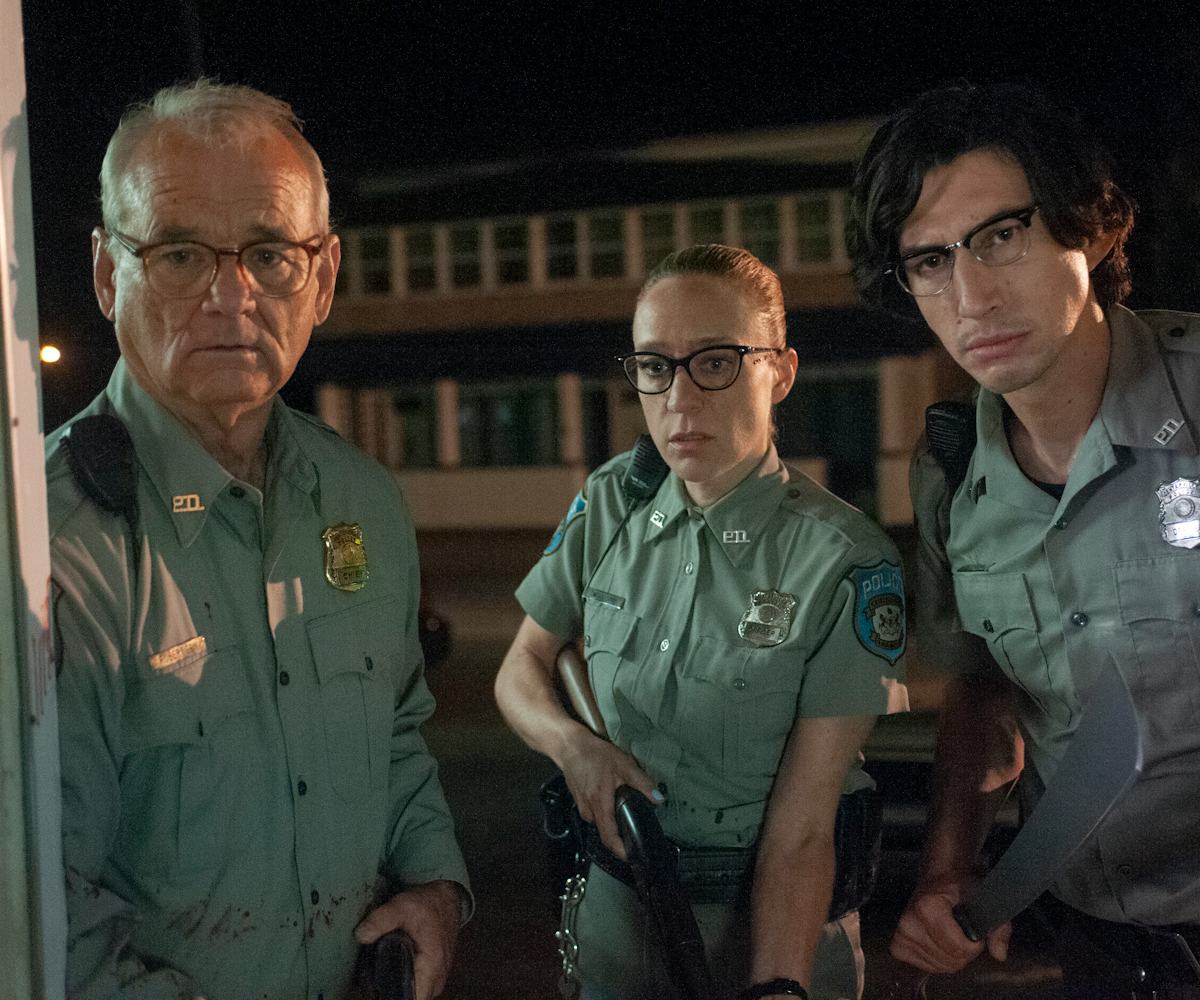 Credit: Frederick Elmes/ Focus Features
Jim Jarmusch Talks Zombies And The Worst Review He Ever Got
"I was like, 'Did I sleep with this critic's girlfriend, or what?'"
The day I meet Jim Jarmusch, the sun hangs so bright and hot and yellow and solid in the sky that it's hard to believe that it will actually set at night. It's one of those New York June days that suggests we might be in permanent daylight; it's got a completely different feeling than the crepuscular atmosphere of Jarmusch's latest film, The Dead Don't Die, which takes place in a small town in what feels like one long twilight, maybe the last one.
But for today, Jarmusch and I are sitting at a table in a sun-filled restaurant, though we're in the shade. We're in a part of the city that used to be very punk rock, and is now very NYU, yet being there with Jarmusch, who looks so at home, like he's holding court in the booth (it helps that Larry Fessenden, an old friend of Jarmusch's and a writer/director/producer/actor, who appears in The Dead Don't Die, happens by the table to say hi), makes the area feel a little punk rock again, even with all the sun.
The Dead Don't Die is a very punk rock zombie movie, by which I mean: It's not very scary, but it is very cool, and even when it's sneering, it's a little bit tender. Starring Bill Murray, Adam Driver, and Chloë Sevigny as a trio of small-town cops who fight back against a nascent zombie apocalypse caused by fracking, the film is cast with a who's who of Jarmusch regulars, like Steve Buscemi, Tilda Swinton, Iggy Pop, and Fessenden, to name a few; but it also features younger stars like Caleb Landry Jones, Selena Gomez, and Luka Sabbat—and there's a real earworm of a theme song, courtesy of Sturgill Simpson.
Below, I speak with Jarmusch about the movie, being a dilettante, and why he only reads his negative reviews—which is definitely one of the most punk rock things I've ever heard.
This was filmed on a pretty condensed shooting schedule, right?
It was a very rough schedule. A very difficult one, actually.
We only had seven weeks to shoot, and we had to shoot Adam Driver out in three weeks because he had to be delivered to Star Wars, and the financing of the film was incredibly grueling and took a long time, so we were pushed so far that we had about one month of prep, and then three weeks with Adam. And then all these different actors coming in and out; I don't know how Carter and Josh, the two producers, organized it all. And then we'd shoot 15-hour days, and halfway through, I had walking pneumonia; I had two coats; it was 95 out; I was shaking. You know, just weird stuff like that. But it's all okay because we had such great people—our crew—everybody. And then, the visual effects were very taxing and complicated.
How did that all work together? Because there's more than one decapitated head.
Yeah, it's a mixture. First of all, we mixed prosthetics with makeup with masks for some of the zombie stuff, but all of those effects with the decapitations, we had to just imagine. So we had to choreograph everything and then only imagine kind of what it would be like, which was, for me, very abstract because I'm not very versed in visual effects. You know, you had to really kind of trust your instincts, because Adam Driver's chopping away with a machete with no blade.
It could've been a machete, it could've been a lightsaber, who knows? So, to what degree is this a sequel of Paterson with Adam Driver's character's last name being Peterson?
Well, I just do these things to amuse myself while writing, you know? Bill Murray in Broken Flowers was named Don Johnson, and in this, I gave him the name Cliff Robertson. Tilda Swinton's character is Zelda Winston. Rosie Perez is named Posie Juarez. You know, I'm just kind of amusing myself.
And Peterson, Paterson. While we were filming Paterson I was always teasing Adam that the next one, we would make was gonna be a sequel about a psychopathic murderous bus driver named Peterson. Tag line: "Get the fuck off my bus!" Or "Next Stop Hell!" You know, stuff like that. It's just to make them... I love trying to make Adam Driver laugh, because he has a very odd and wonderful sense of humor, but it's on the dry side, so I'm always joking around with him between work to try and see what makes him laugh.
But yeah, there's no sequel of any kind, and I don't think that way, and I don't plan, and I don't see my films from the past ever again. I just look toward the next thing.
What was the original concept for this? When did you start coalescing all of these different elements into knowing that you wanted it to be your next film?
Some years ago after Only Lovers Left Alive, Tilda kept teasing me, calling me, saying, "When do we do the zombies? When are we doing the zombies?" And in between I made Paterson and Gimme Danger, but then after those I started writing the zombie one, and my original conception was: I wanna make a film that's really funny and silly like Coffee and Cigarettes, where people talk about whatever nonsense I want them to, and I want to get actors I love, you know? So I thought, okay, if I make a zombie film, I can have a structure where different groups are cordoned off against the zombies, and the zombie attacks will be intermittent and not very long, so I'll have long lags where they're just stuck there, like in the house of The Night of the Living Dead, where they can talk about any kind of nonsense. So that was my first idea, and then when I started writing it, for some reason, I wanted to have a small town, Centerville, and I just followed my intuition, and it became this, I don't really know why beyond that.
What is it about small towns that make them the perfect setting for existential terror?
They're insular. They're kind of… everyone kind of knows each other. It's controllable by the characters. It's believable that everyone kind of know each other. I don't know. I'm not very good at analyzing that. And also, this is not a horror film because horror films use devices that are necessary to frighten people, like suspense, and then you get scared. We have no interest whatsoever in that. This is more of a metaphorical zombie film, but I would not call it a horror movie. It's a comedy with zombies with a kind of sad ending. Beyond that, I don't know what it is.
And horror nerds may not like it if they're expecting creepy, creepy, scary thing! They're not gonna get it. They're not gonna get that delivered to them.
What's interesting about it is seeing who fights back against this existential dread. Or, like, Chloë Sevigny's character, Mindy, doesn't fight, she is on her own separate trip, avoiding the end till she embraces it.
It's a character film. It's not even a plot film, really, although critics say that about all my films. But Chloë… it's a complicated thing, because when I first called Chloë, I told her... I wrote her a letter, and then she said, "Yeah, yeah I'd like to do this." And I said, obviously, this is not a feminist character. She's reactive. She's our sort of "Scream Queen." She screams like six times. But Chloë is the master of reaction, and I love watching her react.
She definitely feels like a stand-in for what a normal person would feel during these absurdist experiences, which is nice to have. It's not necessarily that you need a relatable character in a movie like this, but...
Yeah, but she's an empathetic human that's in a job with some authority, but in a small town where that means taking care of whatever, you know, as a police officer, pretty minimal [stuff]. There's not a lot of rampant crime or anything going on… or anything at all, really.
A lot of people are going to be projecting tons of different meanings onto this film, like with all your films. To what level do you participate in that or pay attention to that? Or, once you're done making a film, is it just out there, and you just let people project onto it whatever they will?
I've always felt that anyone's interpretation of a film that I write and direct is probably more valid than my own. Because it's a funny thing, the beauty of films is going into a world—or a book or whatever—but going into a world that you don't know, and you are entering a world, and it takes you. And if you wrote it, and you were there filming it, and you're in the editing room every day for six months, the mix, and all that... I can never possibly see it. I like hearing what friends or people I know... I like Q and As after screenings because they have no agenda except their interest. I like that a lot, and I value that. I don't really like to read a lot of reviews unless they're really negative. I love the negative ones.
You do?
Yeah, because they must be very far from me in their perception of the world, and that is interesting to me. But I try not to read a lot...
I think you're probably the first person who I've ever spoken to who says they like to read the negative reviews.
I really like them. The worst one I ever got in my life, I laminated and used to carry in my wallet. It was a brief thing from a right-wing French [paper], maybe Le Figaro or something, of a film called Dead Man that we made, and they said—this is the English translation—"The French intelligence celebrates Jarmusch in the way death and blind parents would celebrate their retarded child. Jarmusch is 33 years old, the same age as Christ when he was crucified. We can only hope the same for his film career." I was like, Whoa! That is harsh! I'm keeping that one!
It gets personal.
But that was vicious. I was like, Did I sleep with this critic's girlfriend, or what? What happened? It was really... the knife was sharpened, you know.
That speaks to a very specific kind of agenda for sure.
A friend of mine Amos Poe, he's sort of a mentor of mine, a punk filmmaker, whatever, and when we were young when he made, in the late-'70s, one of his films—The Foreigner or Unmade Beds—the New York Times called it "the cinematic equivalent of kindergarten scribbling," and he put that on his posters and put "New York Times" and we were like punks, we were like, "Yes! Amos! That's great!"
I mean, it genuinely is a pretty great pull quote, and I think also a little bit oblivious to the charms of a kindergartener's scribbles and what the value is in that anyway.
Yeah, it was kind of accurate in a positive way, and they intended it as very negative.
In this film, there are so many actors who are veteran actors, but there are also a lot of younger actors. What do you like about the combination of that dynamic?
I just like the variety of sort of world perceptions—indicated in a very minor way when Bill Murray's character says, "I've known Hermit Bob since we were in junior high," and Adam's character says, "Oh, wow! That must've been like 50 years ago!" And Bill says, "Yeah. It was." But just the kind of difference of perception of age I find as I get older really interesting. And I'm very interested in young people, especially teenagers, because I think they form our sense of style, of music, of so many things, and yet they're kind of pushed around and treated badly and constantly told, "You don't know how the world really works! You're just a teenager!" But they gave us poetry. They gave us Mary Shelley and Rimbaud and chess masters, and all the great music comes a lot from teenagers. So I tried to keep a pulse, that's why the three teenagers, I would not let them turn into zombies. There are only four people [who don't get turned by zombies]: those three that are delinquents, and the Tom Waits character, who's already removed himself from the social order long before.
When the zombies become zombies, they all have one inciting thing that they're still pursuing in the real world. Do you have one thing that you think you would pursue if you were a zombie?
You know, it's hard because I'm a self-proclaimed dilettante. I'm interested in so many things, I don't know if I would be breaking into a bookstore, or if I would be in the alley outside of a movie theater, or if I would be trying to get into a guitar shop. I'm not sure. I have a lot of interests.
I mean there's a way in which it's a really tender portrayal of the human impulse to just seek out these things that they love.
It's not totally a critique; it's their vestigial memory of some things that they were drawn toward, whether it was power tools or oxycontin.
The Dead Don't Die is in theaters now.