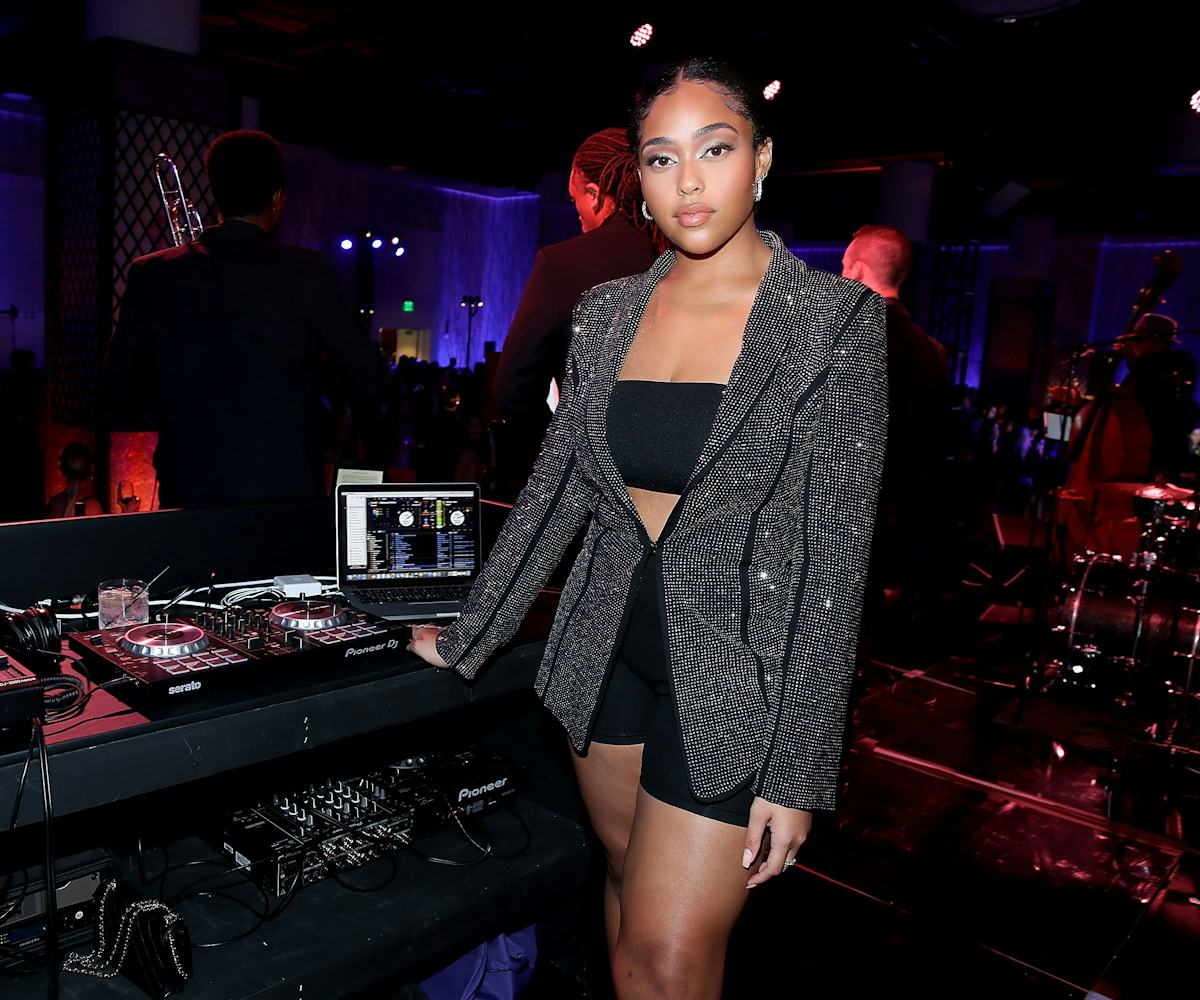 Photo by Randy Shropshire / Stringer / Getty Images.
Black Girls Don't Get To Make Mistakes
Why it's important to protect Jordyn Woods
When news broke that Tristan Thompson had cheated on Khloé Kardashian (again), the only part that was hard to believe was that he had done so with Jordyn Woods, a woman who is perhaps best known for being best friends with Kylie Jenner, Kardashian's half-sister. But the news was detailed: Reports claimed that Woods attended a party at Thompson's house where he confiscated everyone's phones and made out with Woods, who then spent the night. People believed this version of events, and ran with the notion that Woods was disloyal and deceitful. And yet, I had questions about the drastic about-face in Woods' allegiances. Woods has benefitted from a solid friendship with the Kardashian-Jenner families; she's been brought in on their business ventures and expanded her own brand thanks to the added exposure. A hookup with Thompson would risk all that, and wouldn't benefit her at all. So, why would she do this? It didn't ring true.
But, after Kardashian and her friends commented on social media, tacitly confirming the rumors, Woods' role as a villainous side chick seemed confirmed. The whole idea of Woods as villainous side chick was inherently problematic, because of the way this stereotype is often dipped in misogynoir, and put upon women of color, as being evidence that they're only motivated by short-sighted, shallow desires. It also casts WOC in the antagonist role; they're the evil-doers trying to disrupt the harmonious lives of white women.
That narrative changed abruptly, though, when Woods appeared on Facebook's Red Table Talk—the web-based talk show starring Jada Pinkett Smith, Willow Smith, and Pinkett Smith's mother, Adrienne Banfield-Norris—to explain her side of the story. This interview was masterful damage control in response to a potential public relations disaster for Woods. But it was also an example of the importance of influential people wielding their power to protect Black girls.
Woods always seemed to be a Kar-Jenner affiliate with "sense," a coded word that Black aunties and grandmas use to describe a set of basic moral values they want their progeny to embody, no matter what company they keep. This means that even though Woods stood silently neutral while her best friend was rumored to have stolen one boyfriend (Tyga) from her sister's (Kim Kardashian) good friend (Blac Chyna); and another (Travis Scott) from one of her own pals (Justine Skye), her own behavior never revealed such deviance. This is not because Woods is better than Jenner, but is rather because Black girls aren't afforded the same amount of freedom to be the bad guys. We don't get to make mistakes—which also means we don't get to learn from them. Our grandmas and aunties want us to "act like we got some sense," because the stakes are higher for us when we do not. People mock, denounce, erase, pathologize, dehumanize, and turn their backs on Black girls who act immorally while looking the other way when their white counterparts engage in the same behavior. For example, Khloé's own relationship with Thompson began when he was still dating his previous, pregnant partner. Her affairs with French Montana and Trey Songz were also thought to be betrayals of her friendships with other women, all of whom are Black, and whose pain has yet to be centered in public discourse like Khloé's has.
However, the Smith family is helping to make sure that erasure doesn't happen to Woods. On the episode, Woods—who, along with the Kardashian-Jenner clan, has a close relationship with the Pinkett Smith family—shared her version of events, saying that she'd gone to the party with friends, already drunk; and that while she stayed till the morning, she had not slept over. As she was leaving his home, Thompson, Woods says, kissed her taking her by surprise. Later that day, Woods told Kylie and Khloé about the party but didn't mention Thompson's indiscretion, saying she was afraid to add more drama to Khloé and Tristan's already tumultuous relationship. (Can't say I blame her.) Woods took responsibility for being at the party in the first place, and for not being forthcoming with all the details. She says she messed up, but never intended to hurt anyone, and doesn't deserve the level of hate she's received.
She's right. The Kardashians (and white women, more generally) get to move on when they're caught doing dirt. They're still entitled to happy endings and get to keep their autonomy, no matter who they hurt. Women like Woods—Black women—do not. Khloé and her supporters were okay with the idea of Woods ending up in obscurity or forever fighting against a tide of negative press that reduces Woods to this one faux pas. But this hardly demonstrates some larger disloyalty on the part of Woods, who has long been privy to enough confidential information about the family, from business ventures to Jenner's top secret pregnancy, to wreak havoc on the entire Kardashian clan, if she wanted to. That they're ready and willing to throw her away because she got caught in an awkward situation with Khloé's (frankly trash) boyfriend is indicative of how little they valued her in the first place.
But none of that is so surprising or noteworthy. White women have been throwing Black women under the bus for ages. What was different this time is that, rather than run from the mess that was being created for Woods, the Smith family stood in front of it as a barricade. They couldn't clear her name, but they still created an outlet for Woods to be fully human, to be a 21-year-old who put herself in a vulnerable position after drinking; not just a Jenner accessory who owes the Kardashians or the Jenners credit for every move she makes. Jordyn Woods is a Black woman who is loved and cherished—thankfully, in this case, by families with just as much media clout and a willingness to go to battle for her if necessary. But this isn't just about Jordyn Woods. It's about Black women no longer having to be pawns to other people's pride and interests. In my wildest dreams, all Black girls have that kind of support and protection.